Branded Content
Minjee Lee Claims Aon Risk Reward Challenge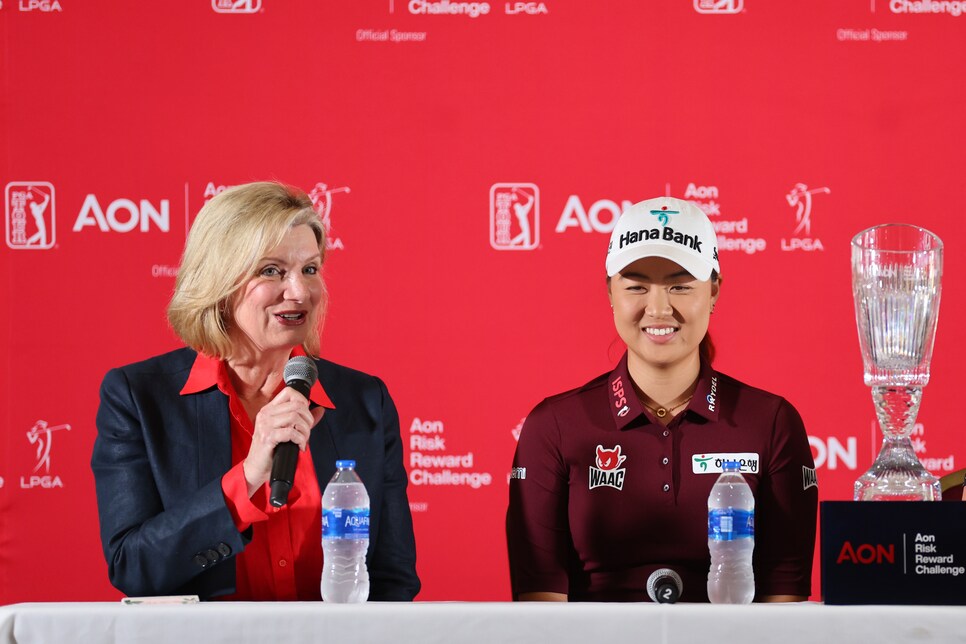 Minjee Lee entered this LPGA Tour season riding momentum. But it took perseverance, impeccable execution, and sound decision making to capture the 2022 Aon Risk Reward Challenge and its $1 million grand prize this week. Lee was a dominant force on the 2022 LPGA Tour—scoring two victories that included her second major championship, and topping the tour's money list.
"The first seven or eight months, I did very well," says Lee, who also happens to be an Aon ambassador. "I was in control of my game, and my ball striking was really solid. I'm always working on putting. And driving is a big part of being able to be aggressive. Thus, I'm always working on driving to the right place, and where I want to miss comes into play on drivable par-4's. So during practice rounds, I do a lot of management and try to decide how I'm going to approach those holes."
That blueprint paid off. Lee's combination of driving distance and accuracy on Aon Risk Reward Challenge holes—averaging 263 yards per drive while finding the fairway 84 percent of the time—was a significant factor in her playing strategy. Her execution off the tee expanded her options in how she was able to reach par-4 and par-5 holes, separating her from much of the field. It's also a major reason she led all players in strokes gained on Challenge holes at .254 strokes per hole. That allowed her to go for the green 57 percent of the time, compared to just 32 percent for her competitors, resulting in her shots landing 18 feet closer to the hole on average.
Much like Scottie Scheffler who won the 2022 Aon Risk Reward Challenge on the PGA TOUR and an equal $1 million prize, Lee has shown consistently excellent decision making throughout the season—proving that assessing any situation with intelligent thinking can significantly impact the outcome.
The Aon Risk Reward Challenge victory puts a bow on the 2022 LPGA Tour season for Lee, who had made it one of her season goals following her wins earlier in the year. "It came all the way down to the wire," says Lee. "I really wanted to do well and finish off the year strong. I tried to play those Aon holes smart and be aggressive at the same time. And that paid off for me in my last two events. Being able to win the Challenge means even more being an Aon ambassador—that was definitely in the back of my mind."