FIRE PIT COLLECTIVE
An ode to Tiger Woods and golf video games
Editor's Note: This article first appeared in Fire Pit Collective, a Golf Digest content partner.
*All products featured on Golf Digest are independently selected by our editors. However, when you buy something through our retail links, we may earn an affiliate commission.*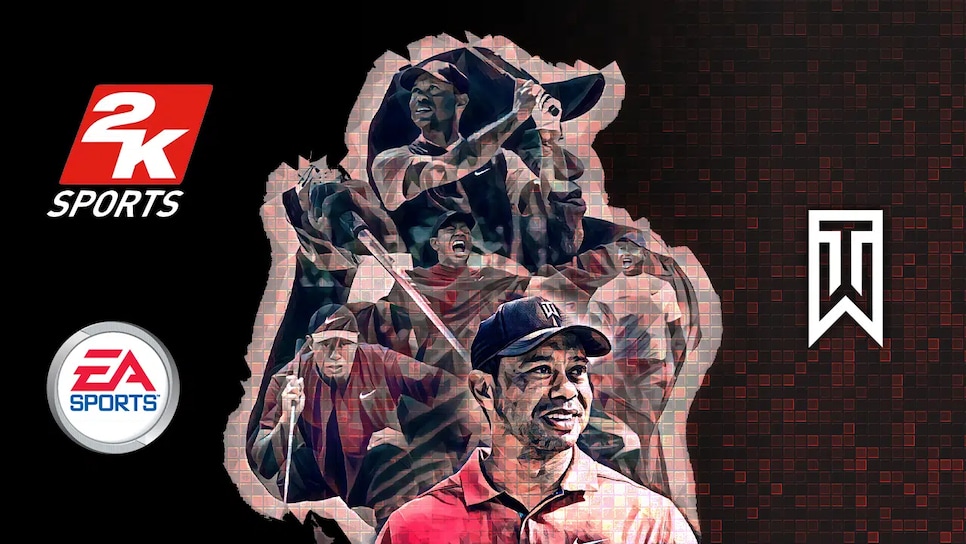 Cameras flash while A-listers like Michael Phelps and Miss America smile in front of a backdrop that boasts American corporate excellence: XBox 360, EA Sports and GameStop. The alcohol is flowing in this dark Manhattan venue on an evening in the summer of 2008, and the sound system is blasting the Black Eyed Peas and Britney Spears at shattering decibels. Tiger Woods' face is plastered all over LCD screens and polygons displayed on XBox and Nintendo Wii consoles, the new hot commodities. The VIP guests have been given one enticing assignment: Play the new Tiger Woods PGA Tour 09 video game on the eve of its release.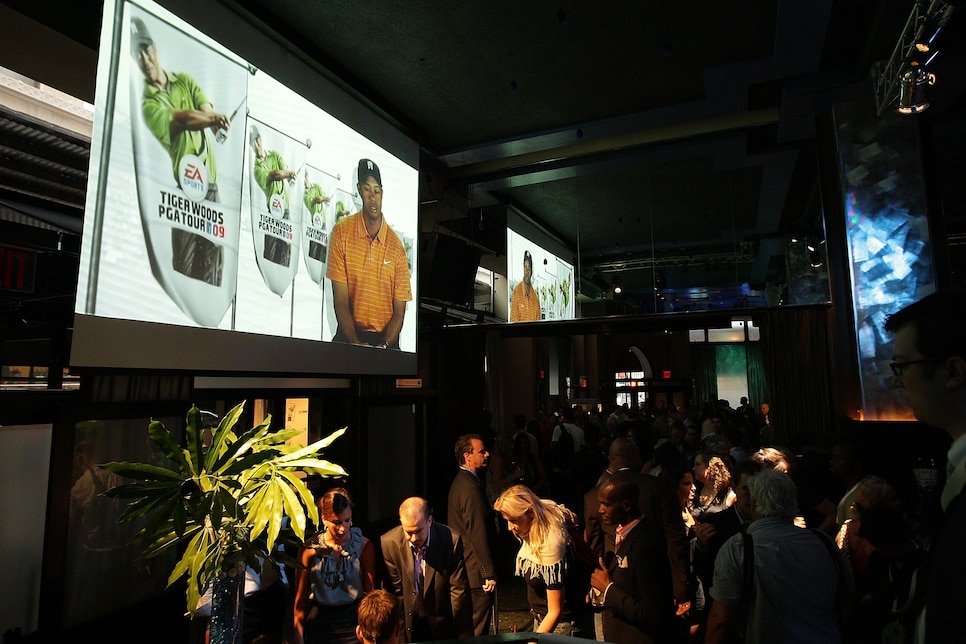 Tiger graciously shares the spotlight. Paula Creamer, 23, is one of the newest additions to the series, which had begun including LPGA stars just a few editions earlier. She effuses delight, citing the game as required British Open prep. But she refuses to play as herself, opting instead for the cover star. "Tiger!" she says. "I can't play as myself."
All this hype for a video-game rollout? This watch party wasn't a first. The lucrative franchise was approaching its 10th anniversary and was one of EA Sports' strongest intellectual properties, right behind Madden and FIFA.
A yearly Q4 release made the game a holiday shopping favorite and a dorm-room staple. By 2013, the franchise had racked up $771 million in sales. But exactly what was so moving about a golf video game? Games that now occupy the bottom of resale bargain bins and are throwaways at garage sales. The revered series is an oft-overlooked extension of Tigermania, fading further into obscurity with later missteps by EA that led the series to fall out of favor and for Tiger to part ways in 2013.
Now, EA's biggest rival, publishing titan 2K (NBA 2K, WWE 2K), has lured Tiger back into the video game arena with a multiyear contract for his likeness, a partnership that began in 2021. He's the cover athlete for the newly released PGA Tour 2K23. With EA's offering delayed until next spring, the takeover appears imminent. Or is it? The very things that brought golf video games into favor are back—and Tiger's impact figures to be much greater than ever.
The 1990s were a period of prosperity for the video-game industry. Nintendo, Sega and Sony dominated the home-console market. Golf video games were a part of all of these companies, while Golden Tee was all the rage in the arcades. Ringing endorsements from Arnold Palmer, Fred Couples and Brad Faxon were plastered on the covers of the games. But the disconnect was evident. Palmer, for one, didn't make an appearance in his 1989 Sega Genesis game. Couples' game was met with a lukewarm response. "Fred falls flat on game gear," GamePro wrote in a review.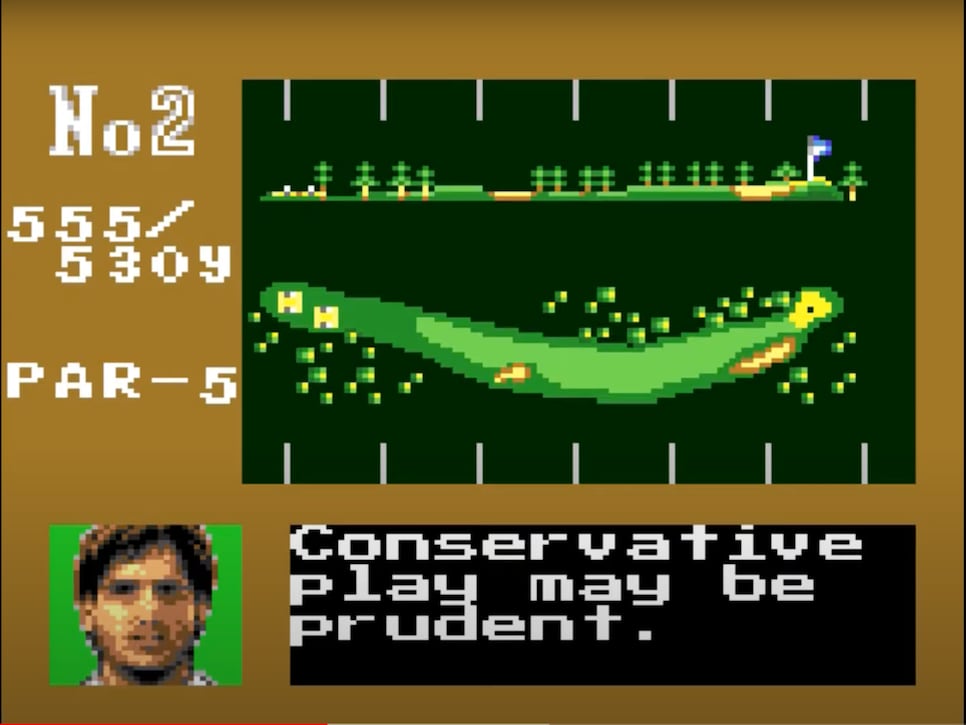 Faxon was lucky enough to be the cover athlete for an entry in a series that helped keep the genre afloat, but it didn't make much of a dent in the mainstream. The annual PGA Tour offering from EA Sports provided a beacon of light, implementing revolutionary mechanics such as the three-click swing, but it didn't have the same success as other IPs hawked by EA. Compared with Madden, FIFA, NBA Live and NHL, the PGA Tour series felt like an ugly stepsister. Golf junkies defaulted to Links LS. Every year, EA would fall short.
Like everyone in the industry, EA executives were put on notice by the rise of Tigermania. Their opportunity to monopolize the golf video-game market was to appeal to the new star himself, who was a self-proclaimed video-game junkie. He had grown up on the Atari 2600, and in his early years on Tour, he would pack his Sony Playstation. He knew a thing or two about what the appetite demanded.
In February 1998, still aglow from his record-setting win at the Masters, Tiger agreed to a reported four-year, $10 million deal with EA Sports in a partnership that was proclaimed as "perhaps the most highly prized deal in the history of the interactive sports industry." The payoff was immediate: EA's stock jumped nearly 10 percent, with talk of Tiger's involvement going deeper than just as a title athlete. From motion-capture technology designed to illustrate every detail of his swing to live reactions to faster rounds, it was evident Tiger cared deeply about the product that had his name on it.
"I've played video and computer games for many years, but this is the first time I've ever been able to say, 'This is my game,'" Tiger said upon the product's release.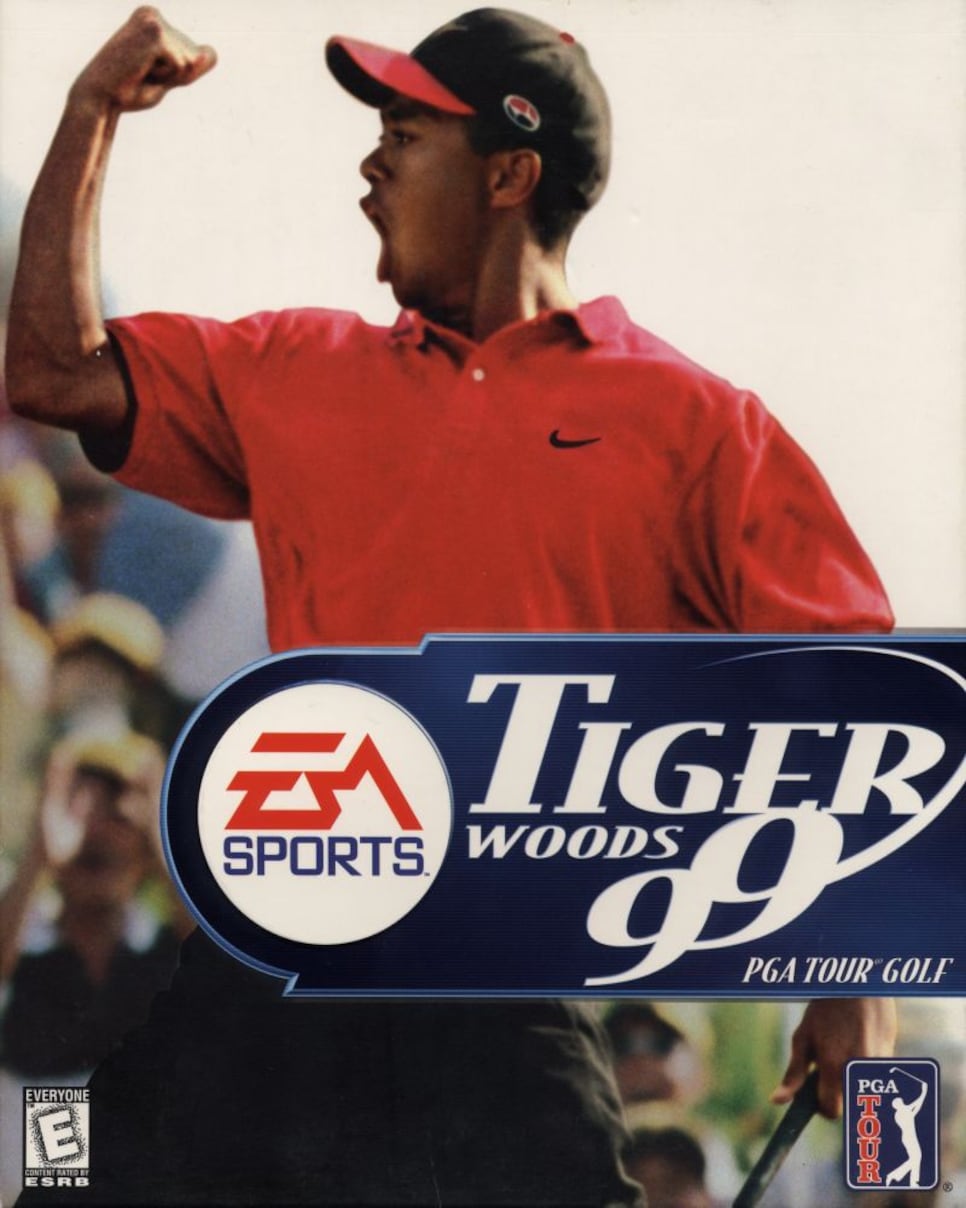 Tiger Woods 99 PGA Tour Golf was released on August 26, 1998.
All it took to bring the game to life was opening the disc tray of your Playstation 1, inserting the disc and closing it. The intro was a significant and stylistic departure from what players were accustomed to. You thought golf was knee socks, wooden clubs and plaid pants, the intro began. Guess what? [Record scratch]. Flashy Tiger highlights with a fiery hard-rock soundtrack lit up the screen.
EA immediately delivered on one of its promises to Tiger, as 18 holes could be completed in 30 minutes. Users were enthused with its pacing. "There's no waiting time between shots on a hole," wrote Andrew Parsons, a reviewer for Playstation Magazine. "This alone makes Tiger Woods 99 a special golf game. When EA tries, they don't just beat the competition — they totally cream them."
The game introduced nine modes of play and access to TPC Sawgrass, Colonial and Pebble Beach, meaning anyone could simulate Tiger playing against the dudes he was regularly beating. It was a promising start. And players who loaded their Playstation copy onto a computer found a nice surprise. An ambitious EA employee had snuck a South Park episode (allegedly Tiger's favorite show) onto the disc, an endeavor that led to a recall of the first 100,000 copies of the game. It was anti-establishment. It was also everything EA wanted the game to be.
"Gone were the days of dorky Brad Faxon with his pleated slacks and Steve Spurrier-esque visor donning the cover of Playstation and Sega Saturn golf games," said SNESDrunk, a longtime gaming YouTuber with more than 300,000 subscribers. The titles that preceded Tiger aged poorly due to uptight presentation and average mechanics. The man himself fondly remembers playing the early Tiger Woods titles in his college dorm. "Thanks to Tiger, EA finally had a real incentive to put some elbow grease into the PGA Tour series," SNESDrunk added.
It was easy to get your hands on a copy. If you couldn't scrounge up $40 (and another $20 for the additional disc of golf courses), you could get a demo disc in a box of Wheaties. For years, emblems touting the game as the "#1 golf video game franchise" adorned each release. In its rise to becoming EA's third-most lucrative intellectual property, the company pulled in revenues of $1.4 billion in 2000.
Woods' completion of the Tiger Slam with his win at the 2001 Masters only added more momentum. EA and Tiger didn't miss a beat. Even the ill-fated CyberTiger, a goofy spinoff inspired by the cartoonish style of the Mario Golf series, couldn't derail the reign. ("Rip up the rules book! Anything goes!" read the back cover.)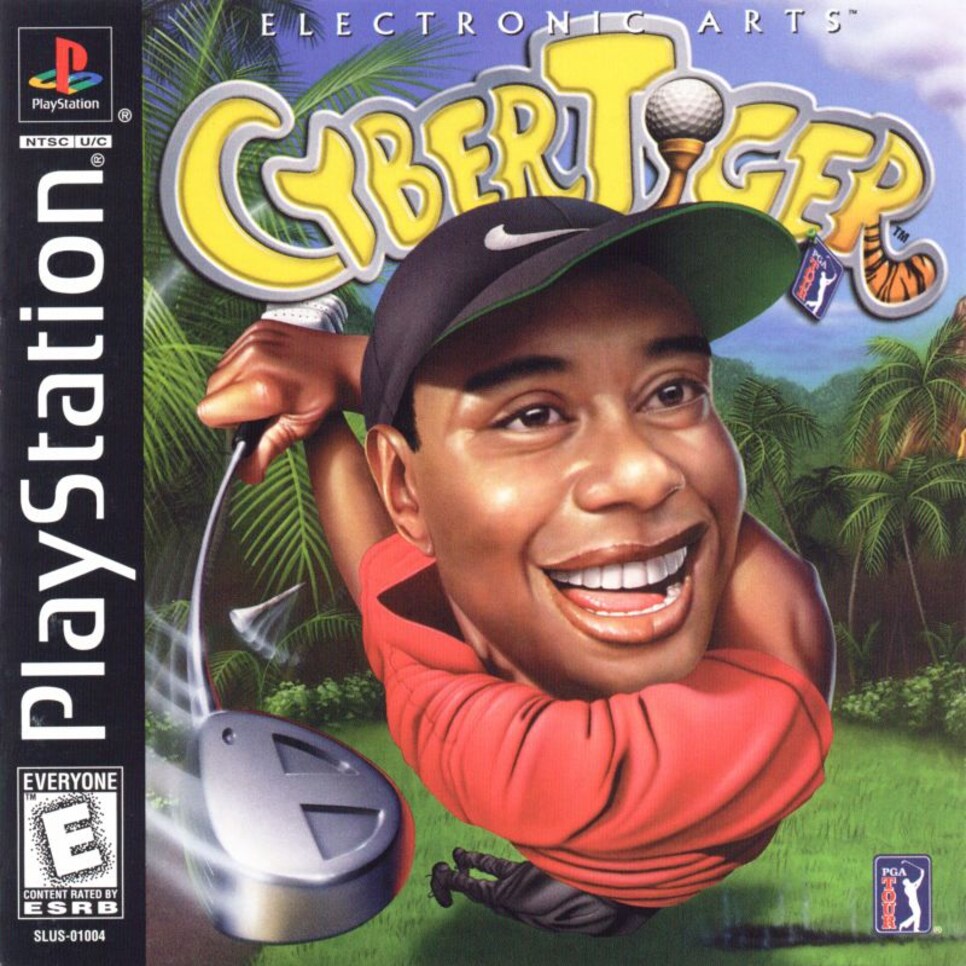 EA plus Tiger: Together forever?
After Tiger won the 2001 Masters, he suited up to aid in the development of the 2002 edition. His uniform (below): goggles and a black skin-tight lycra jumpsuit, with reflective spheres and stripes on his body and the various clubs he swung. And rather than discussing strategy with caddie Steve Williams, Tiger spent the day consulting with Steve De Martini, executive producer of the Tiger Woods PGA Tour series. "Are you guys planning on capturing me?" Tiger asked. "I've got a new swing."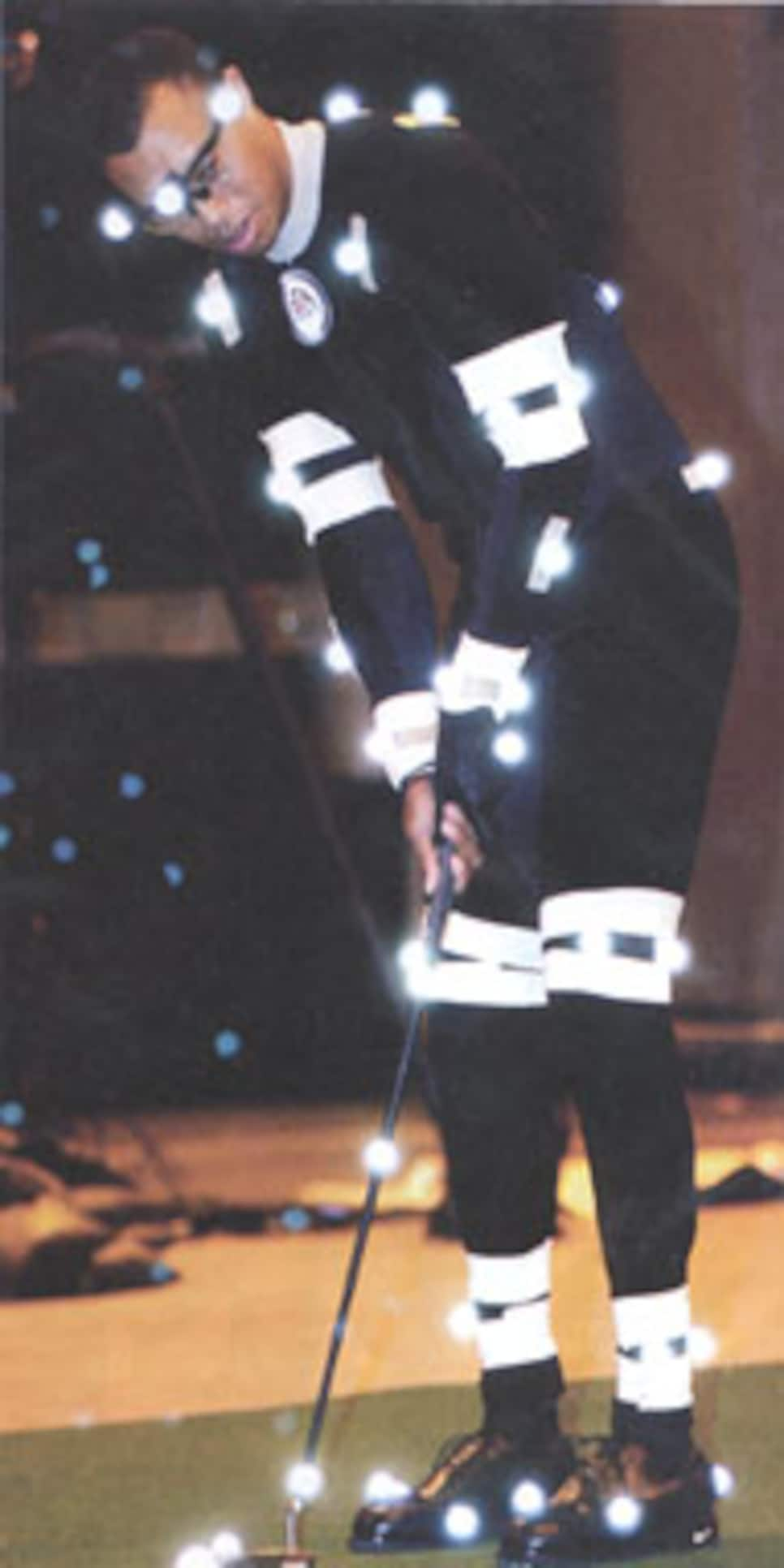 De Martini, also a golfer, happily obliged. Tiger spent the day hitting plastic balls into a mesh cage and reprising his on-course mannerisms. The computer didn't show Tiger doing all of these things; he was replaced by a stick figure. Designers then filled in the blanks with polygons that brought a 64-bit Tiger to life. (Tiger loved how buffed the designers made him).
"The body's not made to swing a golf club wearing this, I'll tell you that," Tiger told The Associated Press. "But it is my swing, no doubt about it. I generate the same amount of speed, I get the same width in my swing. Nothing really changes, but I feel a little more uncomfortable than I would out on a golf course." Like John Madden and Tony Hawk were to their franchises, the cover star and his game became a power couple.
Tiger, however, was admittedly not very good at his own game. "I'm awful," he told Playstation Magazine in 2003. "I usually shoot in the low- to mid-80s. Thank God I don't do that in real life. I've come close to breaking the controller over a buddy's head. But then you just say: 'Hey, let's go play a real game.'"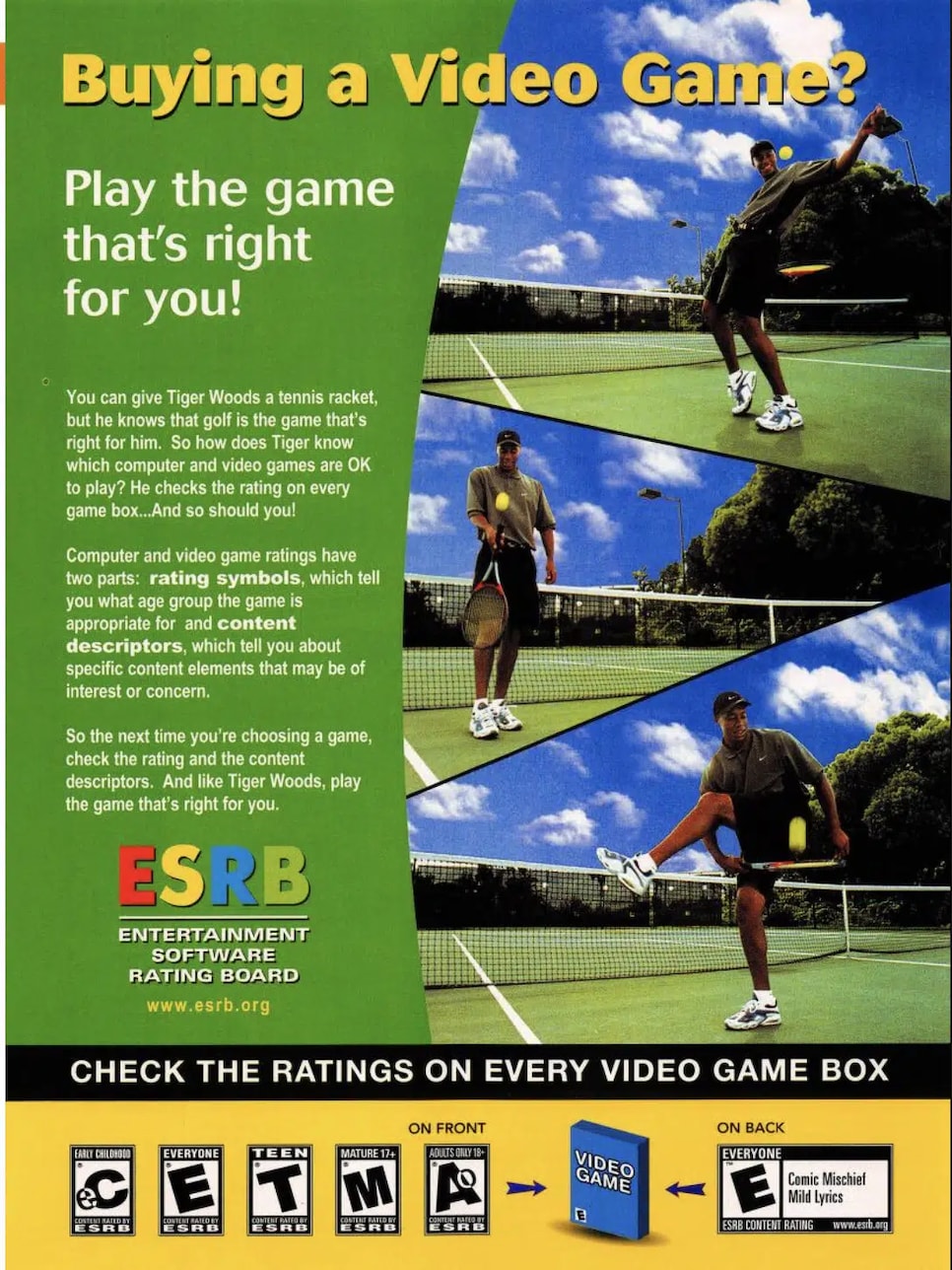 A magazine advertisement from the Entertainment Software Rating Board, featuring Tiger trying his hand at tennis.
DMX's "Party Up" provided the introductory music in 2004, while Outkast could be heard in the background in 2005. These edgy golf simulators attracted traditionalists and casuals alike, with each update adding a new flair. By mid-2006, 5 million units had been sold.
So, what's this all about?
I didn't get into golf early on. In fact, when the Tiger Woods series was at its peak, I had virtually no interest in sports video games. That's not to say I didn't play other video games; they were a central part of my childhood in the early 2000s.
A few years ago, early in my golf fandom, I purchased a copy of the 2004 edition of the Tiger game, 15 years after its release. The sticker price was $5, and I played the game briefly the week before Christmas before other more contemporary titles grabbed my attention. I began to reminisce about what little knowledge I had about the cultural impact of the series, and did some research. It led to a lot of dead ends. For a series that held so much acclaim and had such a chokehold on so many, there was little lore. After hour upon hour of flipping through video-game magazines, vintage HTML websites and any archival material I could find, I decided it was time to expand my collection.
I marched into the neighborhood retro video-game store. I've spent more time than I care to admit in such shops, so much so that they often feel like home. But for once, I felt like an outcast. As I scanned the PS2 shelves in search of multiple copies of a defunct golf video-game series, I overheard the shop owners and customers discussing topics such as Sailor Moon and Pokemon. I was surprised by what I turned up, and it was nice to have options. I tried my best to select each game that was in the best condition, but it's a sad reality to see how the series has been abandoned. The shop had a remarkable assortment. I grabbed everything from a Sega Genesis title all the way to Rory McIlroy PGA Tour edition for the PS4.
I stacked my eight boxes on the glass counter. "Somebody likes golf!" the shop owner quipped. I sheepishly confirmed his assumption, while his co-worker added: "Are these for you?" (That's not the first time I've been asked that in a video-game store).
Yes, these games were for me. As the shop owner went to the filing cabinet to retrieve the discs, an employee took notice of the massive haul: "Are those all golf video games?" I nodded. "Thank you," he responded, obviously happy I had relieved the store of some of its inventory. A wave of laughter ensued. I paid $80 for my acquisitions, and I was off to begin my field research.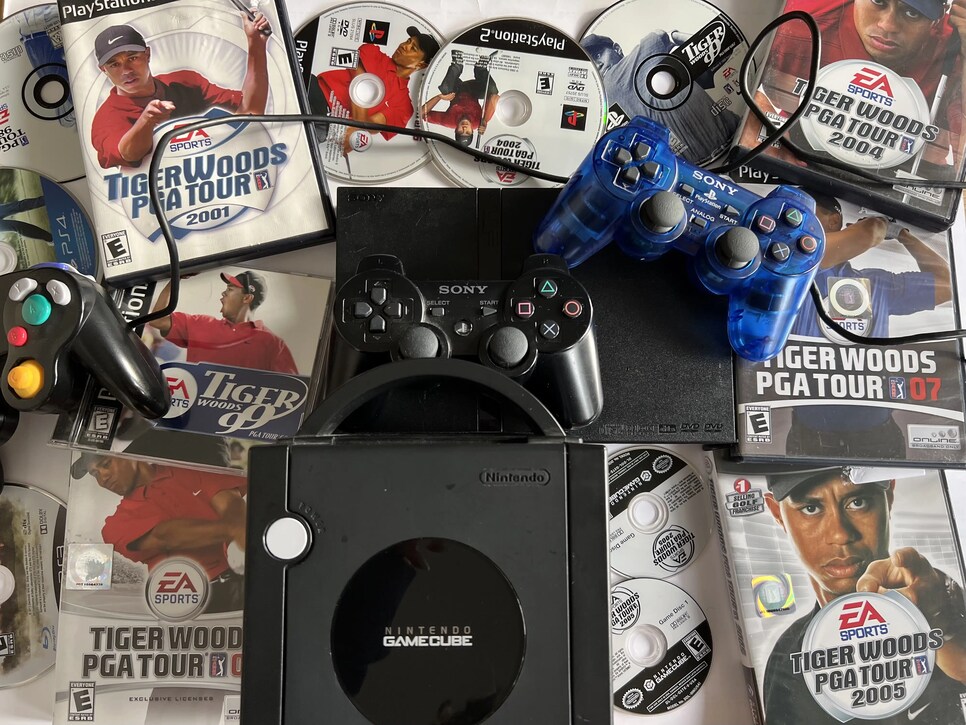 My collection, but make it artsy.
I started with the lone GameCube title I picked up, the 2005 edition, partly because the GameCube controller is the one I'm most comfortable with. I spent a decent chunk of the first evening customizing my character in the heralded Game Face feature. All these years later, I can safely say that it's extremely immersive! I got locked into a four-hole playoff against Billy "Bear" Hightower. Although I lost after he made a 20-foot birdie (grrrrrr), I can safely say it was one of the most exhilarating experiences I've had in gaming. From snide remarks by the commentators (I got to the green in 2; what else do you want?) to the fictional money that was pouring into my virtual bank account, I was having the time of my life playing courses such as Troon North, Colonial and Pebble. If only I could play this well in real life!
As I tried other iterations that were introduced around this time, I understood the hype. But what was so dissonant about the pre- and post-Tiger eras?
I blew air into PGA Tour II and fired up my Sega Genesis to find out. Given it was from the 16-bit era, there are massive limitations in the presentation, so my expectations weren't high for EA's first release. I found everything to be just fine. The controls and depth were engaging enough to create a good golf simulator. But the rigidity of the soundtrack and the slowness and lack of game modes were a problem. The game served as an excellent time capsule, but it probably won't get much more play time from me.
Let's time-travel forward 23 years. The final entry was released without the cover star we know and love, and replaced by Rory McIlroy, a beloved figure in the world of golf. So why did it all end here? More on that shortly, but my experience with this version was soulless and no fun. I opened the box to an advertisement and no manual. Digitized instruction is the new reality in the world of modern gaming, but it's still gutting for someone who grew up with physical manuals. The game is void of the zaniness from its earlier entries. The graphics are stunning and I was able to play through the final round of Rory's 2015 U.S. Open as a tutorial, which helped make up for the lack of a manual. The controls are as smooth as butter! It was a great first date, but not all that memorable, and I can understand why this one didn't make too much of a splash. There will be no further courtship.
Breaking up is hard to do
Tiger Woods and Princess Peach certainly had something in common; a crown jewel held in captivity by what would become a fire-breathing behemoth. Eventually, the castle began to crumble. Still, EA didn't abandon Tiger after news broke of his infidelity and other escapades in November 2009. Two months later, the EA Sports president said sales of the series hadn't been adversely affected. Still, EA's value dropped 4.3 percent.
Even with the introduction of Ryder Cup mode, Tiger Woods PGA Tour 11 didn't break into the top 20 in games sold in the first month of its release. Sales declined 68 percent compared with the previous year's release. A playable Augusta National was introduced the following year, but that came amid a new set of EA missteps. Fans were dismayed at the direction the series began to take with the inclusion of microtransactions and downloadable content. EA was nickel-and-diming fans. Want to have the best clubs in the game? Want to play every course to complete the game at 100 percent? That'll be an additional $20!
Tiger Woods PGA Tour 14, released in March 2013, was the most advanced entry yet in the series; for the first time, fans could play all four men's majors as well as LPGA events. But it would also be the cover star's final collaboration with EA; the 15-year partnership ended late that year.
"We had an incredible run," Mark Steinberg, Tiger's agent, said at the time. "Outside of [John] Madden, you would be hard-pressed to find a sports figure that meant as much to a video game company as Tiger meant to EA. But times are changing and EA had to re-evaluate the partnership. And frankly so did we." Two years later, a new title athlete would emerge after McIlroy signed a $7 million deal to become EA's golf star. But that partnership would last only one year.
An expired license meant no Augusta National. Few courses were available at launch, and many popular features were removed. McIlroy couldn't save things. "If a professional career in golf was really this unrewarding and directionless, Rory McIlroy would probably have set his sights on a Masters in accounting rather than the one in Augusta," IGN wrote.
Enter 2K (NBA 2K, etc.). After acquiring a smaller studio named HB Studios, which had worked on games called The Golf Club, the series became PGA Tour 2K after a licensing agreement was reached with the PGA Tour. Its first entry, PGA Tour 2K21, was released in 2019 and was hailed as the first great golf video game since the heyday of the EA and Tiger Woods series. The company moved 3 million units over the next few years and lured Woods in a deal that was similarly structured to the one he signed with EA near the turn of the century. But two decades later, can his name still generate the same profitability?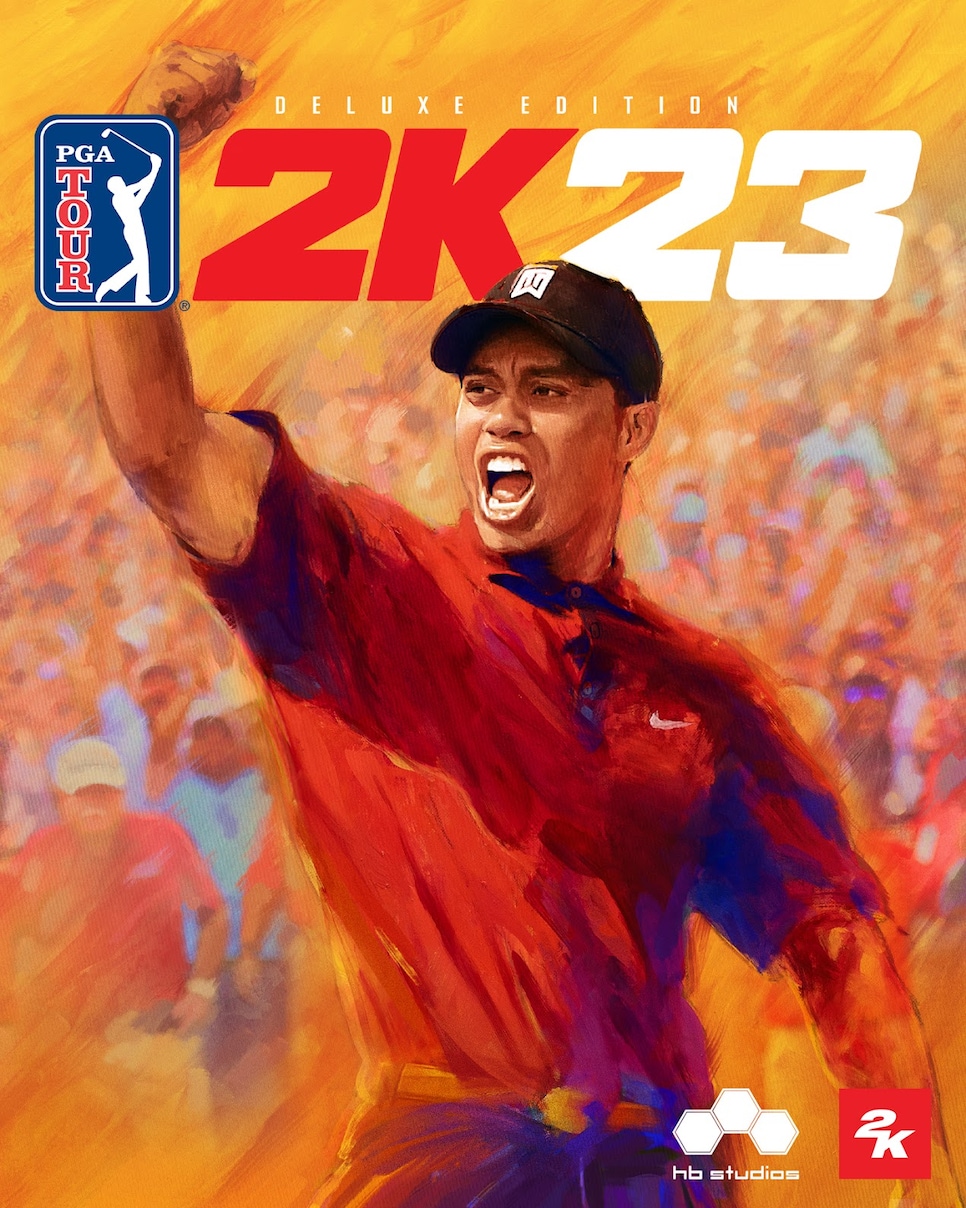 "Absolutely," says Joost van Dreunen, who teaches about the business of video games at NYU Stern and is the author of One Up. "A sports video game title will sell around 20 percent more units when it carries the likeness of a celebrity athlete. Among them, few have the kind of staying power like a Tiger Woods."
Cue EA. While 2K's strongest golf video game yet made a mid-October splash, EA is readying for a big return of its own. While golf's largest governing bodies could have followed Tiger to 2K, they remained committed to EA. It has regained the licenses of the four men's golf majors, added two women's majors and will offer a full-blown USGA career mode.
"We heard both from EA and 2K, but as we thought about our strong relationship with EA, they were a no-brainer," says Amanda Weiner, USGA managing director of digital media. That gives EA the exclusive right to courses associated with USGA championships, a feature Weiner says she hopes will generate more interest from a younger audience. A release date during Masters season is no coincidence.
Ultimately, consumers will reveal what they value more: Tiger's endorsement, or the opportunity to play major championship venues. Van Dreneun, however, believes EA and 2K might not be competing head-to-head. "Signing Tiger Woods is a boon for 2K, certainly," he says. "Where sports titles historically try to undercut each other in pricing and release dates, the market has matured to the point where different publishers in the same category, like golf video games, set their release schedules almost in tandem with each other rather than compete head-to-head."
Tiger lifted an entire sport. Who's to say he can't inject life into a genre that has been neglected for years? We very well might be on the verge of reliving the glory days of Tiger Woods and video games.