News
An early look at Titleist's new AVX golf balls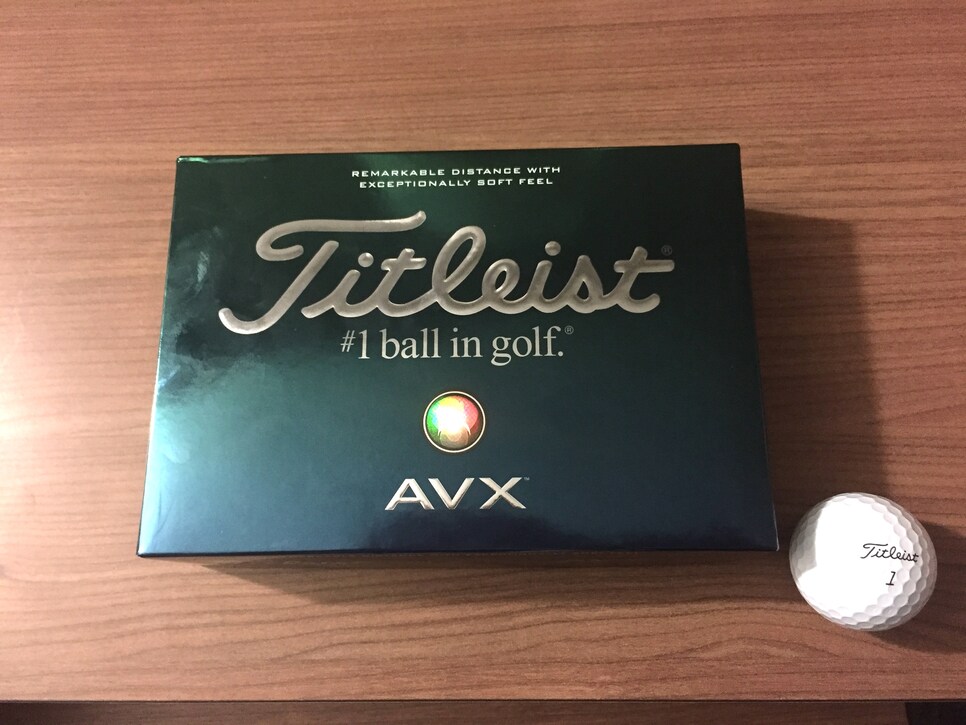 A few weeks back it became known that Titleist was planning to introduce a three-piece, urethane-covered golf ball called the AVX. Now that ball has hit the shelves in golf shops in select markets and Golf Digest happened to come across a dozen out in California.
The ball, which is on the USGA Conforming List of Golf Balls is designed for golfers seeking a premium performance golf ball with an emphasis on long distance and soft feel. The balls are housed in a green box and the verbiage on the box hammers home the distance and soft feel theme.
"AVX utilizes innovative, high speed, low compression core technology, resulting in a powerful engine to drive remarkable distance with exceptionally soft feel," states one part.
"The high flex casing layer enhances speed and controls spin to promote even greater distance," states another. And so on.
Upon inspection, the ball appears to have a shallower dimple pattern than the company's Pro V1 or Pro V1x. According to the box, the pattern is a 352 tetrahedral catenary dimple design that produces flight consistency.
Titleist is now seeking additional golfer feedback throughout the fall to determine whether the AVX will be introduced worldwide. To that end, a card inside the box invites golfer to provide feedback through a website and is offering a $20 prepaid cash card to the first 350 respondents, provided they complete a second survey.
The foray into the soft feel premium ball arena makes sense for Titleist. As the undisputed market leader in golf balls it only seems logical it would not want to leave any aspect of the market untended to. The company enjoyed success when introducing its Velocity golf ball as an entry into the two-piece, distance ball market. The company likely having taken note of the success of Callaway's Chrome Soft/Chrome Soft X balls (which account for nearly seven percent of the golf ball market) along with the institutional knowledge of the likely excitement surrounding any new Titleist golf ball (especially in the premium category) and it would not be a stretch to think this ball will ultimately be available to more than just a few select consumers. Already some consumers are trying to cash in on the limited release, as some are available on eBay for $26 per sleeve or close to $70 per dozen.