The Loop
Amanda Balionis on joining CBS, impromptu swing lessons from Peter Kostis and playing Tic-Tac-Toe against Jack Nicklaus
Welcome to our "Golfers We Like" feature, where we regularly talk to people in golf whom deserve your attention. One of the rising young stars in golf broadcasting is Amanda Balionis. Balionis has been a host for PGATour.com, TNT and Callaway, where she's contributed to their digital videos, including their Callaway Live broadcasts. In 2017, Balionis was added to the CBS golf team, doing player interviews and oversee coverage from the network's Smart Cart. Though Balionis is very active on social media, we wanted to give our readers an inside look at the personality they see on their TVs. Here's our chat with Amanda:
What it's been like working with the CBS golf team?
"It's been incredible. I tell the story, when they first asked me to join the Golf on CBS team, I just felt really lucky and grateful for the fact that anybody felt confident in me to take a risk. Because it was a role that they hadn't really tried out before. CBS had this Smart Cart for a couple years but everyone on that broadcast is just so busy with their roles, there really wasn't someone who could fully dedicate themselves to the Smart Cart. When I got the phone call asking if I wanted to be a part of this team in that role, it was a humbling phone call to think that anybody believed I could fit that role. It was really cool, and I called my parents and told them I was going to be on the CBS broadcast. And I think they thought I was going to be on a digital broadcast or something on a local CBS station. I don't think they fully understood what I meant. But after my first hit at the Genesis Open, the first text I got was from my mom, and she said, 'Oh my Gosh, Jim Nantz knows your name!' I was like, 'I know!' So that was a surreal moment. In this business, the CBS Golf team is the best of the best, so I just feel so grateful being a part of it."
What's something you've learned that maybe an average golf fan wouldn't realize about broadcasting a golf event before joining the CBS team?
"It's just all the moving parts that go into creating a network broadcast. When I walked onto the TV compound for the first time, and everyone was introducing themselves to me, I started talking to everyone from producers to directors to cameramen, everyone in between, even the catering guys, all of these people have been a part of this team for many, many years—a lot of them 30+ years. And they all love their jobs. I say this all the time: This is the best culture I've ever worked in. It can be a really grueling job, too; these men and women can be away from their families for weeks and months at a time. That could be something that really wears on you. You're often living out of a hotel room and working really long, 12 to 15 hour days on the weekend. And they absolutely love what they do, and they love the people they work with. You're never going to fail when you have people there for decades and they love what they do from the day they started."
Do you have any funny stories from some of the talent on the broadcast team, whether it's Nantz or Nick Faldo or anyone else?
"They've all been great. Pretty much once a week, the announcers try to get together and have a dinner. So getting to know these people personally has been amazing. And they really all have embraced me. Gary McCord loves to poke fun at me every time I say something at dinner, he'll look at me and say, 'You are younger than my grandchildren.' No one lets me forget that I'm the youngest one by a lot on this crew. And they give me the friendly hard time of being the youngest. I absolutely love Dottie Pepper; she can trash-talk with the best of them but in the best way. She has me laughing all the time. Jim Nantz has just been unbelievable. He has gone out of his way to be so encouraging with me and to give me advice and just really telling me, 'Just keep doing what you're doing, keep working hard.' And that couldn't mean more coming from anyone else.
"Peter Kostis gave me a golf lesson the other day. I bring my clubs with me on the road now, and we went to a range behind a course the other day. I was just gonna hit some balls, and Peter Kostis just happened to be there working on his own game. And in true Kostis fashion, he looked at my swing and said, 'We have a lot of work to do.' And he proceeded to give me the most grueling hour lesson I've ever had. I was drenched in sweat and now I have a million things to work on, but it was so much fun. He's so smart and engaging and can break down a golf swing at a moment's notice. When he does one of his Konica Minolta Swing Vision breakdowns, he's getting 20 seconds of notice that he's going to be doing that. It's not something that's all that planned. But he's that good—he knows what he's looking at, and he can break a swing down on the fly better than anybody in the business. And he broke down my swing into a lot of things I need to work on."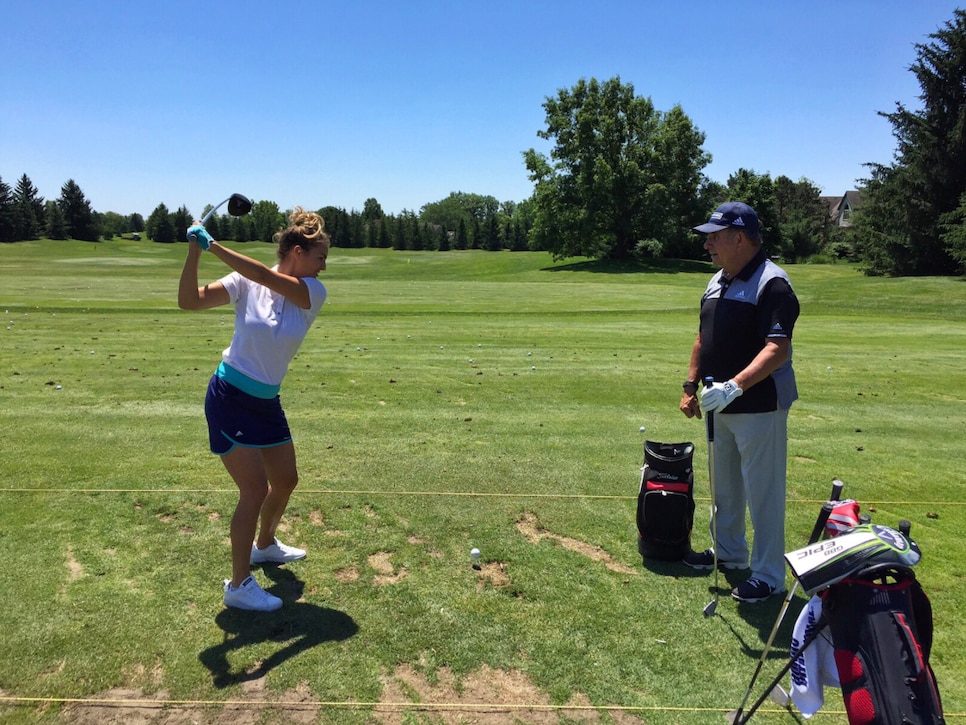 Was there any surreal on-air moment for you that made you stop and say, 'Wow, I'm actually a member of this broadcast team,' anything like that?
"I'll be honest, pretty much every time that Jim Nantz says my name as part of the crew at the top of the broadcast, I'll still giggle. And every time he throws it down to me, I'm thinking in my head, 'Oh my Gosh, Jim Nantz is throwing it down to me.' And I wonder if one of these times I'm just gonna be laughing once I'm on.
"I think the moment where I said, 'This is going well,' was at the Genesis Open, and we brought in Dustin Johnson, and we edited all these highlights together to be played on the cart for the very first time. We said, OK, let's hope this works when you click these buttons on his scorecard, let's hope it actually plays and Dustin is cool with talking through everything like we envisioned it. And it was kind of trying these new things with the No. 1 player in the world, and it couldn't have gone any better. So at the end, I had to bring up his new French Bulldog puppy, and the guys in my ear were saying, 'Only you could work that into an interview like that.' But I thought it was a cool player for us to talk to and have him break down his own highlights, while also adding a personal touch to him, too. To me, that's kind of part of the role I want to expand on: Being able to show a little bit of personality for these players when we have the time to do it."
Having worked a bunch of tournaments for CBS, and doing it for Turner Sports and TNT at the PGA Championship, what would you say you've learned as a broadcaster?
"I actually think about that, kind of a lot. I think the difference between the last few years and me today is the confidence I have in myself that I know what I'm talking about and I know what I'm doing. I think everyone has their own struggles when you're on-air. There's a lot of pressure that comes with the role of a post-round interviewer, and somebody who only makes a brief appearance on a telecast. You're only telling a small part of the story, but your room for error is pretty much zero. If someone is going to see you for a minute or two, and if you mess up once in that minute, that's all they're going to remember. And that used to weigh on me a lot.
"I used to make all of these crazy notes—too many notes—and really overprepared in a way that was almost like me trying to prove to myself that I was doing, instead of just being confident in what I was doing and what I know. Preparing is one of the most important things you do in probably any job, and having the right information is so vital. But I tended to go a little overboard in the way I was asking my questions, too. A lot of times, it was way too intricate or it was way too much information. It was basically just me in a way saying, 'Look, I know what I'm talking about.' And that doesn't work. It took me awhile to have the confidence to where I didn't need to prove to the player I'm talking to, or the viewer out there, that I know the game of golf. That's not my job. My job is to ask the right question and get the player to talk. ... So that was the big difference, and I think the turning point there was when Turner Sports hired me from their digital side to do their TNT coverage of the PGA Championship, and I felt that was a real sink-or-swim moment for my career. And I knew if I wasn't confident in myself in that moment, I was really setting myself up for failure."
Through all of these experiences, do you have a favorite experience that sticks out as something cool you got to do?
"Two really stick out. The most recent one was CBS called me and asked me to come in a little early the week of the Memorial to interview Jack Nicklaus on the Smart Cart, and he's going to telestrate the entire back nine at Muirfield Village. And I was like, 'Are you serious? You want me to interview Jack Nicklaus?' And they're like yeah, it's going to be great, you'll teach Jack how to use the telestrator. But he gets up there, and I'm so nervous, and I introduce myself, and he could not have been any nicer. And I asked him, 'Mr. Nicklaus: What are your thoughts on learning how to learn the telestrator?' And he said, 'Yeah, of course I want to learn that.' So to see how competitive he was about it, just like with everything. He was so up for the challenge of learning it, and we did it three or four times because he wanted to perfect it. And I loved that so much. And then at the end, he turned me and said, 'Amanda, want to play a game of Tic-Tac-Toe on here?' So of course I lost to Jack Nicklaus in Tic-Tac-Toe, and it was amazing. That was definitely one of those once-in-a-lifetime moments. He beat me first game, first try. Just unreal. I was like, 'If there's anyone to lose to though, it's Jack Nicklaus.'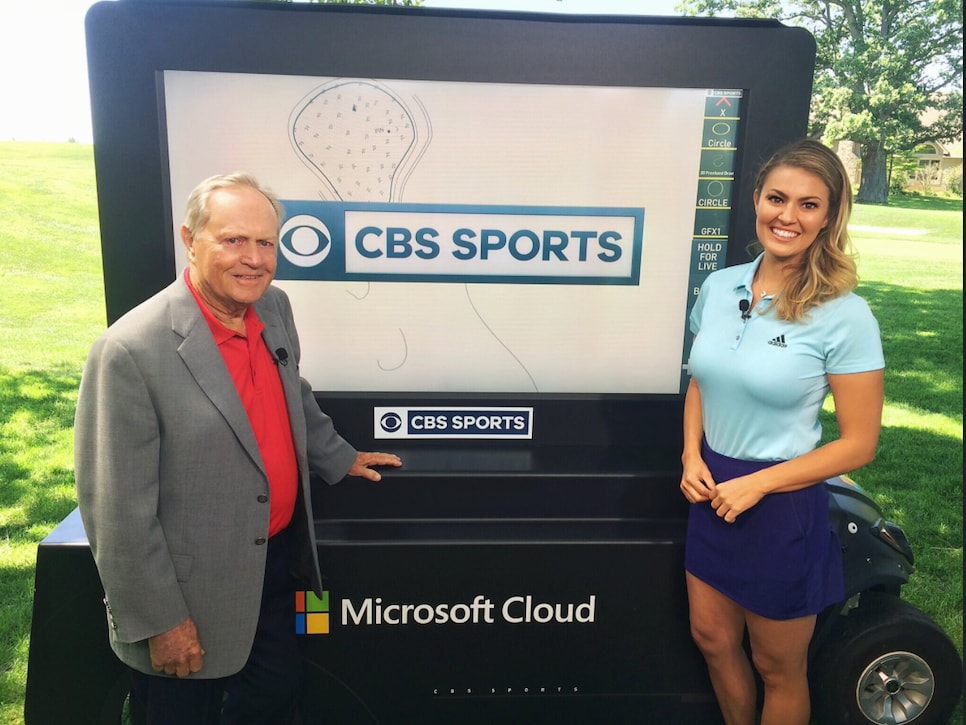 "And then last year at Oakmont, I'm from Pittsburgh, so being there with my family was amazing. But Callaway allowed me to run with this idea of doing trick shots at Heinz Field with Jim Furyk. And Jim said, 'Alright, I'll do it. But you have to make it cool.' So I asked myself how I could make it cool. I reached out to Burt Lauten, who is the Communications Director for the Steelers, actually through Twitter. And he said, 'Sure, how about I get Ben Roethlisberger?' So we called Jim, and he said yeah let's do it. So I spent my 30th birthday during the U.S. Open at Heinz Field in my hometown watching Jim Furyk and Ben Roethlisberger hit chip shots at the home of the Steelers. It literally couldn't have gotten any better for me.
Just a little on your golf background, sounds like you're getting into playing a little more, bringing your sticks on the road. What's your golf game like?
"My whole family are golf fanatics. My grandparents met on the golf course. My parents play virtually every day. So I grew up around the game. I took lessons at a golf course where I grew up in Lancaster, Pa., when I was little, probably when I was 8 or 9 years old. I played junior golf for a few years; my parents loved playing with me, but the minute I had to carry my own bag and walk nine holes by myself, I was like, 'Eh, you know what, I'm gonna go join the swim team.' It just didn't have the same allure for me when my dad wasn't carrying my bag, and I couldn't drive a cart yet. Even though I stopped playing junior golf probably around 13 years old, I was still going out with my parents weekly to play a little loop around my house.
"For me, I never loved the idea of going out there multiple times a week and playing 18 holes every time. That's not for me right now. What's most fun for me is going out with my friends or family and playing a fun nine holes and then grabbing dinner afterward or something like that. I think that's OK. I always laugh, I think most people assume that to love golf, you have to love the grind of playing 18 holes and that whole culture. I think it's so fine if you love the game of golf, and you play nine holes once or twice a week. So that's what I try to do now, and then I found out that a lot of the team, like producers and stuff, they'll go out and play at least once a week early in the week. So of course I'd do that. So they keep my clubs for me, actually in the Smart Cart trailer, so the goal is to go out and at least play nine holes or at least hit a bucket of golf balls to work on the things that Peter gave me to work on. So that's my new goal each week to do something to work on my game."
Speaking of goals, where does Amanda Balionis see herself in a couple years down the road?
"Really, the goal is to stay with CBS Sports and hopefully develop my role to the point where they feel like I add substantial value to the team where I could join them on a full-time basis. That's the most immediate goal. For long-term, the dream gig would be full-time golf and football, no question. CBS let me have a sideline game during Week 5 for the Raiders versus the Chargers. So maybe I'll get another opportunity like that in the near future."