If you're like me, slightly attention-deficit and unable to focus for a full 18-holes, then an absorbing nine-hole course like Sweetens Cove is just the ticket. Located a half-hour west of Chattanooga, just off Interstate 24, Sweetens Cove is guaranteed to distract you from worldly concerns and worries using a combination of charm, character and railroad ties.
Hand-built from the remains of a forgettable nine-holer called Sequatchie Valley, Sweetens Cove was designed and constructed in 2013 by architect Rob Collins and construction partner Tad King. As their debut project, they went all out to make a big impression, with enormous fairways (the seventh and eighth holes share one that's a hundred yards wide), distinctive greens (the one on the par-3 fourth seems to go on forever, with wings, swales, knobs and corner pockets), and varied bunkering (massive waste bunkers on the third and ninth, tiny pot bunkers on the second and fifth).
The par-5 first and drivable par-4 fifth both have bunkers banked with vertical railroad ties, bringing to mind Pete Dye. The zigzag nature of the par-5 third, as well as the entire fourth green, remind me of Mike Strantz. The damn fine par-3 ninth with its cascade-of-turfgrass putting surface seems like a tribute to many Redan greens fashioned by Seth Raynor.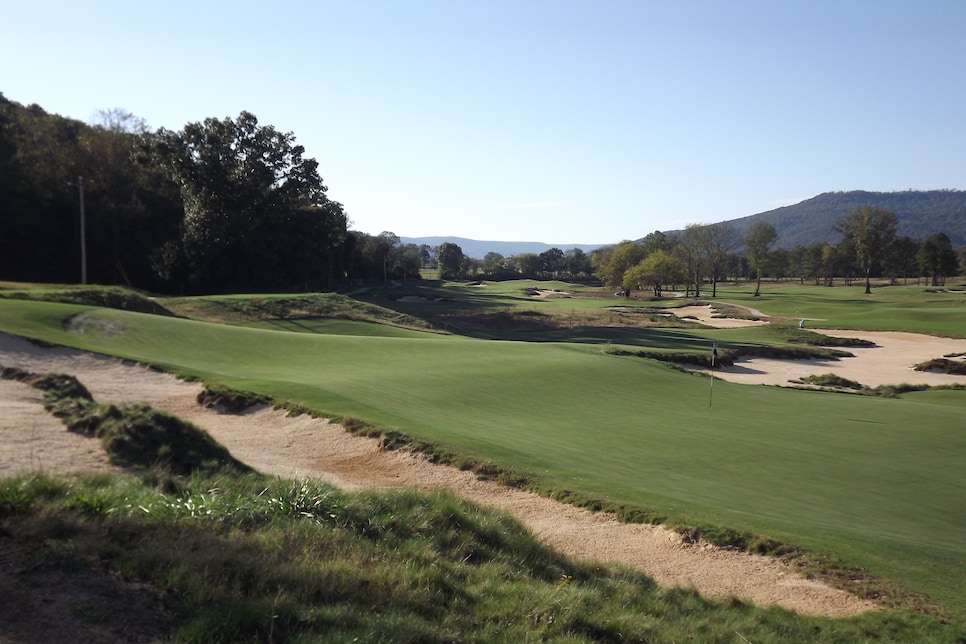 Did I say I can't focus for more than nine holes? At Sweetens Cove, I can easily take in a second loop, or even a third. There seems to be at least three ways to play each of its cleverly-crafted holes. I'd like to bottle it and take it home.
Sweetens Cove Golf Course is a candidate for Golf Digest's 2017 ranking of America's Best Nine-Hole Courses, to be announced this fall.