News
Alex Noren figured out golf isn't everything, and it turned him into one of the best players in the world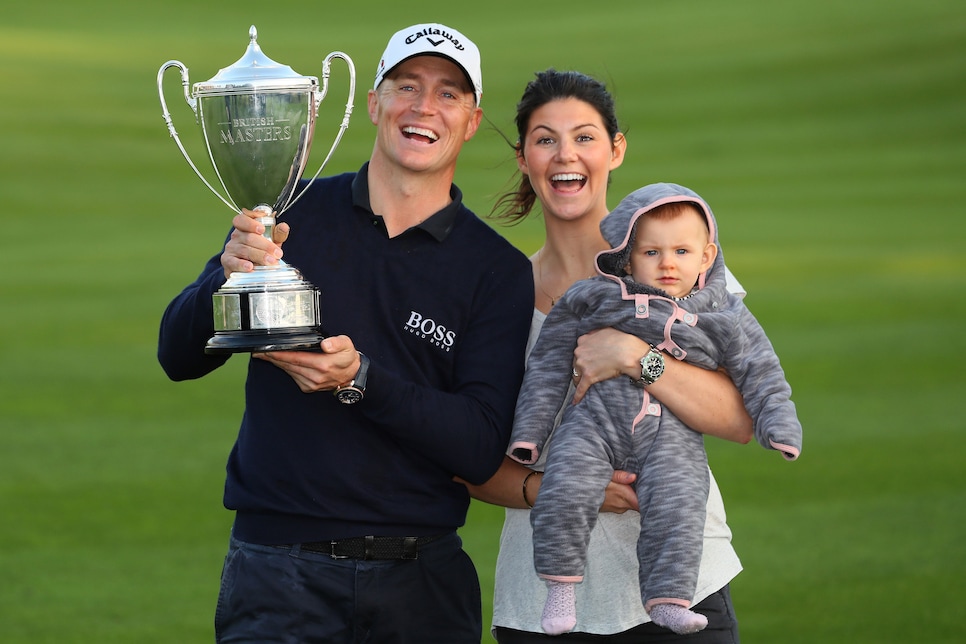 ABU DHADI, UAE — The calloused hands of Alex Noren speak to what Hunter Mahan said about their college days together at Oklahoma State. "He did everything 100 percent," Mahan told me before my trip to Abu Dhabi in January. "Workouts, school, practice—incredible work ethic and great resilience and patience."
The incredible work ethic and resilience, mixed with some newfound balance, is starting to pay off. At 34, Noren won four times in the European Tour last year to vault from 122nd in the world during the 2015 season to No. 9 at the end of 2016. On Sunday he won the biggest tournament of his career, shooting 62 in the final round of the BMW PGA Championship at Wentworth.
"Probably my best ever," said Noren of the final round in the European Tour's flagship event. "It's a tough course mentally coming down the stretch. It's not super narrow, but it's just if you hit it a little bit wayward, it can cost you. And I putted probably the best I've ever putted."
With those successes come a spot on Thomas Bjorn's radar screen for the 2018 Ryder Cup. The quantum breakthrough last year was somewhat surprising to the game's insiders and his peers.
"It's always difficult to predict that somebody would go out and do what he did," Bjorn said. "The talent's always been there, but winning that many golf tournaments in a short period of time, that's for very few to do."
Bjorn reiterated his thought after the BMW PGA win with this post on Twitter:
Noren and I had a chance to catch up at the Abu Dhabi HSBC Championship. I had tried to connect over the holidays while he was working on his game at the Bear's Club in Jupiter, but typical of Noren, his regimen didn't leave time for an interview. So, nearly 8,000 miles away, I met the Swede on the range at Abu Dhabi Golf Club, pounding balls before his 2017 debut.
To the American golf audience, Noren is undoubtedly the world's most unrecognized top-10 player. "As golfers, we know where we are," Noren said during a 15-minute break. "You know when you play with others. I'm pretty realistic about it. If somebody says you're unknown, it doesn't really matter to me that much. I don't have the faith, still. Maybe that's why you keep trying."
Noren's insecurity took root when he failed to win in three years at OSU. Mike Holder, his coach at the powerhouse program, described Noren as "one of the more talented players we had, with tons of potential, but he just couldn't get out of his own way."
The same was true as a pro. Noren hit so many balls that he developed tendinitis in both wrists and played only two tournaments in 2014. Bjorn noted that Noren has been less obsessive since starting a family in 2016. "I think Alex found a very good balance in his life last year with other things to occupy his mind," Bjorn said.
Noren, who finished T-13 at Abu Dhabi, concurred. "My whole life was golf," he said. "If I played bad, I was sad. I was really happy if I played well. Now it's a combination of knowing where you are with your golf and having something else that's really important. That just makes the wins less fun and the losses less bad."
Not being one of Darren Clarke's Ryder Cup captain's picks last fall didn't devastate Noren. He watched the matches from home in Sweden, 8-month-old daughter Iris and wife-to-be Jennifer Kovacs by his side. "A lot of people came up to me saying, Don't you wish you were at the Ryder Cup? I'm like, 'Maybe zero.' Golf is so punishing all the time. I don't ever dwell on it, I was so close to that. There's so much to think about and look forward to. I can honestly say I didn't have those thoughts when I watched it."
The time he has spent at the Bear's Club, playing rounds with Rory McIlroy, and absorbing the advice of Jack Nicklaus has made Noren feel more confident in his ability. His Q-Rating should rise in the United States with a run of tournaments leading up to Augusta and ending with the Players. "I still feel like I have a long way to go," he told me. "If I was hitting it like Rory, I wouldn't have these callouses."
Editors' Note: This story first appeared in the Jan. 23, 2017 issue of Golf World and was updated on May 28.