AIG Women's Open
Enjoy Walton Heath for Women's Open, because it's a true classic course made obsolete by men's distance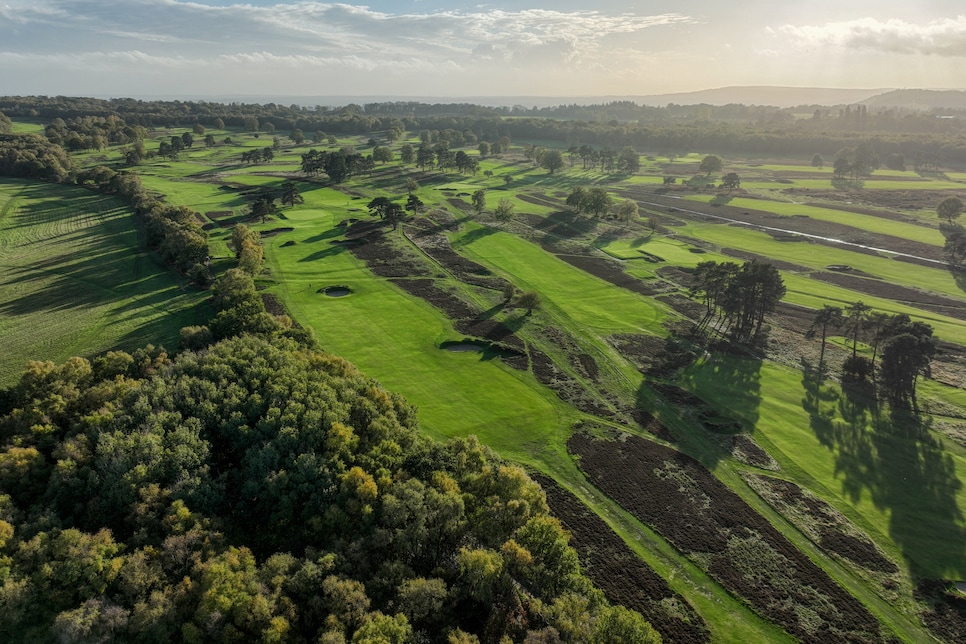 An aerial view of the AIG Women's Open composite course at Walton Heath Golf Club.
Liam Allan/R&A
Wherever one stands on the seemingly endless debate over how far leading professionals should be able to hit modern golf balls, one aspect is undeniable: The biggest victims of the distance explosion have been so many of the game's truly great courses. Too short to fully challenge golf's (male) elite, they have been rendered obsolete.
One on that ever-lengthening list of has-beens is Walton Heath, the venue for this week's AIG Women's Open.
More than four decades ago, this classic Herbert Fowler heathland design hosted one of the greatest Ryder Cup matches and what many still believe was America's greatest-ever team (only one of the 12—Bruce Lietzke—did not win a major championship). Today, the biennial contest between Old and New Worlds could return only if it was deemed acceptable that almost every par 4 be reached with a short-iron approach. Today, Walton Heath is little more than a quaint antique as far as the leading men are concerned.
Thankfully, however, that level of insanity has yet to taint the women's game. With the composite layout (16 holes from Walton Heath's Old Course; two from the New) measuring 6,881yards, the leading LPGA players will see pretty much every club in their bags fully tested over the coming days. Speaking immediately after her Tuesday pro-am round, 1986 champion Laura Davies described how she had hit "two 2-woods, four 2-irons and four 4-irons into par 4s."
"We're going to see some really long shots into a lot of the greens this week," continued Davies. "The course is wet after all the rain we've had and is playing excessively long. Which is a pity. Being so soft makes the fairways play wider and makes it less likely shots will finish in the heather, which is the biggest hazard out here. Unless the weather changes, it's going to be a bit of a slog."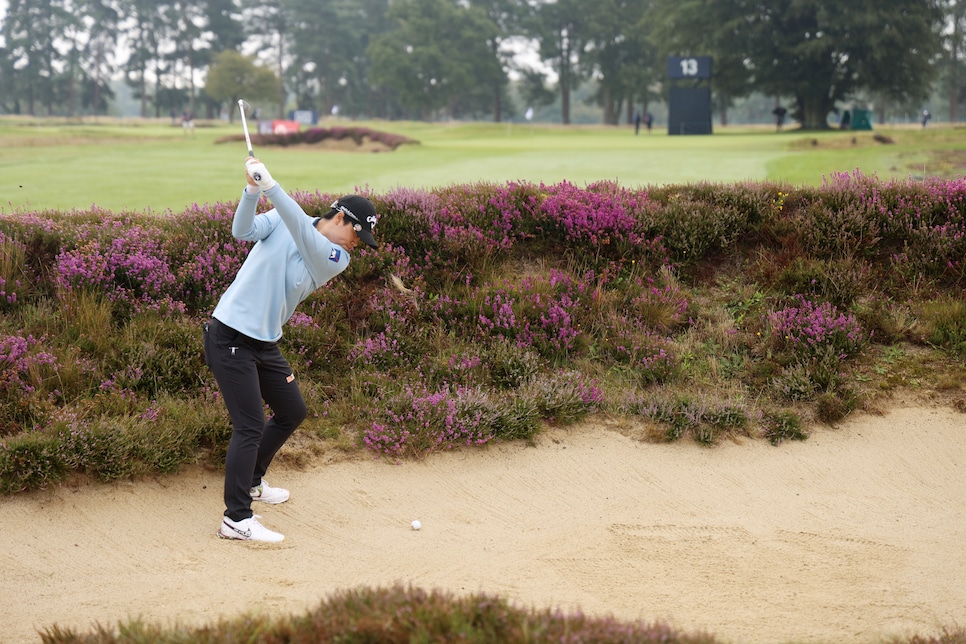 Yuka Saso hits a bunker shot on the 13th hole during the Women's Open pro-am.
Oisin Keniry/R&A
Which is not to say golf's only Dame Commander of the Order of the British Empire is not looking forward to what will be her 43rd successive appearance in her "home" Open.
"This is a fantastic course," continued the four-time major champion. "My only regret is that it is not running hard and fast. Walton Heath is not a links, but it can play like one. I'm guessing that's what the R&A were hoping for when they decided to come here. If you want to see a bad shot punished, this is the place. There's the heather, which is so horrible to play from. And there are so many well-placed cross bunkers. It's a really hard course if you're not playing well. Every hole is easy only if you get your drive in the right position. So some players will go low this week. But only if they play really well. Which is as it should be. Great players playing well should go low. If they don't, there is something wrong with the course."
All of which only underlines the almost unanimous view that a rollback of the ball is exactly not what the ladies game needs right now. Ask just about anyone.
"I can see a rollback hurting the women's game," says defending champion, Ashleigh Buhai. "Look at how we play the game. It's about precision. We don't overpower courses. Most of the par 5s are reachable in two for only 15 percent of our players. Yes, we are getting longer, but it is still possible to move our tees back to provide a proper test. They can't for the men, of course. So we can still play all the great courses the way they were designed to be played. The bunkers are still in play for us. Which is the beauty of this week."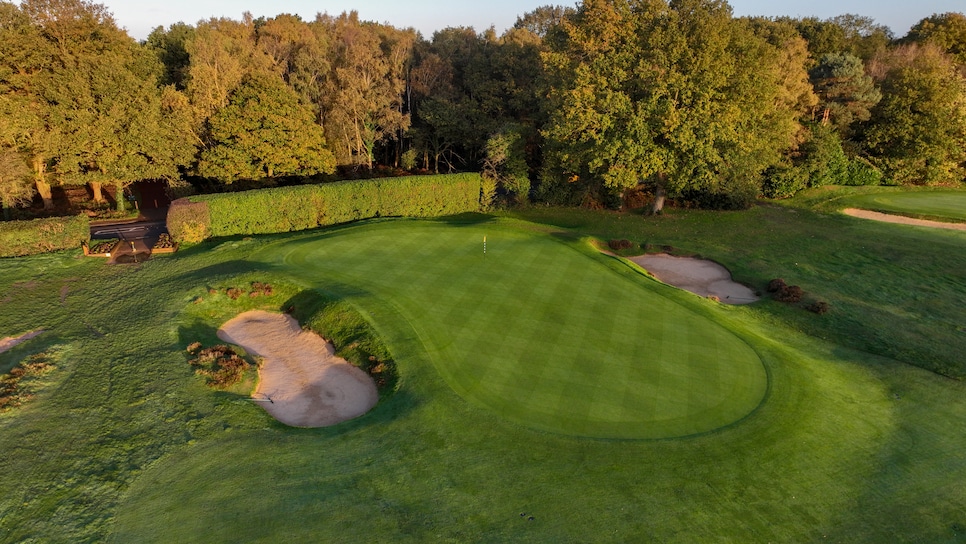 An aerial view of the par-4 18th hole at Walton Heath.
Liam Allan/R&A
Australian Hannah Green agrees. "We can still push the tees back," says the former LPGA champion. "But if they have a rollback, they will have to do it for everyone. So maybe we will end up moving forward rather than back.
"I like where we are now, though. Look at the nice variety of winning scores we have on the LPGA Tour. This will be one of the highest of the year though. Yes, the men would overpower this course. But I'm hitting a lot of mid- to long-irons into the greens."
The final word, however, must go to former Women's Open champion, Catriona Matthew.
"We're a good 10 to 15 years away from needing to take any action on distance," says the two-time Solheim Cup captain. "We'll never hit it as far as the men, so I'm actually hopeful none of the great courses will ever be obsolete for us. I liken the men's tour to me playing off what many courses still call 'the ladies tees.' From those, I'd hit wedge to every par 4 and reach every par 5 in two."
Which is exactly what we are not going to see this week on one of England's best courses. Instead, we will be treated to what many recall fondly as "proper golf" played by proper golfers. Enjoy.