The Loop
Acushnet IPO: First day sees nearly 7 million shares sold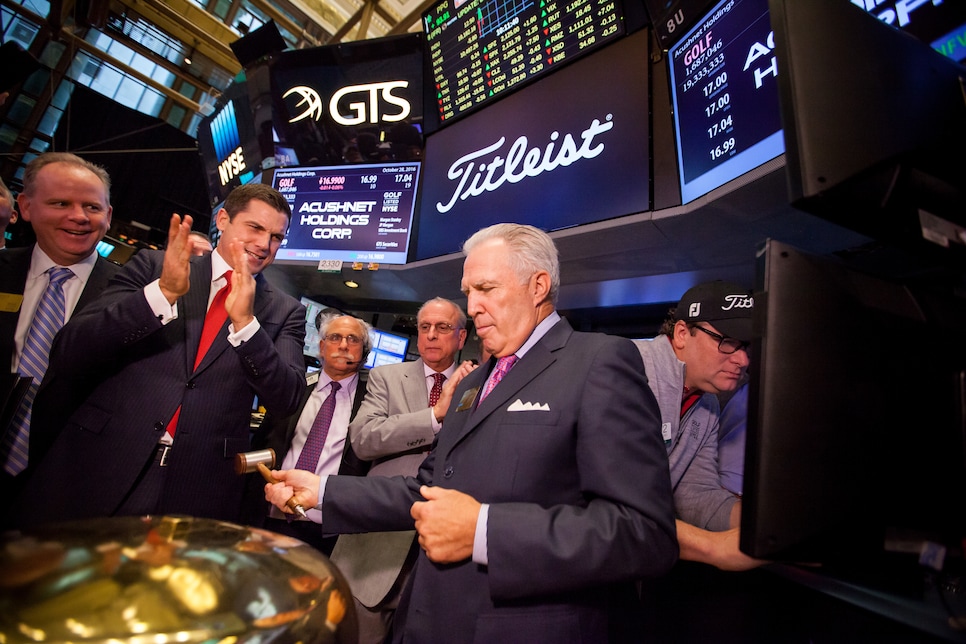 Bloomberg via Getty Images
The long-awaited IPO for Acushnet (parent of Titleist and FootJoy) came to fruition today with the common stock trading on the New York Stock Exchange under the ticker symbol "GOLF." Chairman and CEO Wally Uihlein rang the opening bell with notable Acushnet figures surrounding him, including putter designer Scotty Cameron, top-rated instructor Butch Harmon and Fila Korea CEO Gene Yoon, as well as long-time Acushnet employees Diane Medeiros (who's worked for the company for 51 years) and Carlos Botelho, a 44-year veteran of the golf industry giant.
The initial offering price was $17 per share with just under 20 million shares of common stock to be sold by existing shareholders of Acushnet, which was bought by Fila Korea and a consortium of Korean banks in 2011. The underwriters have a 30-day over-allotment option to purchase up to an additional 2.9 million shares. J.P. Morgan and Morgan Stanley are lead book-running managers and representatives of the underwriters for the initial public offering. The offering is expected to close on Nov. 2.
The first day of trading saw a little more than 6.9 million shares change hands with a day's range of $16.90 and $18.00. At the close of trading the stock was at $17.95.
Still, for those associated with the company, today's IPO was more about positioning the company for long-term success than the glitz of the first day of an IPO. GolfDigest.com spoke with Acushnet COO David Maher, a 25-year veteran of Acushnet about what the IPO means for the company.
An exciting day. What does this mean for Acushnet?
We'll have a much better chance of success and a much better chance of growth. We talked a lot about long-term positioning and how do we deliver value to our investors. While we're certainly pleased with what is happening on Day One, the eye is focused on the long-term prize.
How does going down the IPO path help you achieve that?
In 2011 Acushnet was acquired by Fila and a consortium of investors from Fortune Brands. We knew at that time the investors had a five-year exit strategy. So we knew this day was coming as far back as 2011.
What today's IPO means is that our debt-service goes way down as we convert debt to equity. So we feel good about that. It frees cash flow and allows us to further invest in our business. So we feel good about that.
In terms of timing it feels a bit serendipitous given what's played out in the industry over the last seven years. We've seen a whole lot of correction and a number of facilities, retail square footage and even OEMs consolidate or close. The impact of that correction is several years downfield so this positions us well in the marketplace. When the correction plays out it's going to yield a series of marketplace conditions and fundamentals that are much healthier and those left standing when this correction completes itself are going to be better positioned for success, profitability and growth. We've talked a lot about that with the investor community the last few months, painting this picture of the golf industry where we are entering a period where the fundamentals and the likelihood of success are a whole lot greater than they have been.
The second part is that we have done well during this period of correction. It shows the strength of our business model that is aimed primarily at dedicated golfers. They account for 70 percent of the market's consumption and we've never deviated from our focus on that audience. They have proven to be very resilient and those were the central themes as to why we think now was an opportune time.
How will this change how you conduct business?
We hope the brands will get stronger. I've been with the company for 25 years and the first 20 we were owned by Fortune Brands, so in effect we were a publicly traded company. We know what life is like as a public company. Our leadership team won't change and we have long tenured and well-respected people in those leadership positions. Our strategy of focusing on the dedicated golfer isn't changing. To us it's the road to long-term success. We will be more transparent, but in terms of how we launch product, we have a consistent two-year launch cycle and we don't see a lot of change to that. If we do it right our trade partners will appreciate how we run our business. We think the leadership is grounded in their focus and we expect to continue down paths you're accustomed to seeing from us.
Is the industry coming back to operating in a more responsible way?
Absolutely. Industry wide there was more supply than the industry needed at every level and now we're seeing that supply get a whole lot tighter. We see that this year. There is less irrational behavior at retail and that's a commentary that the supply lines are getting more in line with the demands of the business. If and along the way you see companies reorganize or stores close, well, that's painful, but it takes us to a place where business fundamentals are much better. If you're one of the strong companies left standing—and we think we are—it positions us better for growth and profitability going forward.
Are you optimistic about the relationship between the equipment makers and the USGA and R&A?
We have great respect for the governing bodies and we work closely with them. We appreciate what they do for the game and they want a healthy game. In that primary vision we are aligned and we agree on many, many matters. We disagree on some and that brings healthy debate. We feel comfortable that their position now in regards to tradition versus technology is in synch with ours. Technology has resulted in a democratization of the game. We don't find too many golfers that say "Gee, I'm playing too well, I think I'll take the next two or three weeks off." I think they see it the way we see it. By and large I think we're in a period where the ruling bodies and equipment companies see the world similarly and that the game is positioned well for future growth.
Earlier reports had the offering north of $20 per share and the valuation at some $435 million. At what point did the underwriters let you know it was going to be $17 that was the original offering?
That is fully in the hands of the bankers and traders and investment community. The valuation is a function of what happens with the folks on Wall Street and from day one we didn't get too hung up on that. Our focus as we sit here today as a publicly held company is to deliver what we said we would to the investment community.
When you say the management team will remain intact, I assume that means chairman and CEO Wally Uihlein will remain at the helm, correct?
As Wally would say, he's here as long as he can add value or until we kick him out. And as you can imagine, we're certainly not going to do that. He's a one-of-a-kind leader and visionary in our industry. If he were answering this question, he would be quick to point out that he has built a very, very deep bench behind him. But he has no plans to go anywhere anytime soon.
Why do you think Acushnet will be a better company now than they were over the last five years?
We've been around a long time. Acushnet was born in the 1930s. As long as any of us have been with the company we focus on thinking about ways to get better. We invest in R&D, a robust patent portfolio, a business model that in good times works and in bad times works, and it's all predicated on a laser-like focus on the dedicated golfer. We see white space in literally every product category. And we see white space in every region. We feel very good about the future. There's no silver bullet or new hand that's going to shock you. We're going to keep doing what we're doing and do it better and better. That's how we got from the 1930s until today and that's how we're going to advance over the next 70 or 80 years.