The Loop
A weighty victory for Pettersson
Periodically, the PGA Tour reminds us that golfers come in all sizes and shapes, some of them more Hardy than Laurel.
The final-round of the RBC Heritage was one such occasion, its Sunday stage having had to be reinforced to accommodate the doughboys performing on it. Carl Pettersson, Colt Knost and Kevin Stadler -- each a side of beef, give or take a porterhouse -- finished first, third and fourth.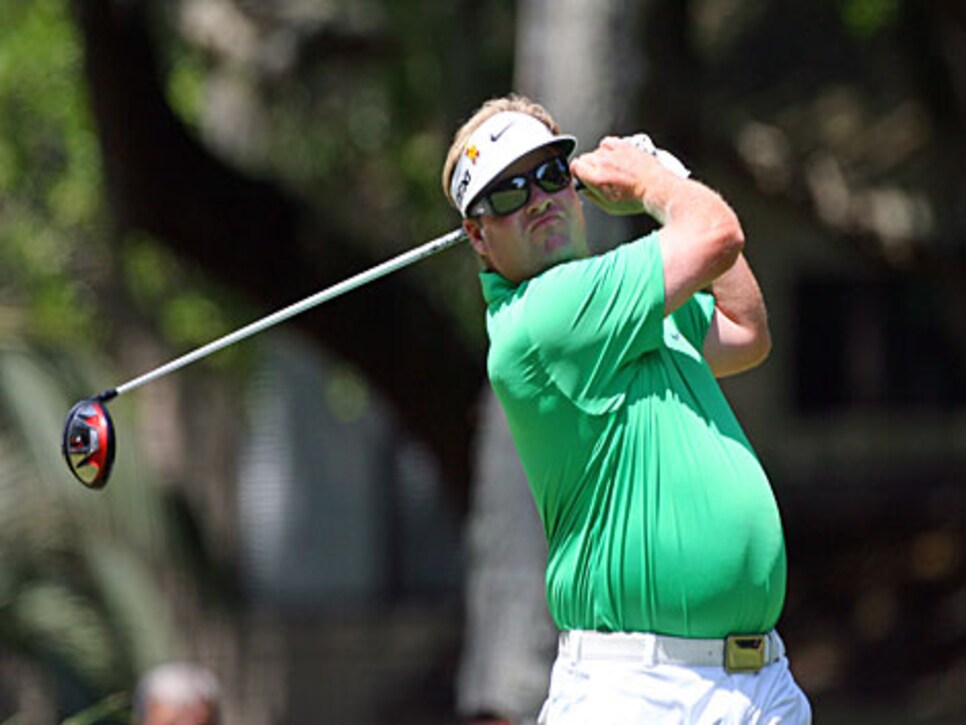 Without these occasional and refreshing reminders, some might conclude that the game is now played in a gym, that muscle is more important than muscle memory. Rest assured, it's still played between meals, as Pettersson so capably demonstrated. As for the downside, that these reminders reinforce the argument that golfers aren't athletes, adherents can take it up with Fat Jack, the greatest player ever.
Pettersson, meanwhile, is golf's reigning heavyweight champion by virtue of his fifth PGA Tour victory that carries its own weighty reinforcement. In 2008, Pettersson had one of his best years, winning the Wyndham Championship and $2.5 million. Then he inexplicably decided to join the fitness revolution, exercising and losing weight and following with his worst year (zero victories and less than $600,000 in earnings, 136th on the money list).
It was a lesson learned, though tour periodicals continue to list him tipping the scales at 195 pounds, requiring this disclosure on our part: So does our driver's license. But we digress.
Pettersson was as solid as an immovable obstruction on Sunday, starting the round with a two-stroke lead over a heavyweight contender (Knost) and ending it with a five-stroke lead over a lightweight runner-up (Zach Johnson).
His victory came a year nearly to the day after the introduction of the book, "Golf List Mania!: The Most Authoritative and Opinionated Ranking of the Best and Worst of the Game," that included a list entitled, "Worst Bodies/Best Golfers."
Its co-authors, accomplished golf writers Len Shapiro and Ed Sherman, had Fat Jack (Jack Nicklaus) heading a list that also included Lumpy (Tim Herron) and the Walrus (Craig Stadler) among the eight XL or XXL golfers.
Inexcusably, it failed to include the aptly named Porky Oliver, who carried 240 or more pounds on his 5-9 frame while winning eight times in the '40s and '50s. Old Pork Chops, as he was known, "toured the circuit in a station wagon equipped with two well stocked refrigerators," an Associated Press obituary of Oliver read. "A between meals snack to Oliver included several hot dogs, a half dozen hamburgers and several bottles of beer."
Notwithstanding that it might have been an exaggeration, it contributed to a legend that appropriately has grown larger than the man himself. How large? Ask those who live on Porky Oliver Drive in his home state of Delaware (or those who play at Ed "Porky" Oliver Golf Club in Wilmington).
Should the authors revise their list, they might also want to include the big Swede, Pettersson, who at 34 is poised to move into the top 50 on the World Ranking. Pettersson, along with Knost and Kevin Stadler, is a throwback to the days before a fitness trailer was ubiquitous at PGA Tour events.
This should not infer that he doesn't possess a level of fitness. On tour courses that measure more than 7,000 yards, often including hills, tour players routinely walk considerably more than four miles a round.
They counter their daily hikes with a healthy appetite that does not always include healthy food. In the meantime, they introduce some color to an often otherwise bland tour.
Or, to put it in a way more understandable to those who don't subsist on fish and steamed vegetables, it's fat that gives a prime cut of beef its flavor. And we are thankful for them.