The Loop
A ranking of the 12 wildest NFL Wild Card games since 1990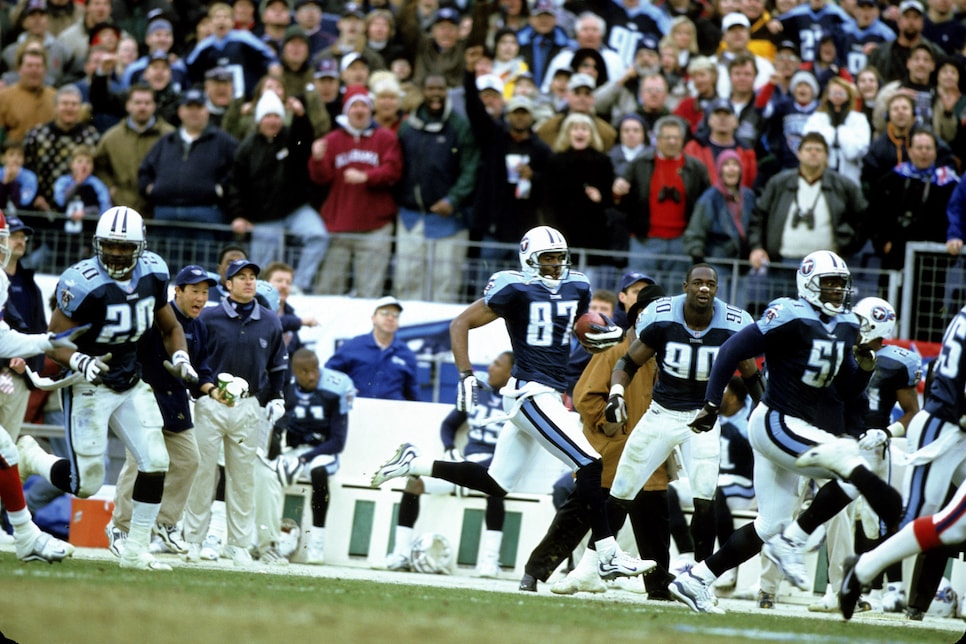 After a long season of complaining about the myriad reasons why the NFL has sucked, a harsh realization is beginning to set in: it's almost over. We must cherish it while it lasts, and there is no better time to do the cherishing than on Wild Card weekend, when shit officially hits the fan.
The Wild Card round began in 1978, but didn't truly explode until 1990, when the league expanded the number of playoff teams from 10 to 12, creating four total Wild Card games, two in each conference. This is when the most underrated weekend in football began producing some of the greatest games we've ever seen in the NFL Playoffs. There's been so many that it warranted a ranking of the 12 wildest NFL Wild Card games since 1990.
12. 2015 NFC Wild Card - Seattle Seahawks def. Minnesota Vikings 10-9
It's safe to say no 10-9 game has ever provided as much wackyness as the third-coldest game in NFL history between the Vikings and Seahawks at TCF Bank Stadium in 2016. There was fake punt / broken nose, an insane one-handed catch, a miracle comeback highlighted by a miracle play and then, of course, the missed chip shot heard round the world. The really sad thing for Blair Walsh is if he had made it, it would have been his fourth field goal of the day, giving him all 12 of the team's points and making him the hero. Instead, he will forever be the goat (the bad kind) in Minnesota.
11. 2013 AFC Wild Card - Indianapolis Colts def. Kansas City Chiefs 45-44
Because of its recency, this comeback isn't yet as memorable as some of the great ones in NFL history, but it should be. The Colts trailed by FOUR touchdowns in the third quarter, and were still down 41-24 with less than 18 minutes on the clock. Andrew Luck was able to bring them all the way back, even scoring a ridiculous rushing touchdown after scooping up his own running back's fumble to make it 41-38. A 64-yard strike to T.Y. Hilton sealed the deal with under five minutes to play, marking the second largest comeback in NFL postseason history.
10. 2011 AFC Wild Card - Denver Broncos def. Pittsburgh Steelers 29-23 in OT
"Tim Tebow throws 80-yard touchdown on first play of overtime to win playoff game over Steelers." If there is a more Wild Card-defining sentence ever I'd love to know what it is. TEBOW! TEBOW! TEBOW!
9. 2015 AFC Wild Card - Pittsburgh Steelers def. Cincinnati Bengals 18-16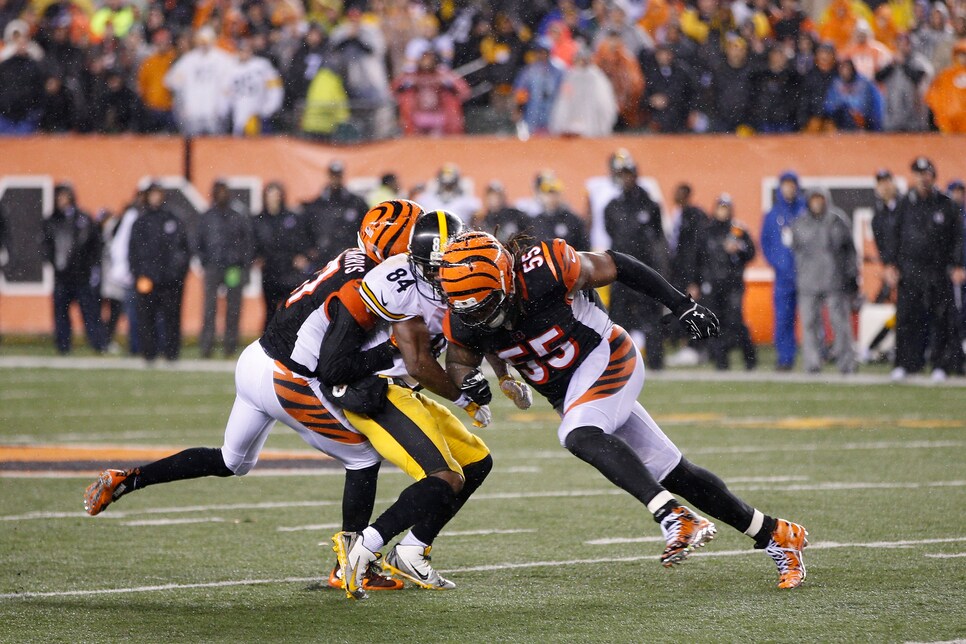 It may be a game the NFL wishes everyone would forget, but its ridiculous ending will be remembered for a looooong time in Cincinnati. Down 15-0 in the 4th quarter, the Bengals and backup QB AJ McCaron came storming back to take a 16-15 lead, and looked well on their way to winning the franchise's first playoff game since 1990. Yeah ... that didn't happen.
8. 2009 NFC Wild Card - Arizona Cardinals def. Green Bay Packers 51-45 in OT
Just a few years ago the Cardinals and Packers played in one of the better playoff games of the last few years, but it was the Wild Card game in 2009 where things got really crazy, particularly on the game's final play. Despite the Cardinals leading just 17-0 with under seven minutes to play in the first half, the teams still combined for 96 total points, still the most ever scored in an NFL playoff game. Joe Buck couldn't have sounded less excited about all of it.
7. 2003 NFC Wild Card - Green Bay Packers def. Seattle Seahawks 33-27 in OT
While ending a playoff win at home on a pick six is memorable, this one holds a special place in NFL history, for the moment when the Seahawks won the coin toss in overtime and Matt Hasselbeck boldly uttered the words "We want the ball and we are going to score." Talk about your all time backfires.
6. 2006 NFC Wild Card - Seattle Seahawks def. Dallas Cowboys 21-20
The original Tony Romo moment that sparked nearly a decade of rollercoaster Romo moments Cowboys fans would have to endure. It's a shame, because statistically he's the greatest Dallas quarterback ever. I cannot stress statistically enough, though.
5. 2002 NFC Wild Card - San Francisco 49ers def. New York Giants 39-38
HA! You thought Hasselbeck's overtime TD claim was bad? You thought Romo's botched snap was bad? The 2002 Giants topped them both, with Michael Strahan telling Terrell Owens to "Look at the scoreboard" while New York still led 38-22, and long-snapper Trey Junkin completely missing the holder on a potential game-winning field goal. The main thing to remember here is that Jeff Garcia is responsible for the third-largest comeback in NFL postseason history.
4. 1998 NFC Wild Card - San Francisco 49ers def. Green Bay Packers 30-27
Two legendary QBs. Two legendary broadcasters. And a legendary play named "The Catch II." If John Madden had to describe it, he would say something like .. "FOOOTBALLLL!!!!!"
3. 1999 AFC Wild Card - Tennessee Titans def. Buffalo Bills 22-16
Don't worry Bills fans, you're back in the playoffs this weekend! It's not like you've ever had any other soul-crushing experiences besides this one in the NFL postseason before.
2. 2010 NFC Wild Card - Seattle Seahawks def. New Orleans Saints 41-36
Sure, the Tim Tebow game-winning strike was vintage Wild Card weekend, but nothing was as Wild Card weekend as the 7-9, double-digit underdog Seattle Seahawks winning a home game over the New Orleans Saints 41-36 in 2010. There were a number of memorable plays in this one, but they will always be overshadowed by the "Beastquake", arguably the greatest run in NFL history.
1. 1992 AFC Wild Card - Buffalo Bills def. Houston Oilers 41-38
Not only the greatest comeback in postseason history, but the greatest in NFL history, period. Little did Buffalo know that the Oilers-turned-Titans would later get revenge in 1999, and also that the Bills would continue to never win anything. But at least they have "The Comeback."