The Loop
A look inside Dustin Johnson's Pebble Beach yardage book
](http://www.golfdigest.com/golf/ashley-mayo)__
PEBBLE BEACH, Ca. -- Dustin Johnson knows how to win the AT&T Pebble Beach National Pro-Am. He's done it twice, and on Sunday, he finished one shot short of winner Jimmy Walker.
Just moments after Johnson walked off the 18th green, I asked his caddie and brother Austin if I could have a look at the yardage book that has guided Dustin to so much success on the Monterey Peninsula. When Austin obliged, I snapped images of every page of this book, and will share photos of 10 of these pages--the 10 holes that are often considered the toughest.
These books are incredibly detailed when caddies get them, but Austin Johnson writes a few numbers at the top of every page. These numbers represent the yardage to the front of the green, the yardage to the center of the green, how far the pin is from the center of the green, and the yardage to the pin. He also writes down how hard the wind is blowing, and from what direction.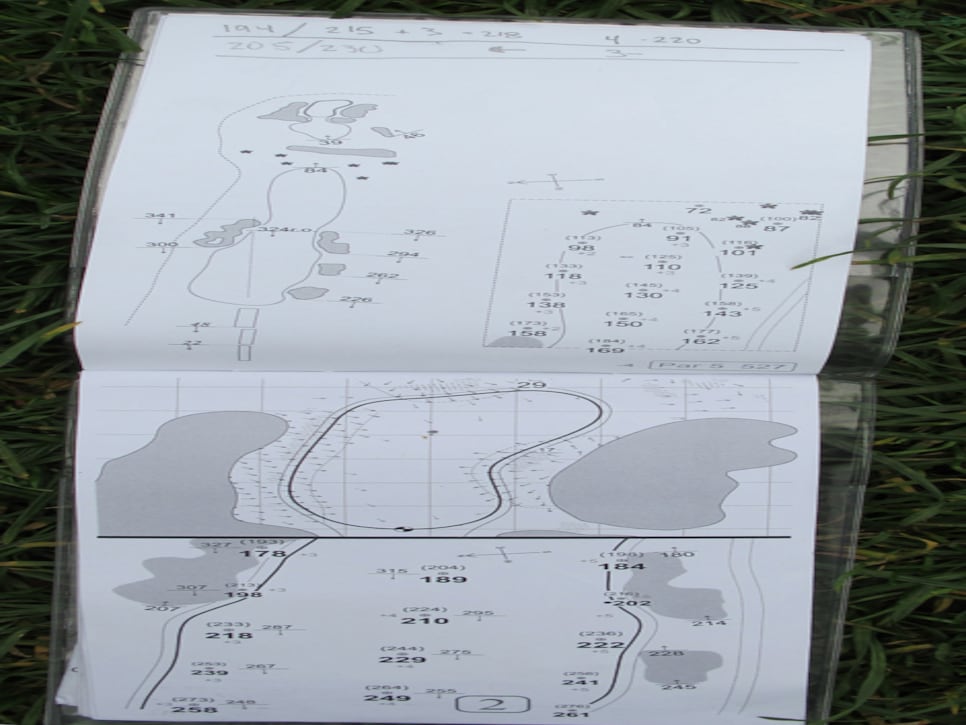 The numbers you see in the fairway and hazards represent how far certain spots are from the tee. With this information, Austin and Dustin know what kind of trouble comes into play off the tee.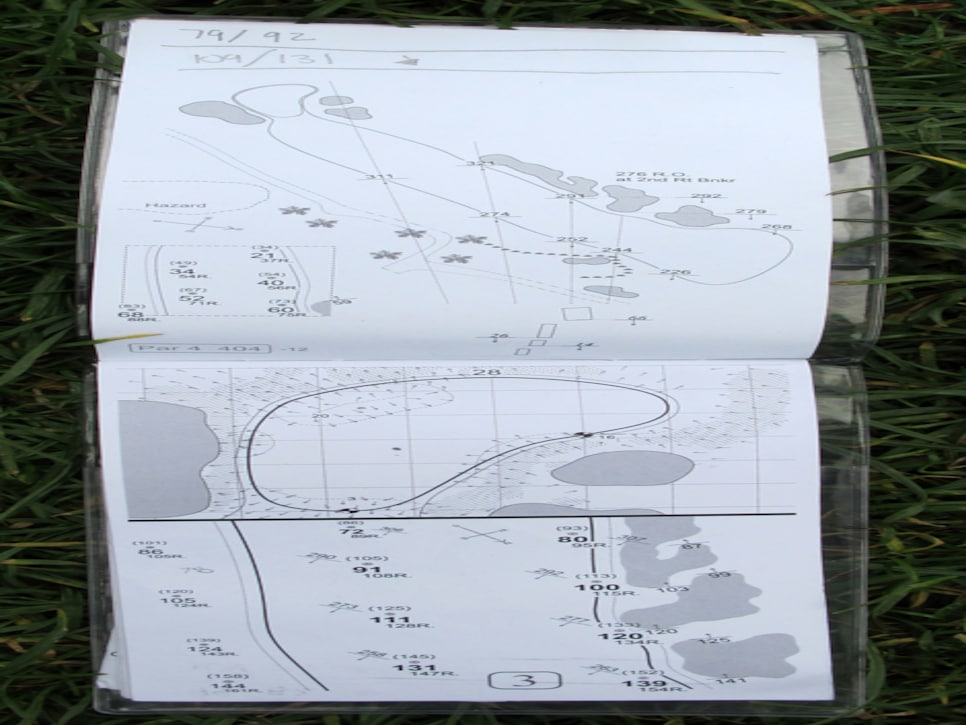 The average golfer can learn a lot from these pages. Just take a look at how detailed each green is. The details tell you, in a glance, where the contours are. It's important to know this before pulling the trigger on any approach shot.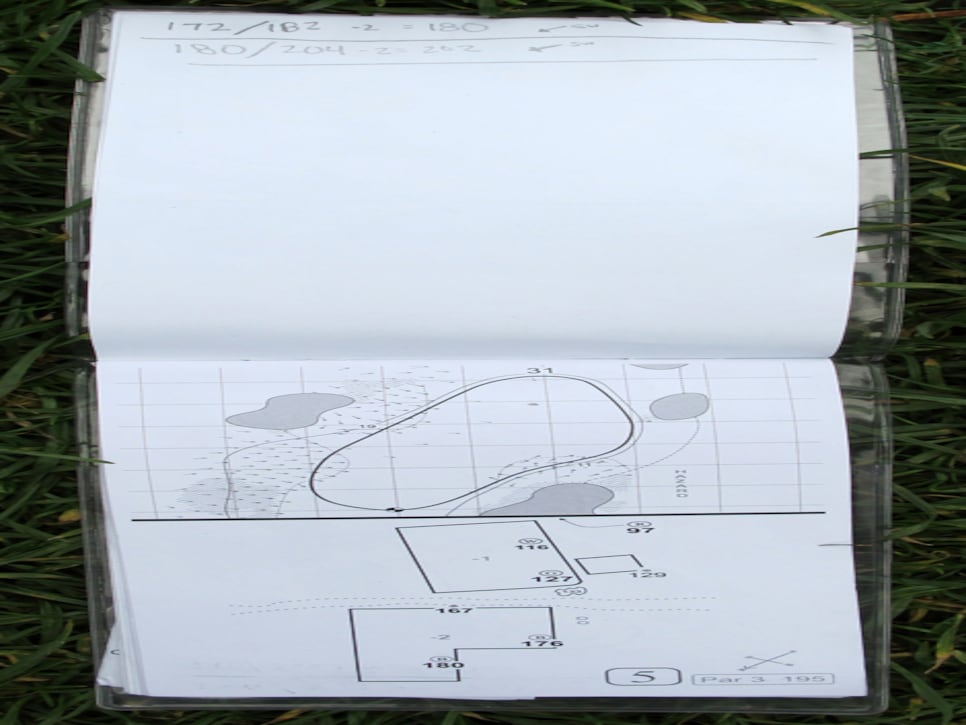 The iconic seventh hole! It has a tiny green to begin with, and these contours show that it plays even smaller.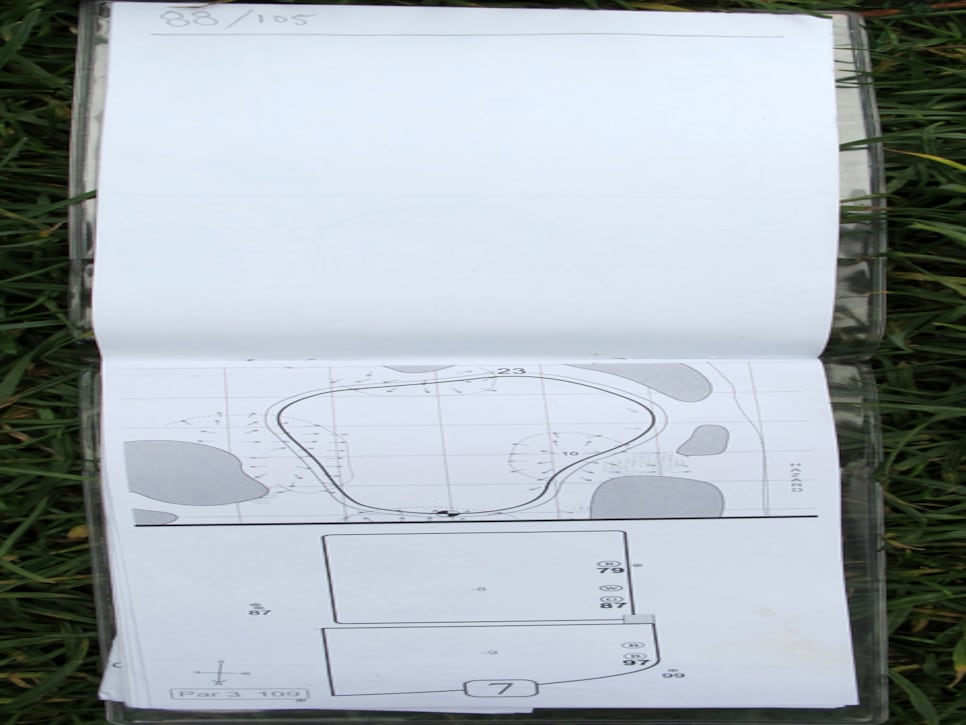 The grayed-out areas in the fairway represent elevation changes, so those are areas that players likely want to avoid. Check out the slopes on this green. Incredible.
Hole 13: Par 4, 399 yards
You'll notice that a lot of numbers in this fairway are offered in groups of three. Those numbers, from top to bottom, represent yardage to the center of the green, yardage from the tee box, and yardage to the front of the green.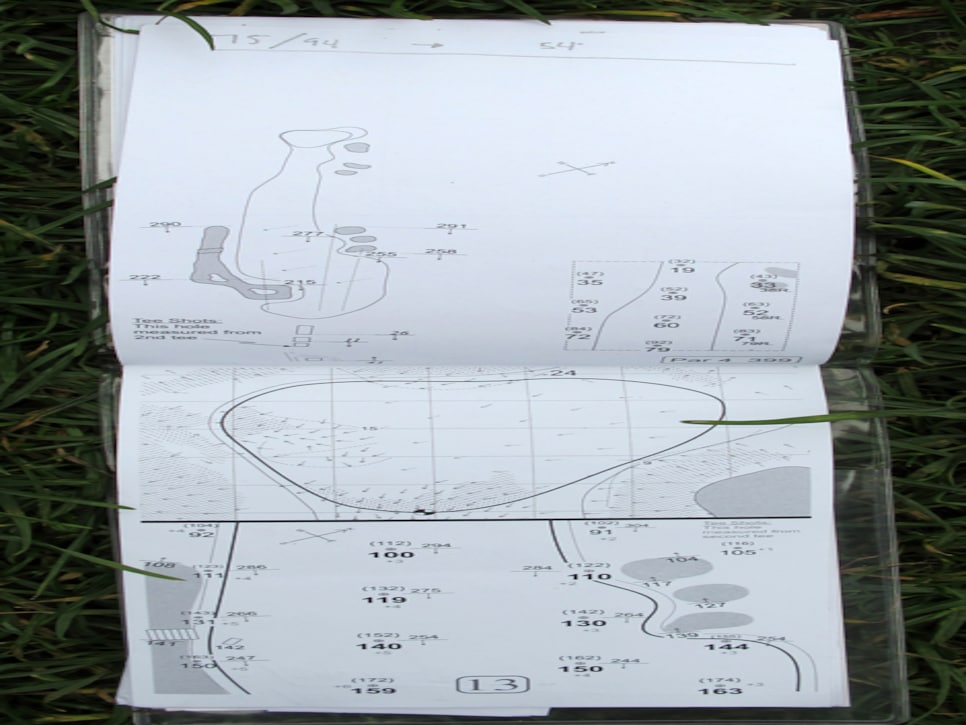 Hole 14: Par 5, 573 yards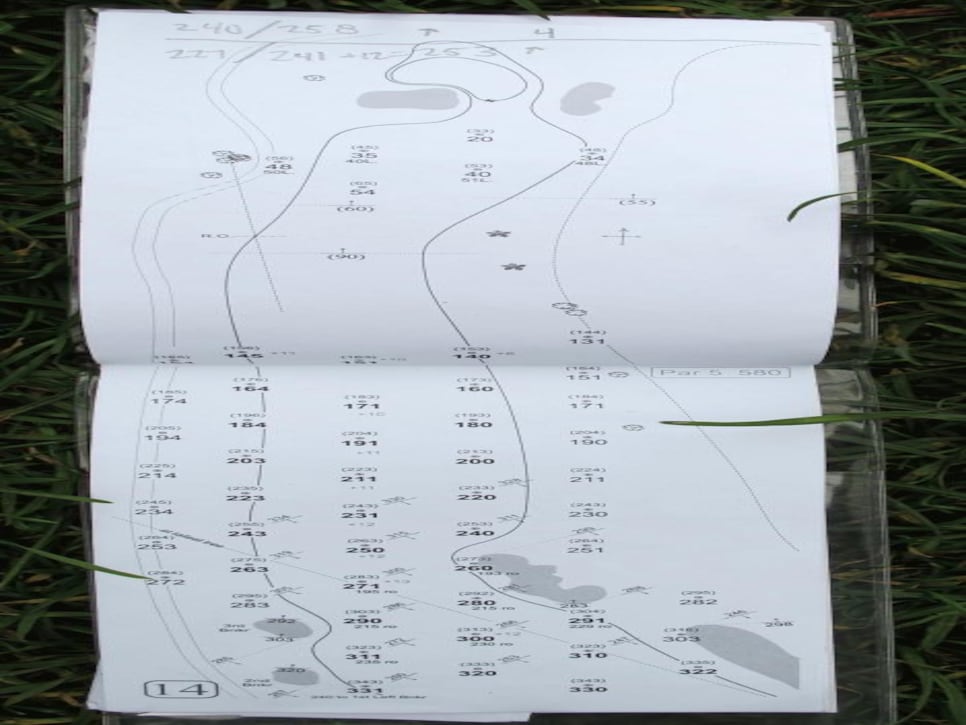 Hole 14: Par 5, 573 yards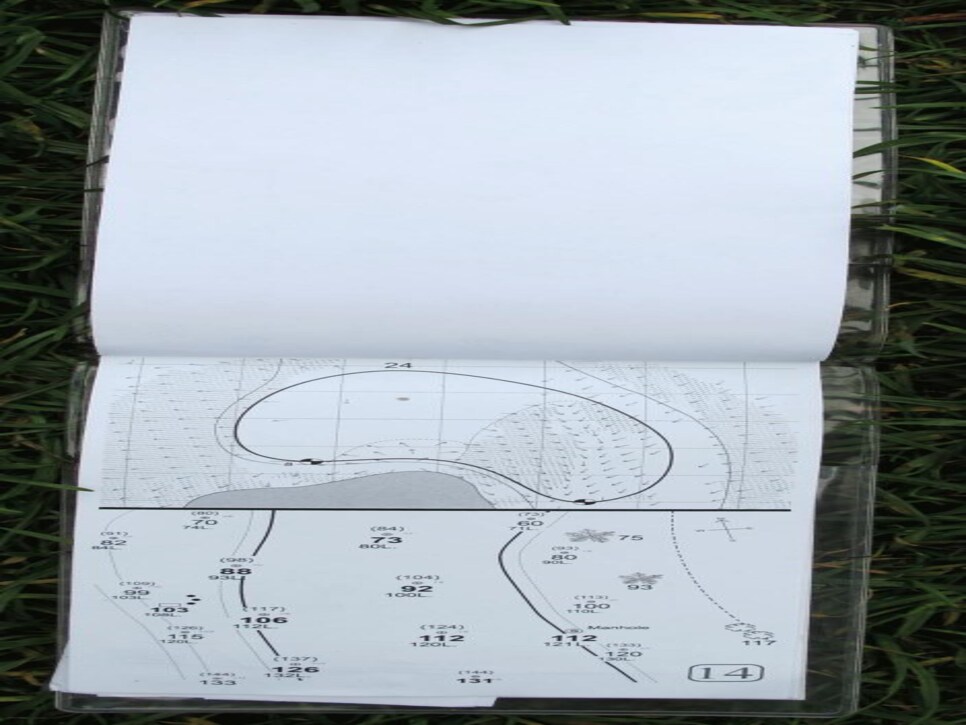 Hole 16: Par 4, 403 yards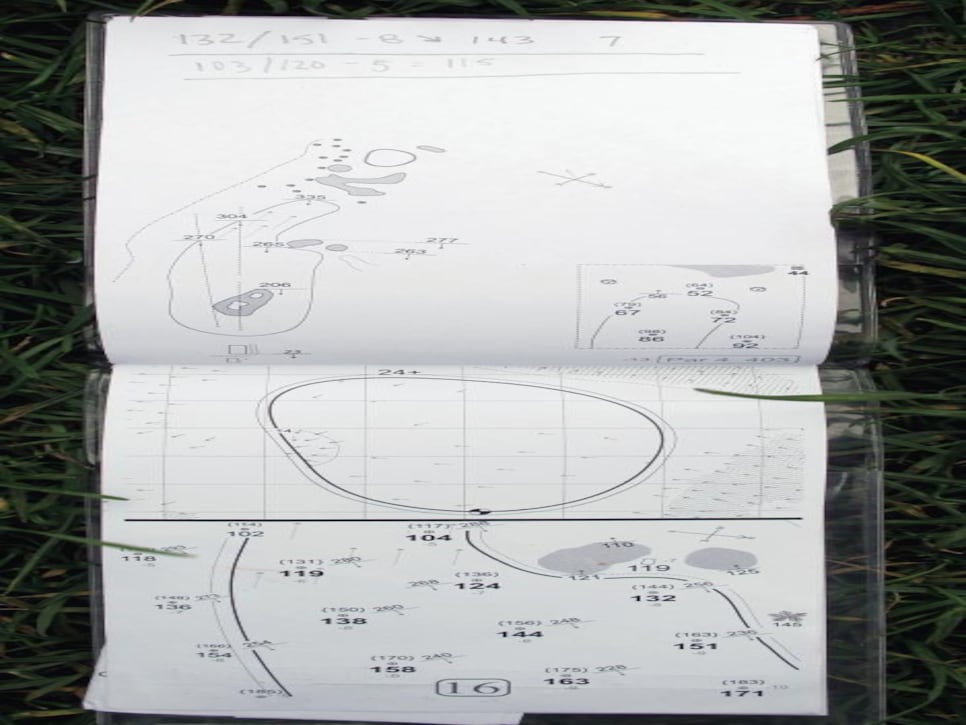 Hole 17: Par 3, 178 yards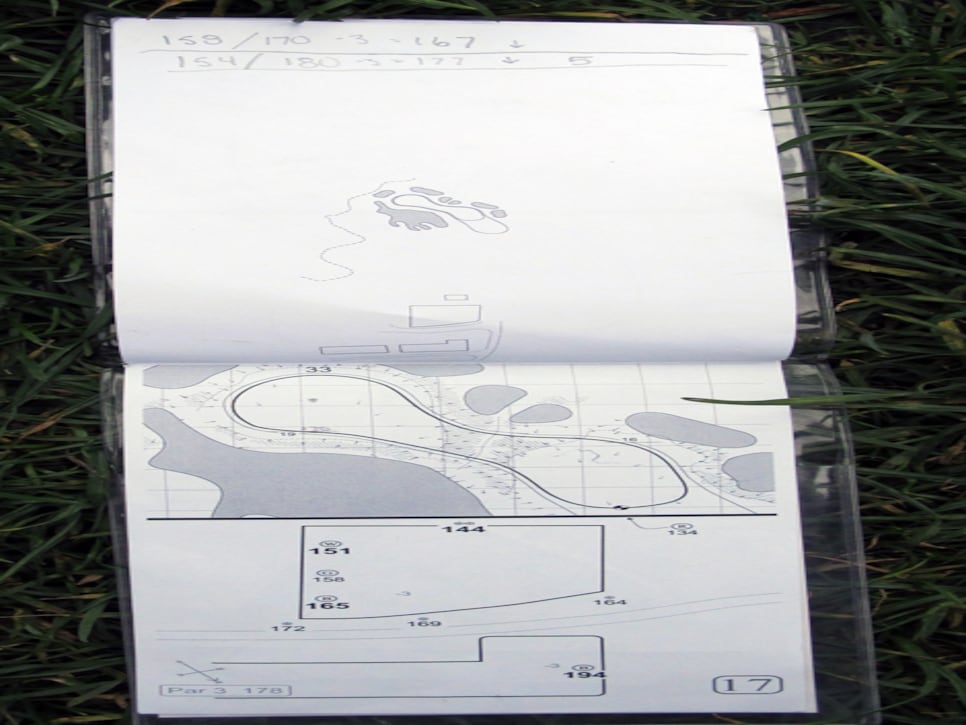 Hole 18: Par 4, 543 yards