News
A frustrated Patrick Reed after his first major top-10: "I play to win"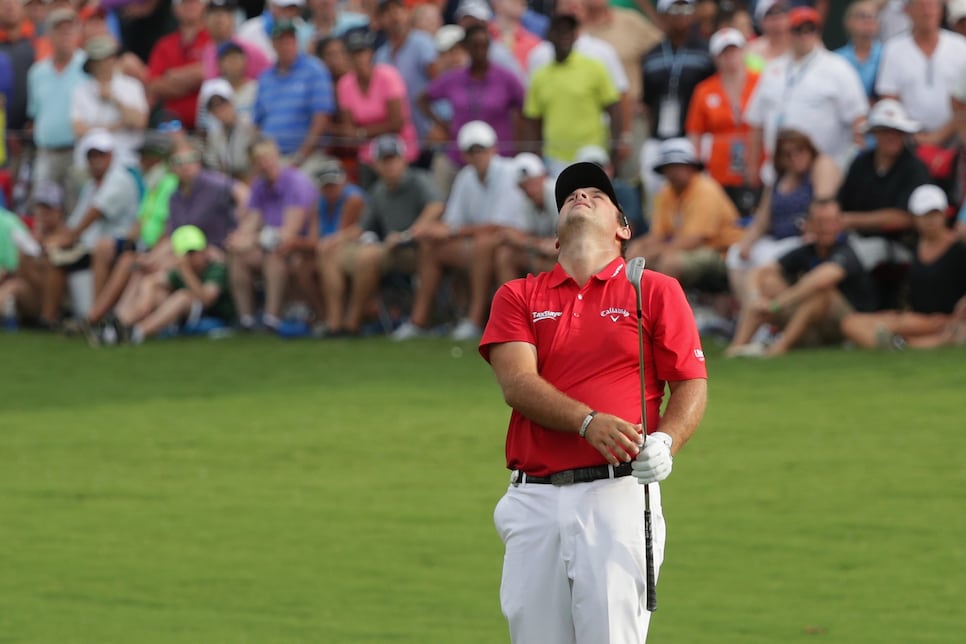 CHARLOTTE – Any mention of consolation prizes Sunday in the 99th PGA Championship left Patrick Reed with dyspepsia rather than helping assuage his searing disappointment.
First top-10 in a major? Meh.
Handling the pressure of being in the hunt on Sunday? No big deal.
Moving closer to locking up a Presidents Cup berth? Shrug.
"I couldn't care less if I finished second or 50th. I play to win," Reed said, wiping sweat from his brow after he shot a 4-under 67, tying the low final round at Quail Hollow Club, to join Francesco Molinari and Louis Oosthuizen as runners-up behind winner Justin Thomas. "All I feel is that I could have done more. I just feel frustration."
Primarily known for his impassioned disposition in team match play events – particularly the Ryder Cup – Reed, 27, had been unable to bring that same level of intensity and execution to the major championships. His best previous finish was T-12 in last year's British Open at Royal Troon, and this year he had missed the cut in two of the previous three.
But, finally, a breakthrough, something to build on. "I can definitely build on this. I know what I need to do," he said.
He can build on it as soon as he gets over it.
He was asked four times on Sunday about finally contending, and each time Reed dismissed it with an almost disdainful reply. He just couldn't bring himself to enjoy it, perhaps because his bogey at the difficult par-4 home hole, still fresh in his mind, dropped him two behind Thomas after he thought he had hit a perfect drive that ended up in the right fairway bunker. He missed a 15-footer for par to end up at 6-under 278 and knew all his hard work had been for naught.
Reed said he was surprised – and also not surprised – that it took 16 majors for a top-10 finish. "My first two years at the majors, I was putting too much pressure on myself. I was making them way bigger than they needed to be," the Texas native, winner of five PGA Tour titles, said. "They are still golf tournaments. There's still 72 holes. You've got to go out and play some good golf.
"At the end of the day, what I loved to see was when I got in contention today, when I went on that run to get myself actually in the golf tournament, being two back at one point, I didn't feel any different. I didn't feel any pressure."
A second-round 73, in which Reed hit just five greens in regulation, ultimately was his undoing, not anything he did or didn't do on Sunday. He lamented the putts he missed, that "kept burning edges," particularly the 12-footer for eagle at the 10th on Sunday that could have been a huge momentum boost. Nevertheless, he ranked ninth in putting for the week.
"You can't have rounds like I did on Friday. You can't have such a good short game on a day where you miss every green – and 2-over – if anyone would have said, yeah, you're going to miss one green through 12 and you're going to have two bogeys and a birdie, and after that, you're going to hit a total of five greens, shoot 2-over; people are going to be like, well, that's an awesome round in a major. It's a great scrambling round. At the end of the day, that's what kills you from not winning a golf tournament."
And, clearly, that was killing him inside. Reed will never be a poker player. He doesn't wear his emotions on his sleeve, he displays them like banner headlines.
With just his fourth top-10 finish of the season, Reed moved from 11th to ninth in the U.S. Presidents Cup standings with three events remaining. He went 3-1-1 and dispatched Rory McIlroy in singles in last year's U.S. Ryder Cup romp at Hazeltine, but was a more pedestrian 1-2-1 in the 2015 Presidents Cup when America beat the International Team by a point in Korea.
He shrugged his shoulders. Having played nine straight weeks, including three in Europe, he was eager to go home for a rest and to see his daughter, Windsor-Wells.
"That's great, but at the end of the day, of course I want to make the team and I want to make the team on my number. I don't want to have to try to rely on a pick," he said, trying to smile, but not succeeding. "But really, I don't worry about Ryder Cup and Presidents Cup standings because really at the end of the day, if you go out and play some good golf and you win a golf tournament, and you keep getting yourself in contention, you won't have to worry about that.
"This year's kind of been, kind of the moral of the story of today: Very frustrating. A lot of good things going on, but falling just a little short.
"I clawed back," he added. "It just wasn't where I wanted it to be."
And that he made perfectly clear.