Game Changers
A father introduces a game, and provides the foundation to excel in it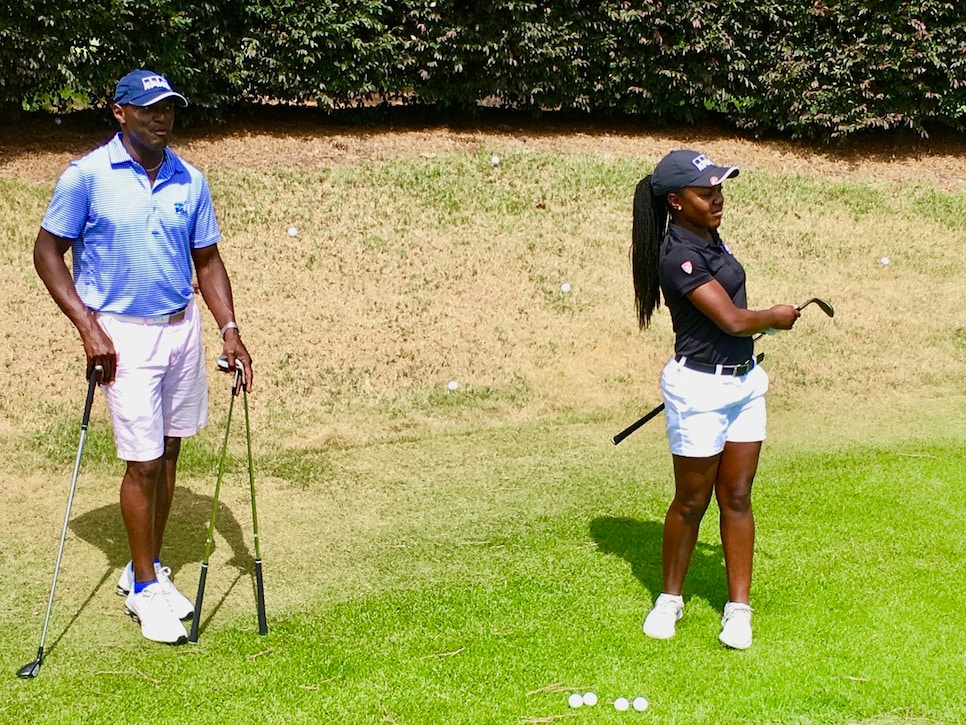 Growing up, I was a textbook daddy's girl. I threw a temper tantrum any time he went somewhere without me. That included the golf course. After work or on weekends, he'd go play or go to the range, and I was the tag along. My dad taught me how to play golf when I was two, and in doing so, gave me tools to navigate the game and life in general.
My dad grew up in Myrtle Beach S.C., as one of eight. He got introduced to golf while working at a golf course when he was young. The caddies could play on Mondays, and he fell in love with the game quickly. He was an athlete, ran track through college and played football in high school. He didn't play golf competitively, but he really appreciated that golf is something you can play for a long time and not have to worry about abusing your body like you do in other sports.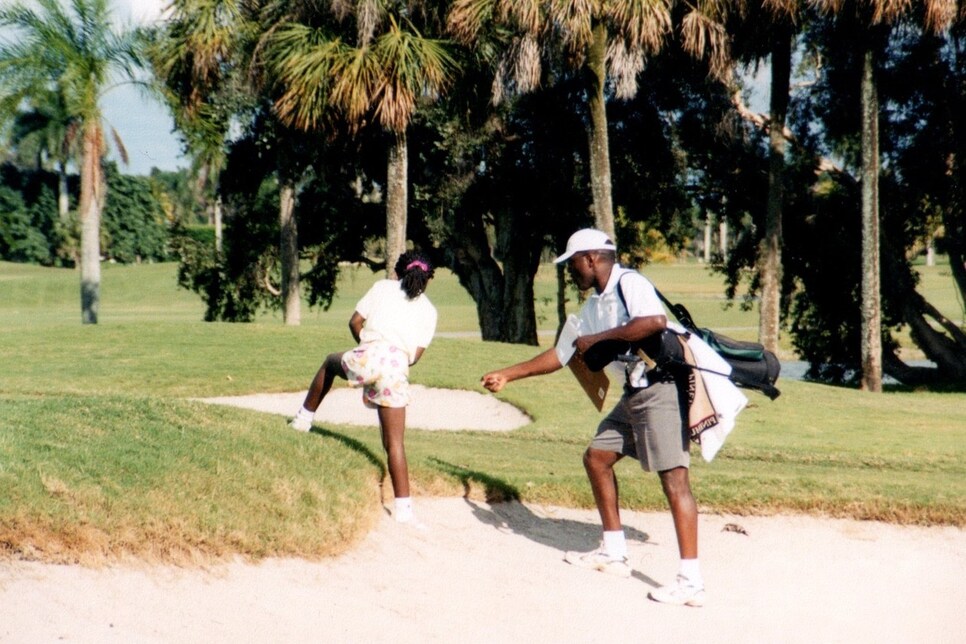 He cut down a set for me, and he, my brother and I would play. Dad always created competitions, teaching us focus without us knowing it. He'd set up drills that we'd have to complete on Magnificent Monday and Fantastic Friday, whether it was a number of birdies to make, or get up and down this amount of times, or hit this kind of shot so many times in a row. If you completed the task on Magnificent Monday you'd get a Krispy Kreme donut after golf, on Fantastic Friday it was a McFlurry from McDonald's. He was always creating these fun games with rewards to keep us motivated and into it.
But he taught us lessons beyond how to make a tricky up and down, too. He was careful not to get too detailed with me about the racism he encountered growing up, I've heard more stories as I've gotten older. When I was younger, he let me know about not being welcome at certain golf courses he and his brothers and cousins would go play. I could see the effect of that treatment in how he always kept me close by at every golf course we went to. If I had to go to the restroom or something, he'd tell me I had two minutes to get in and out, so he could always account for me, making sure to protect and shield me from potential situations. Probably because of that, I don't have any horror stories of my own from growing up in golf. My experiences as a black woman in golf have been positive because I had him looking out for me.
If I was to encounter a bad situation, where someone would've wanted to tear me down, I knew I was ready because of the confidence my dad instilled in me. He and mom wrote me an affirmation when I was little, it's four paragraphs long. I'd say it to myself in the mirror every day growing up. The first line is, 'You created me black and beautiful, and with your blessing as my guide, every night I pray and every day I praise your name.' I looked at the beginning, 'You created me black and beautiful,' often. I was raised to be confident in my own skin, so whatever I might experience – I'm fortunate that my experiences especially in golf have been good – but if I did have a bad experience, I had this confidence instilled in me so that I wasn't going to fall victim to any negativity too easily. From a young age, I was trained to have that belief, confidence and acceptance so that if anybody were to attempt to tear me down, I wouldn't be affected because I had a strong sense of self and self-approval. That confidence dad taught me helps on the golf course, but it guides me through every day of my life, too.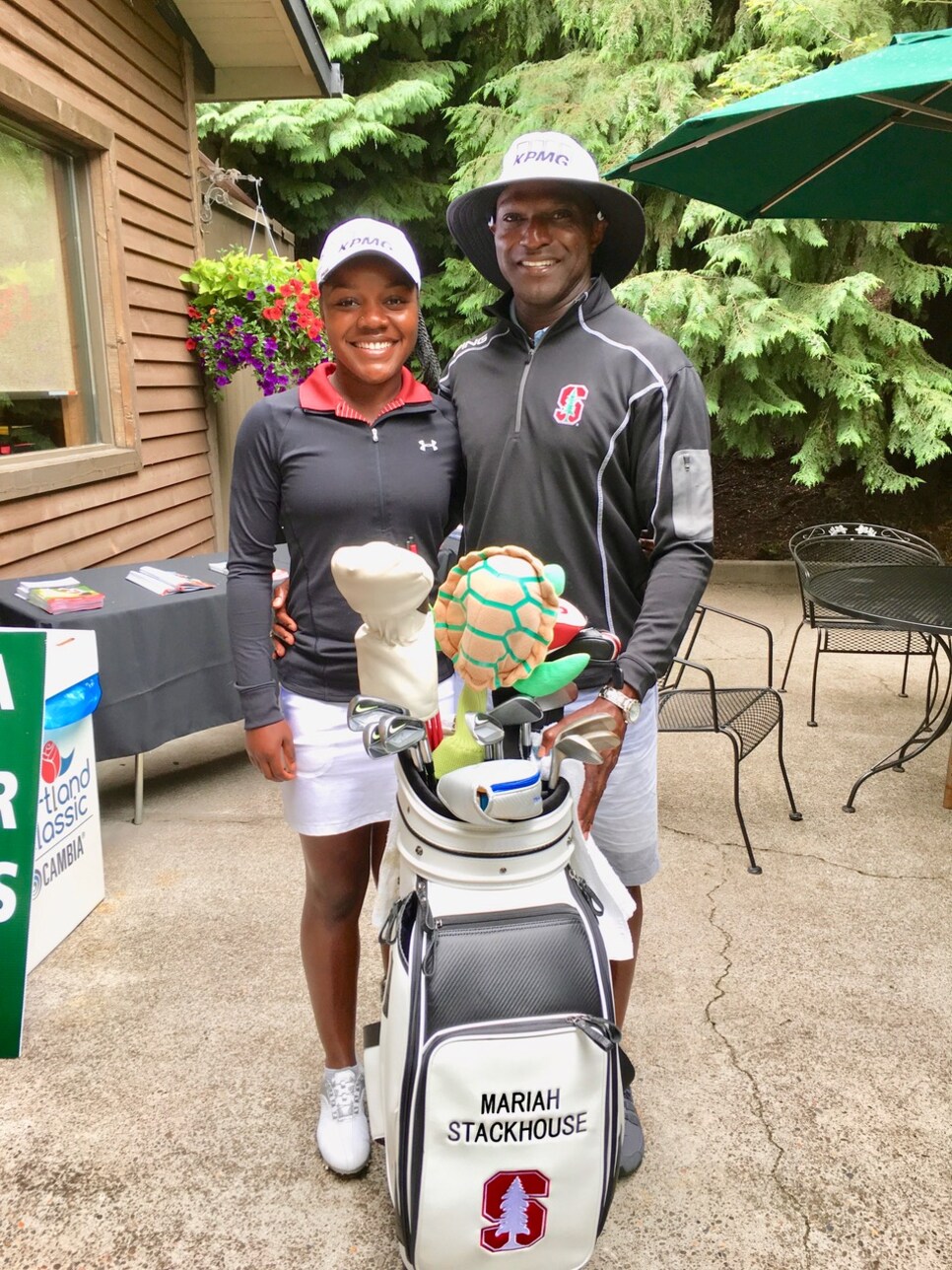 Dad was my coach for a long time, but he's stepped back from that role and now is my biggest cheerleader. He still checks in, and if he sees I'm not trending in the right direction, he'll get into dad mode and help me figure out a new plan. His belief in me, all the time we put in, he gets the joy of seeing the outcome of that now that I'm out here chasing my dream.