The Loop
7 Tiger Woods stats that will blow your mind
Editor's note: This story was originally published after Tiger Woods' 40th birthday in 2015. On Friday, the 14-time major champ turned 41.
Unless you don't have internet, you're probably well aware by now that Tiger Woods turned 40 on Wednesday. And while the coverage has perhaps been a bit over the top, it's nice to see Woods getting the appreciation he deserves for all he's accomplished instead of being knocked for his failures.
Woods recently said anything he does on a golf course from this point forward, "is gravy," and it's hard to argue. Sure, he hasn't caught Jack Nicklaus in major championships (18) or Sam Snead in PGA Tour titles (82), but no golfer has the overall resume that the 14-time major champ and 79-time PGA Tour winner has. His post-scandal achievements alone (eight wins, including a Players and two WGCs) compare favorably to the careers of some pretty fine players. To add to the numbers you're familiar with, here are some (emphasis on "some") other mind-boggling stats that show just how good Woods was.
683: The total number of weeks Woods has spent at No. 1 in the Official World Golf Ranking. That's 352 weeks (or nearly seven YEARS) more than No. 2 Greg Norman.
3: Times Tiger has had at least a five-tournament winning streak. No one else has done it in the past 60 years. Woods also has three of the five longest streaks, including a personal best streak of seven in 2006-2007.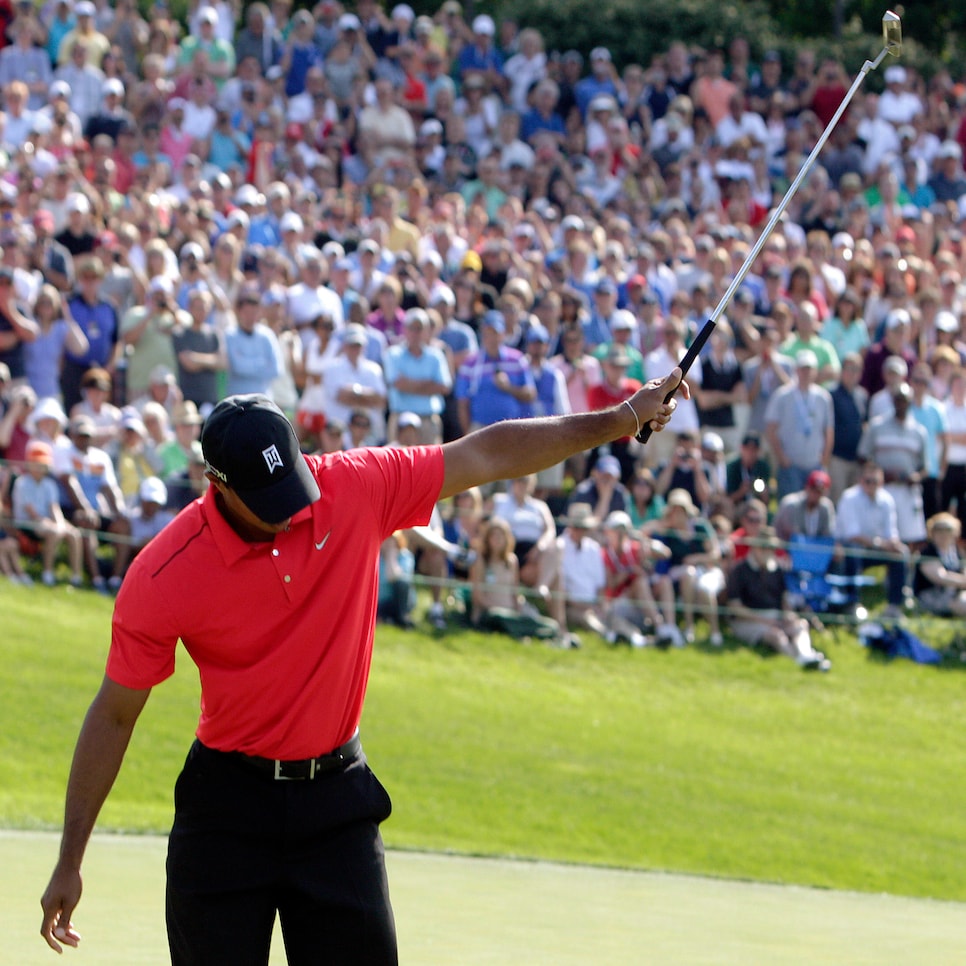 5: Times Tiger has won a major championship with a score of 18 under par or better. It's only happened eight times total.
18: No, it's not Woods' major total, but it is the number of World Golf Championships he's won. Dustin Johnson and Geoff Ogilvy are second on the list with three WGC titles.
142: Tiger's record number of consecutive cuts made from 1998 to 2005.
8: Number of times Tiger has won on a single course (Torrey Pines), a record. Oh, right, he's done it on two other courses (Bay Hill and Firestone) as well.
1: Number of times Woods lost a playoff (1998 Nissan Open to Billy Mayfair) on either the PGA Tour or European Tour. He's won 16 playoffs in his career, including three at major championships (2000 PGA, 2005 Masters, 2008 U.S. Open).
We could go on and on with the incredible achievments, but we'll stop, for now. And hopefully, an injured Woods is just stopping for now as well.