The Loop
7 takeaways from a 900-mile bike/golf trip from Portland to Pebble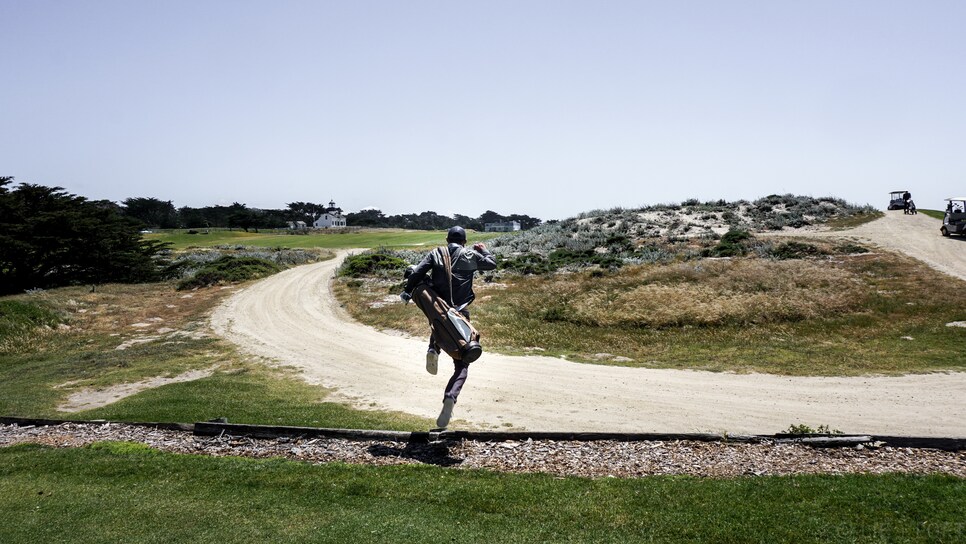 So what if your next golf trip isn't a 900-mile trek by bike from Portland, Ore., to Pebble Beach. Read on. Most likely, you're like us, and your golf trips are more conventional: Flying into an area, staying in a hotel or house and enjoying what a destination has to offer. But we were so intrigued by the story of Luke Davis and Pete Phipps, who recently trekked down the Pacific Coast Highway by bike, and camping on their way, that we wanted to know more.
Davis and Phipps are like us in some ways. They used golf to pull off the trip of a lifetime. But in many ways, they're probably not like most of us: Living nomadically out of tents over 14 days, 900 miles and 17 rounds of golf, this isn't your prototypical buddies' trip. And that's what fascinated us about their adventure.
How'd they do it? After reflecting on the trip from last month, we asked Davis to give us his takeaways and bits of advice after taking such a trip -- even for those of us that consider walking over riding as a form of adventure.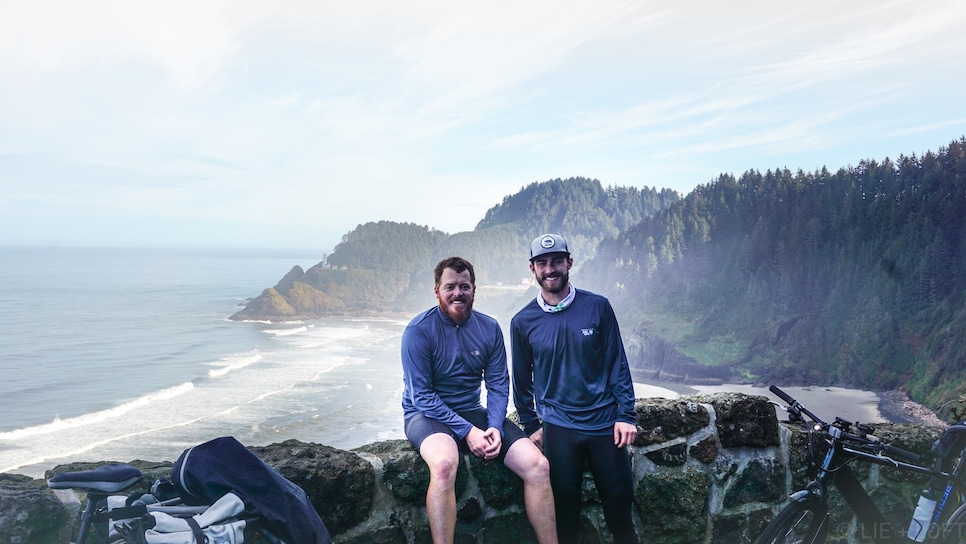 1. Never done an extreme trip before? That's not a reason to rule it out.
Before this trip, Davis was like most of us. He hadn't done a long trip like this. "I had no idea what it'd be like, but I said, 'Hell yeah, this sounds awesome. Sign me up, and I'll figure it it out.' "
What were some secrets to handling the trip as a beginner? First, he did a test run from Raleigh, N.C. to Pinehurst -- a 70-mile trip -- and though he "couldn't really walk that night," it showed him his potential to extend his endurance. Davis and Phipps played Dormie Club and camped out overnight, but then on the way back, halfway through, Davis had to stop. "It was a pain I had never felt before."
So Davis did some research that could help us all: He found out about a pedal-assistance bike, which gives you a limited range, so it gives you a boost in your cadence in getting up hills. But on the physical endurance side of things, if you're interested in doing something like this, there are options like the e-bike that can help.
Oh, and don't forget your sunscreen. Seriously. Pete found out the hard way.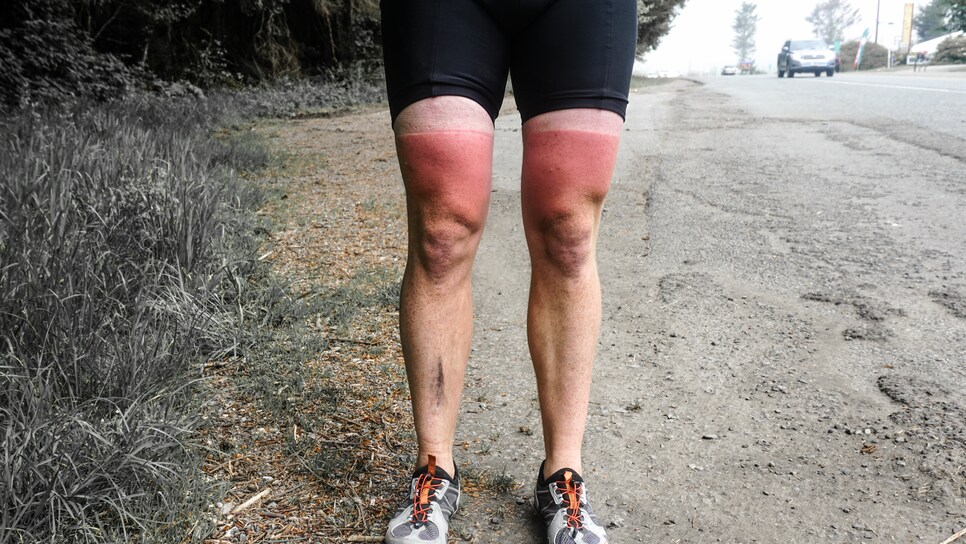 2. A requirement for pulling off a trip like this: The mantra that 'less is more.'
Packing with efficiency up to every ounce is most important. Though you might think bringing that extra pillow or pad for your sleeping bag might be necessary, carrying just a little more weight will end up slowing you down.
"Every little ounce is going to feel exponentially heavier when you're going uphill for over five miles," Davis says.
What'd they pack for clothes?
Pete and Luke had two outfits for biking that alternated each day. Then they brought two outfits for everything else -- golf, heading out to a brewery, etc. Also just two pairs of shoes -- one pair of biking shoes and one pair of spikeless golf shoes, which he used for everything besides biking.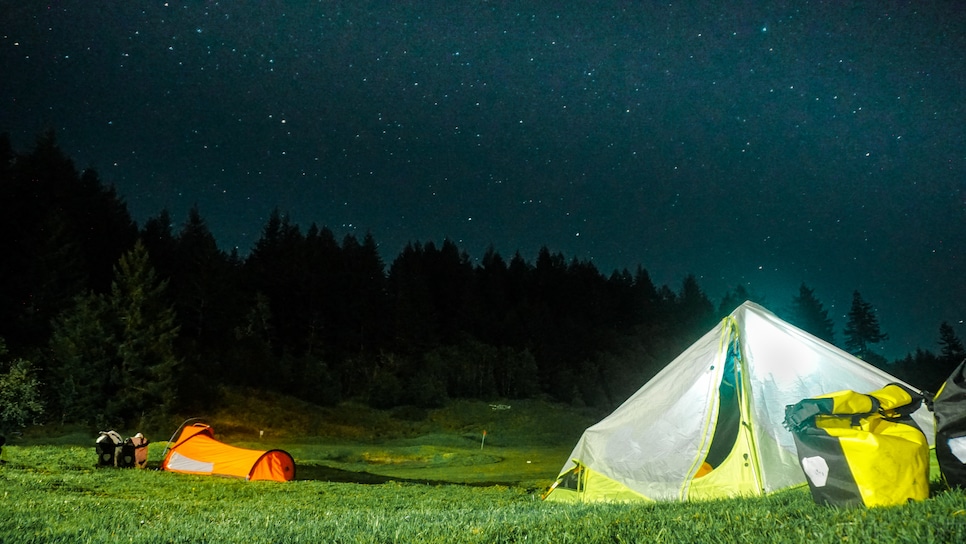 Davis said a pair of Linksoul Boardwalker shorts came in handy to be able to play golf in, sleep in, and if the shorts got wet, they were easy to wring out and dry. Raingear was also worn at nighttime -- "it was cold at nights."
They'd grab a shower at campsites (their first one came two or three days into the trip), and halfway through the trip, they recharged with a motel room in Eureka, Ore.
How much laundry was done? Just once over the two weeks. "We smelled really bad. I feel bad for anyone we came across."
Hey, that's life on the road.
3. Don't be overwhelmed by the size of a trip. Break it down into segments: It'll seem more doable.
At first glance, looking at the map and seeing the 900-mile stretch the duo would traverse seemed daunting, Davis says. Setting daily mini goals kept the length of the trip from being overwhelming.
"You're able to do some crazy things if you break it into one day at a time," Davis says. "It's a way to overcome the fear of such a big beast of a task."
Davis says 40 miles a day would be the ideal. He and Phipps did 70 to 80 miles some days; 60 miles most days. At 10 miles per hour (about the average pace the duo did), 40 miles of biking a day was perfect. And all of a sudden they were making their way down the Pacific Coast.
Here are Davis' recommendations for breaking out each day:
--40 miles a day of traveling. --Two to four hours for golf. (They played nine holes most days, and that kept them energized: "I got just as much enjoyment out of a round, and that comes from someone who's used to playing 18 holes.") --Two to four hours for camping.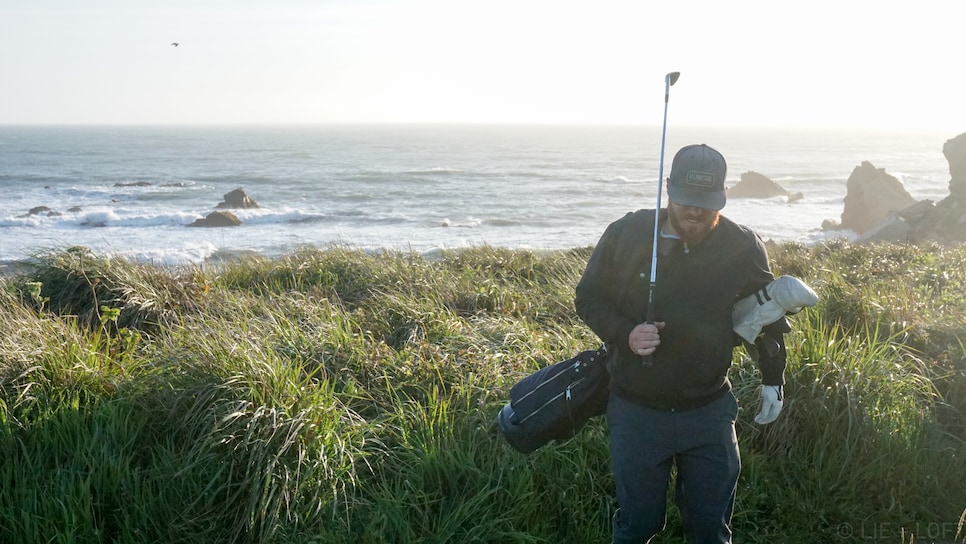 4. One of the biggest takeaways from this trip? The sense that golf is alive -- and non-golfers are out there with an interest in playing.
"I got a good vibe around golf as a whole." Davis says by the time the group had gotten to Pebble Beach, people had heard of their trip at every stop.
"Every golf pro that we met, or people we met a golf course, they couldn't have been more welcoming."
And these two didn't look like your typical golfers. These were a couple guys with their bikes, camping gear and poor hygiene. Still, they were accepted with open arms.
"Instead of the buttoned-up, country-club culture, this idea of making golf more approachable," Davis said. "There's a lot of non-golfers who are interested in golf, and they want some cool way to connect to it than feeling they have to go take 10 lessons and play 18 holes, and feel nervous about immersing themselves in this culture for the first time."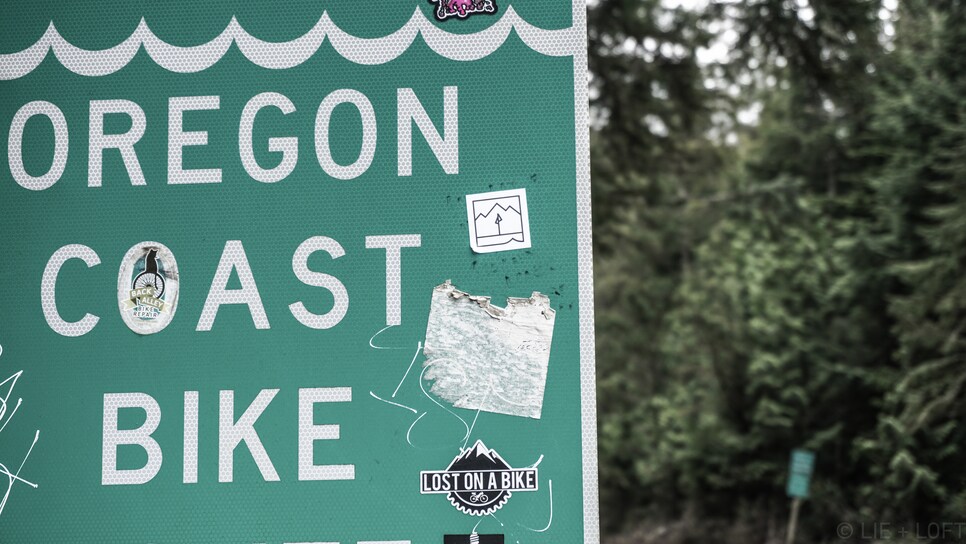 Along the road, whether it was when they stopped along Highway One during construction, or at campsites over those two weeks, Davis said non-golfers kept asking about the golf clubs they were carrying around.
"I'd ask them if they've played before, and they'd say: 'Oh, I tried once, but I'd love to get into it, and now seeing you guys doing it, I want to go to the driving range and give it another try,' " he said. "Now there are options you don't have to spend five hours holding up a golf course where avid golfers are whipping around doing their thing. Making it approachable ... there's an interest in people wanting to try golf, and it's just turning it into more cool and less intimidating."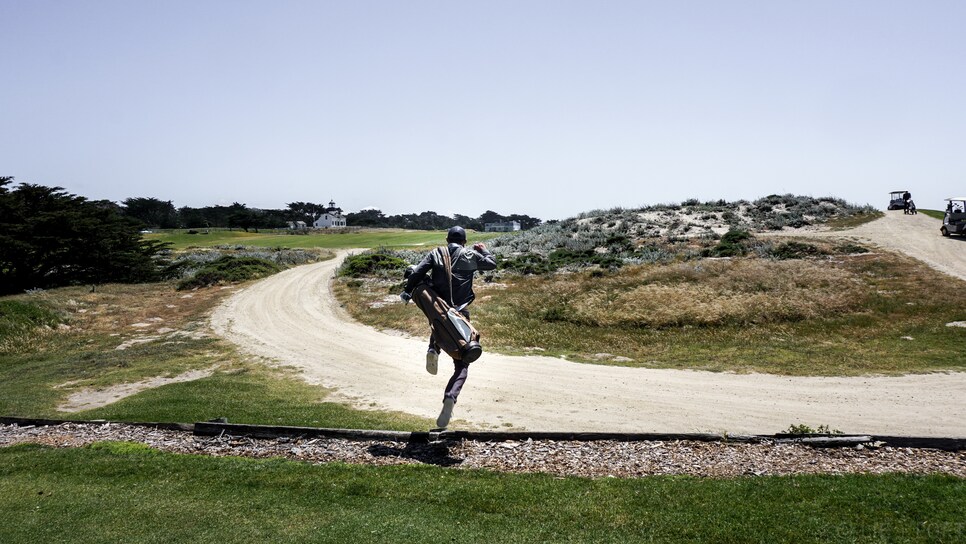 5. There's no better way to feel more connected or to be in the moment
The group experienced nature in a deeper way than most golf trips. Biking past hundreds of miles of farmland terrain and camping was a unique way to see this stretch of land.
Davis explained how hawks would routinely fly over top of Phipps and Davis as they were coasting down the road. Horses, cows or elk would turn their heads or run up along side the road as the group passed them, "just to see what we were up to."
"If you experience an area by foot, your mind, your body and your soul," he explained,"you're forced to be in the moment."
The group walked every round, and thus activated their senses in a way they wouldn't have thought possible.
"You see the golf course in a different way by walking. You're able to connect to it with sight, touch, sense of smell and hearing," Davis said. "All this stuff, it's a different way to experience that kind of trip.
"We really soaked ourselves into the terrain, the courses and among the people. The golf was just the catalyst to all of that."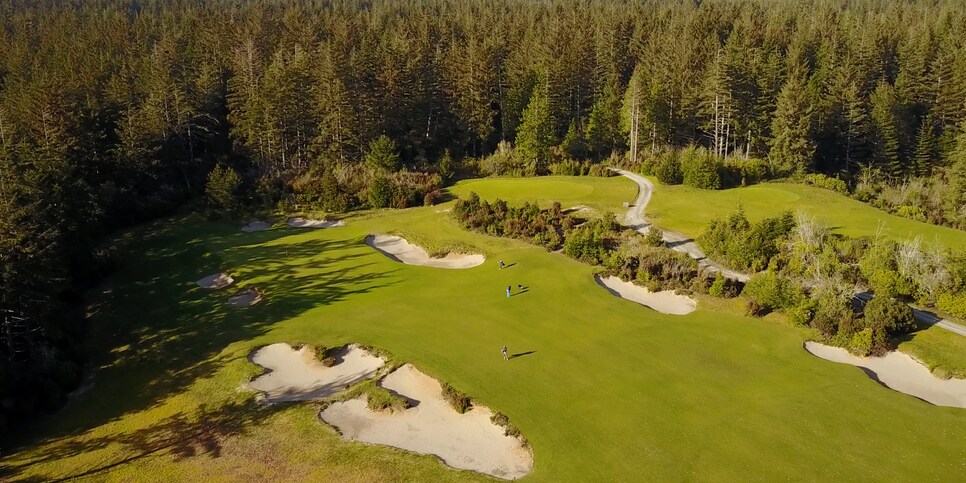 6. Plan the biggest parts of your trip first.
Talks started in November for this May trip. Davis says particularly for any element that is tough to get reservations, such as the Bicentennial Campground outside San Francisco that overlooks the Golden Gate Bridge, start making those plans well in advance.
Planning the biggest parts of the trip first, and then adding components around the trip, is a great hack to make sure the itinerary includes whatever the group is looking forward to most. But especially so on a trip like this.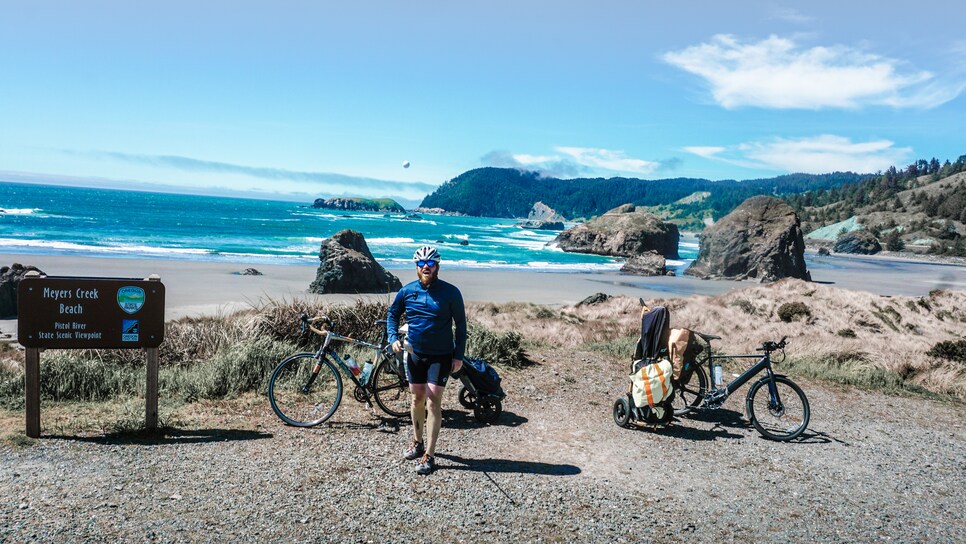 But perhaps the biggest takeaway?
7. Be flexible with your schedule.
You never know where the road will take you. So leave enough time for all activities: In Davis' and Phipps' case, biking, golf, checking out a brewery in the local area, or whatever else piqued their interest.
"Forty miles of biking and nine holes of golf leaves you the perfect amount of time to check out the local area," Davis says.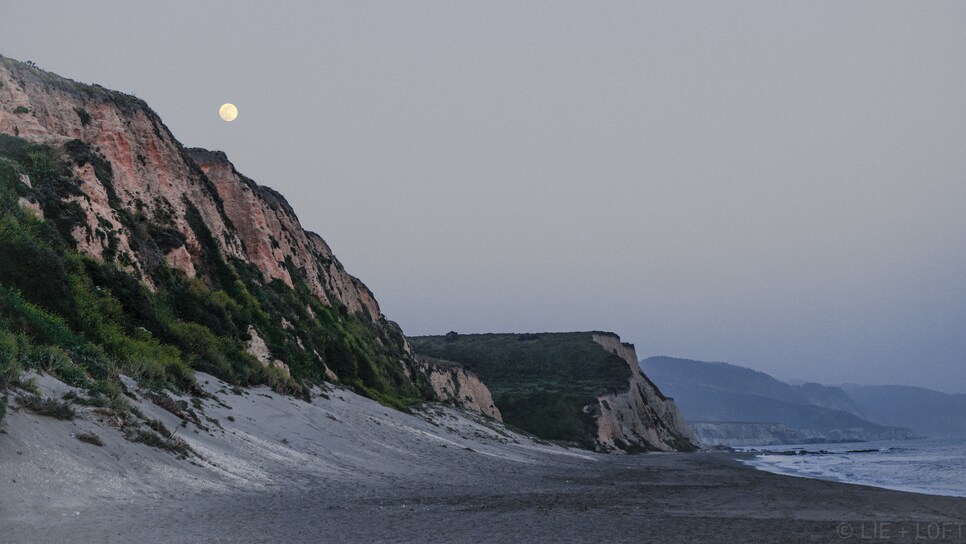 For more on the journey, click here.