News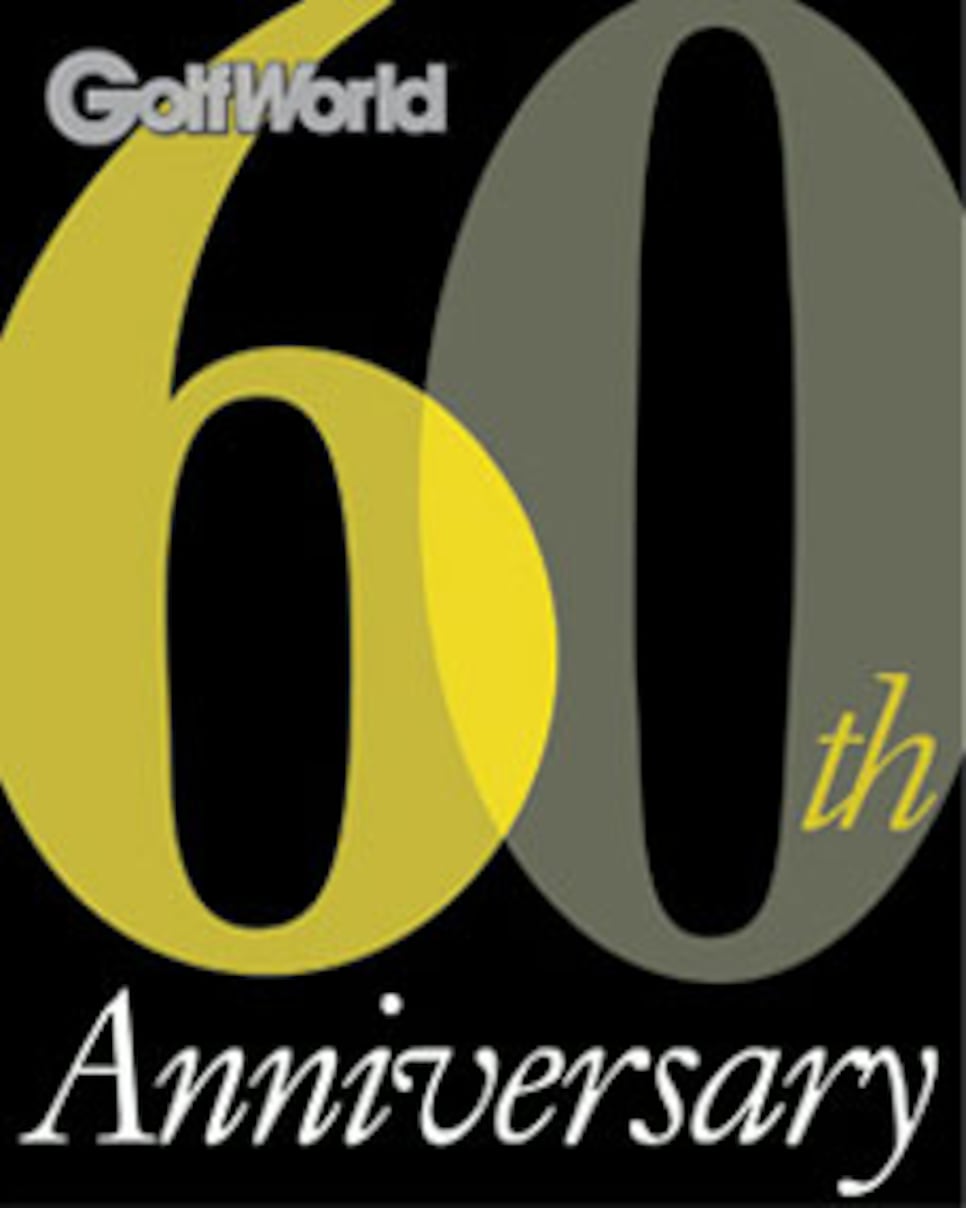 Wedding anniversary jewels are as familiar as your favorite driver. Something silver for 25 years, something gold for 50 years. But if Golf World were your wife or husband, as this magazine has been for some people for 60 years, you wouldn't shop for something as traditional as a diamond, the 60th-anniversary jewel. You surely would search for something much more useful, like bookends. Distinctive bookends: one of persimmon, the other of titanium.
Persimmon drivers were what golf was all about in June 1947 when Bob Harlow published the first issue of Golf World, and titanium drivers (or variations thereof) are what golf is all about now. And in all those bound volumes of the magazine between the bookends are the golfers and the game itself.
The golfers come and go, but the game really is the same. In the evolution from persimmon's consistent accuracy to titanium's dazzling length, the game hasn't really changed. In the pro tournaments or in your weekend match, the game usually boils down to its simplest form: making or missing a putt. Sixty years ago Lew Worsham made a short putt to win the U.S. Open after Sam Snead missed a short putt. Two months ago Zach Johnson made birdie putts to win the Masters while Tiger Woods missed birdie putts.
The game of golf is different from other games. At most other sports events you often hear the chant, "dee-fense, dee-fense." But there's no dee-fense in golf. Snead couldn't tackle or foul Worsham, just as Woods couldn't block any of Johnson's birdie tries.
The game is simply too difficult, too elusive to allow even the best to win all the time--not Ben Hogan or Babe Zaharias, not Arnold Palmer or Mickey Wright, not Jack Nicklaus or Kathy Whitworth, not Tom Watson or Nancy Lopez, not Tiger Woods or Annika Sorenstam.
Win or lose, the game, and all those famous golfers, were the reason to read what is in those 60 years of bound volumes between the bookends. In the decades before Golf World, the game had its first American idol, the teenager Francis Ouimet, then it had the plus fours elegance of Bobby Jones, Walter Hagen and Gene Sarazen, then the steel-shafted skill of Byron Nelson, Snead and Hogan, but with the image of a rich man's game, golf had a limited appeal. Baseball, boxing and college football were the sports America rooted for. But early in 1949, after a head-on crash between a black Cadillac and a Greyhound bus on a foggy Texas highway, America suddenly had a golfer to pray for.
Ben Hogan, the 1948 U.S. Open champion, was in a Fort Worth hospital, his body and legs battered, his life threatened. At best, he was unlikely to ever play the game again, certainly not on a champion's level.
America could identify with that. America remembered all those who had been killed or wounded in World War II in Europe and northern Africa or on Pacific Ocean islands where Hogan served as an instructor of Army Air Force pilots. But slowly, Hogan recovered, chipping and putting at first, then competing in occasional tournaments while preserving his stamina for the 1950 U.S. Open at Merion that he won in an 18-hole playoff with a 69. Three years later, as the only golfer ever to win the Masters, U.S. Open and British Open in the same year, he was accorded a ticker-tape parade up lower Broadway in New York City, but the Thursday after his 1950 U.S. Open triumph, only a few dozen people were at Wykagyl CC in suburban New Rochelle to see him tee off in the Palm Beach Round Robin, the New York stop on the PGA Tour in those years.
If you were at Wykagyl that morning, as I was (as a Holy Cross college student home for the summer) to see the feature foursome of Hogan, Snead, Jimmy Demaret and Jack Burke Jr., the tees and greens were roped off. But if you followed the golfers, you walked along the fairways with them. You even walked along with Ben Hogan. Then you stopped, stepped back and stood still while he hit a shot.
Tournament golf was like that then. No fairway ropes, no television cameras and not much prize money. For some of the smaller tour events, the total prize money was $5,000. No galleries to speak of, either. When the Palm Beach Round Robin moved to the old Meadow Brook Club not far from Roosevelt Field (where Charles Lindbergh took off for Paris in 1927), I was a spectator when Lloyd Mangrum's tee shot on a par 3 thudded into the green, took one bounce, then spun back into the cup. Hole-in-one. After his drive on the next hole, I walked off the tee with him.
"Great shot, Mr. Mangrum," I said. "How many holes-in-one have you had in your career?"
I forget the number he told me--maybe seven or eight--but I was still talking to him walking up the fairway when, very cordially, he said, "Excuse me, son. We're almost to my ball."
Arnold Palmer changed all that. Arnold Palmer, Dwight D. Eisenhower and television.
When Palmer was winning the 1958 Masters, soldiers at nearby Fort Gordon working the leader boards put up a sign announcing themselves as "Arnie's Army." All those Masters patrons and television viewers immediately enlisted. So did millions of golfers and nongolfers, especially the women who considered Palmer to be golf's version of the young Marlon Brando. When photos appeared of Palmer playing Augusta National with President Eisenhower, who had been the supreme commander of the Allied forces in Europe during World War II that conquered Hitler, golf was no longer a rich man's game. It was a he-man's game.
And long before anybody yelled, "You da man," Palmer was "the man." Not just at Augusta, but everywhere he went. When he came to New Jersey for the 1962 Thunderbird Classic at Upper Montclair CC, next to a high-rise apartment complex, I remember seeing several women peering down from their small apartment balconies in mid morning just for a glimpse of him. When he noticed them, he looked up, smiled and waved. Arnie's Army always had a women's auxiliary.
Palmer also put "Grand Slam" back into golf's vocabulary. Bobby Jones had put together his slam in 1930, winning the U.S. and British opens and amateurs, but when Palmer won the Masters and the U.S. Open in 1960, he hoped to add the British Open and PGA Championship for a pro grand slam. He didn't quite succeed, losing the British Open at St. Andrews to Australia's Kel Nagle by one stroke, but he inspired both Jack Nicklaus in 1972 and Tiger Woods in 2002 to shoot for a slam before their respective bids ended in the British Open.
The other pros soon nicknamed Palmer "The King," a crown that he still wears into his late 70s, even as Nicklaus thundered to a record 18 professional major victories (six Masters, four U.S. Opens, three British Opens, five PGA Championships) over an astounding quarter century, beginning with his 1962 U.S. Open (in an 18-hole playoff with Palmer at Oakmont) and ending with the flourish of a back-nine 30 Sunday in the 1986 Masters.
Before that Masters I had asked five winners of at least two green jackets the same question: With all the talk of how the Masters doesn't really begin until the back nine on Sunday, what are the three most challenging shots on those nine holes? Arnold Palmer, Gary Player, Tom Watson and Seve Ballesteros each had an answer--the tee shot at the short 12th over Rae's Creek, the second shot to the green at the long 13th, the second shot to the green at the long 15th, for example. But when I asked Nicklaus, he shook his head.
"I'm not going to answer that question," he said, pleasantly but firmly. "I don't want to be standing over a shot and thinking that I've said this is the toughest shot on the back nine."
No negative thoughts, thank you. Just positive ones. And a few days later, that absence of negative thoughts accompanied Jack Nicklaus to winning his sixth Masters at age 46.
At first Nicklaus had played in Palmer's shadow. Arnie's Army resented the big blond Ohio Fats who dared to be better than their idol. But slowly, the galleries accepted the reality that the golfer soon known as the Golden Bear was better. Over a quarter of a century, Nicklaus had to beat many of golf's multiple-major winners--Palmer, Gary Player and Billy Casper, then Lee Trevino, Johnny Miller and Raymond Floyd, then Tom Watson, Hale Irwin and Seve Ballesteros.
Sometimes those rivals beat Nicklaus, as Trevino did in their 1971 U.S. Open playoff at Merion and in their duel at the 1972 British Open at Muirfield when Nicklaus' 66 missed a playoff by a stroke; and as Watson did in the 1977 and 1981 Masters, and in the 1982 U.S. Open at Pebble Beach when he holed a wedge out of the greenside rough on the 71st hole, and in their final-round shootout at the 1977 British Open at Turnberry when Watson shot 65, Nicklaus 66.
But whenever Trevino and Watson were asked to select the best golfer of all time, each quickly replied, "Jack Nicklaus." And whenever a poll was taken during that era to name the golfer the best pros would like to take a six-foot putt for them with the U.S. Open at stake, most replied, "Jack Nicklaus"-- the same Jack Nicklaus whose achievements were on the bedroom wall of a youngster named Eldrick (Tiger) Woods in Cypress, Calif.
Nicklaus inspired Woods, who has won 12 majors in his first decade as a pro, just as Bobby Jones had inspired Nicklaus, who grew up in Columbus, Ohio, playing Scioto where Jones won the 1926 U.S. Open and where Jack's father, Charlie, was a member. The difference is that Tiger's father, Earl, had never been a member of anything except the United States Army, had never even played golf until a few years before Tiger was born. Then a 40-year-old Army lieutenant colonel stationed at Fort Hamilton near the Brooklyn end of the Verrazano-Narrows Bridge, he was sitting around one day when an Army buddy suggested they play golf at nearby Dyker Beach, a scruffy muny known primarily as the world's most crowded course.
On their arrival Earl had a problem. You had to have a set of clubs to play, but he didn't have any clubs. So he walked the first hole with his buddy and played the last 17 holes out of his buddy's bag. He once remembered that he shot 92 for those 17 holes--not bad, but not good enough for a former Kansas State baseball catcher who could hit a 94-mile-an-hour fastball but couldn't consistently hit or accurately putt a little white ball just sitting there on the grass. Determined to be a better golfer, Earl (with his own set of clubs) often returned to Dyker Beach or drove over the Verrazano to another muny, LaTourette, and once ventured out on Long Island to play Bethpage's Black course where his son would win the 2002 Open.
After his discharge in 1974, Earl settled in California with his second wife, Tida, and on Dec. 30, 1975, their son was born, soon to be nicknamed Tiger for a Vietnamese colonel Earl had served with. By then Earl was a 3-handicap who played golf whenever he had the opportunity. When he hit balls into a net in the garage, the infant Tiger watched from his highchair, sometimes for as long as two hours. As soon as little Tiger could walk, he was hitting balls, too.
The lesson there is that neither Earl nor Tiger Woods were inspired initially to play golf because Jack Nicklaus or Arnold Palmer or Ben Hogan or Bobby Jones played it so well. Both were inspired simply by the game itself--Earl by the frustration of not being able to hit a stationary golf ball as well as he could a flaming fastball, Tiger by the fascination of watching his father hit golf balls into a net in their garage before he was even old enough to walk.
The game itself is what has always inspired golfers. Without realizing it, Jack Nicklaus testified to that at the 2000 Masters when he was asked if it had been like old times to have played the first two rounds with Arnold Palmer and Gary Player in a reunion of the original Big Three and all that nostalgia. Sitting nearby, Palmer and Player, who each had missed the cut, smiled on hearing the question, but Nicklaus, who at age 60 had made the cut with 74-70, frowned. "I don't pay much attention to that nostalgia stuff," he said. "It was very nice, the gallery was very nice, but I'm a funny duck, I come here to play golf."
To play the game that, even with the technological transition from persimmon to titanium over Golf World's 60 years, has never really changed. The game that always is too difficult and too elusive to allow anyone to conquer it week after week--not Jack Nicklaus, not Tiger Woods, and not whoever will be out there 60 years from now.