The Loop
5 rules to follow if you want to play more night golf
It seemed unfair Sunday that, thanks to "wide-open" camera irises, we could see more than the competitors could. Kind of like a nighttime scene from the Hunger Games with Jennifer Lawrence running around in the dark while we don't miss a grimace. Musing on how to resolve that inequity and create a more elegant major championship finish, several enhancements occurred to me.    I should note that some of these were born decades ago, when my brother Tom and I hurried to complete 72 holes at the Dearborn (Mich.) Country Club. It was 1960, give or take a year, on a Monday caddie day. We'd begun in the mist at 6 am, were about to complete our fourth round, and now it was black, darker even than what Rory and Rickie and Phil played through. We adjusted -- brilliantly, I thought. Given how slowly everybody seems to think it's OK to play these days, isn't it time that professional golf light a candle rather than continue to nurse the darkness? Therefore, in the name of growing the game and making more money, I propose the following enhancements for future sundown finishes:  1. The Twilight Gimme
It's as simple as it sounds. At a major, a referee (sponsored by a law firm presumably) declares time-saving gimmes where appropriate. "Phil, you're good, pick that up -- you never miss those. Duf, we'd like to see that." This is not inspired, but could be, by the recent suggestion that Major League Baseball eliminate the actual pitches involved in intentional walks -- relying instead on a simple gesture toward first. In tournaments where only two players have a chance to win, the referee has the power to offer a "Good/Good" option.
An off-shoot of the one-ball rule, the "a ball" rule allows a player, unfairly constrained by darkness, to use any ball he finds in the vicinity of his shot's landing area, provided it does not belong to one of his fellow competitors. I've often benefited from this adjustment over the years. Though on the professional level this introduces endorsement complications, whose gonna' know really? It's frigging dark out!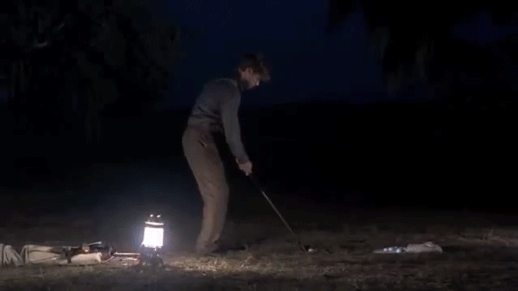 As a solar-sensitive siren sounds the players replace their balls with glowing, Nitelite Golf balls. Officials apply glow-sticks to remaining flags.  Suddenly, thanks  to the rollover, players can take their good ole time, never missing a pre-shot routine, and shots look so cool you can't stand it. (Kind of like those Fox hockey pucks a while back. Whatever happened to those?) A friend and I once competed in a NiteLite event, but unknowingly broke the rules by playing the course the day before the evening competition. Rather than disqualify us, the sensitive tournament committee awarded us last place. I've meant to visit one of those Antiques Roadshow regional events because I suspect a "Net Thirtieth Place" plaque is quite rare indeed.
4. Fairway-lining Illuminated Corporate Signs
As in, Flickers, By GE. Based on the European Tour's practice of lining tees and stretches of rough with tasteful billboards, the American version of these would be backlit and provide welcome ambient light as dusk descends. "No need for our players to hurry, folks, thanks to Flickers."  There's more. Apple, as an example, might provide volunteers with flashlight-apped cellphones, suddenly turning the final holes into stunning runways of light.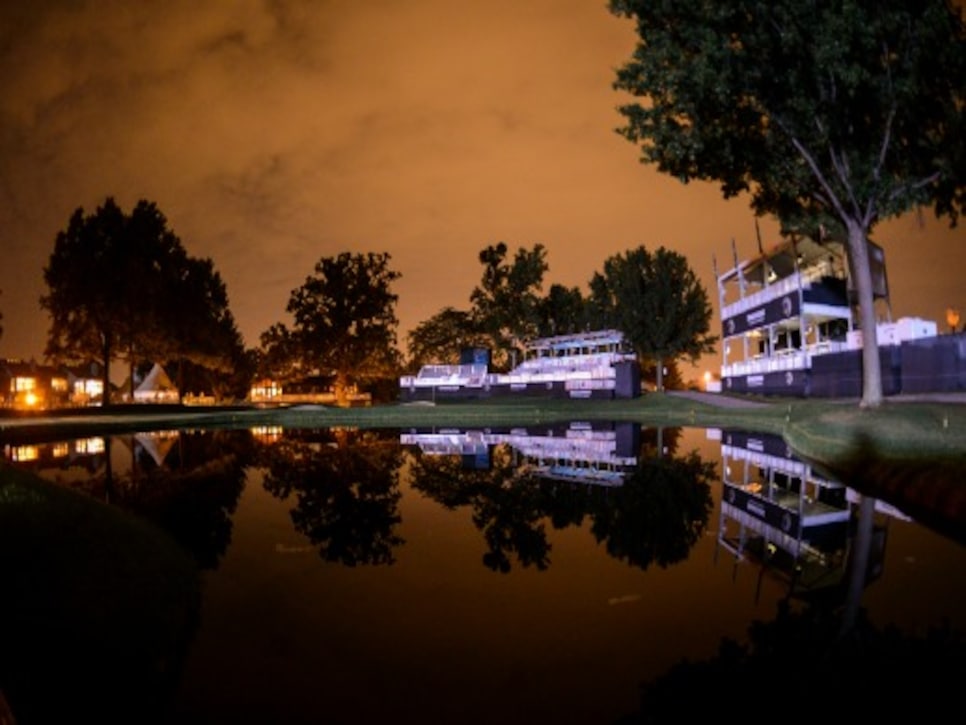 Let's face it, it's simply not practical to finish everything you start. Golf should reflect life in that respect, so consider this our program's last resort. Let's say nitty picky rules experts veto the previous suggestions, and players don't want their schedules messed up, and sponsors (who have given us MILLIONS of dollars to run the darn tournament, are supposed to play the course the next day), why not invoke the One More Hole Rule? If two or more leading competitors are within two shots of the lead, the committee may declare "One More Hole." Play that final hole, no matter which one it is, pay your debts or pick up your trophy, and we all have time for dinner. Rory's buying.