News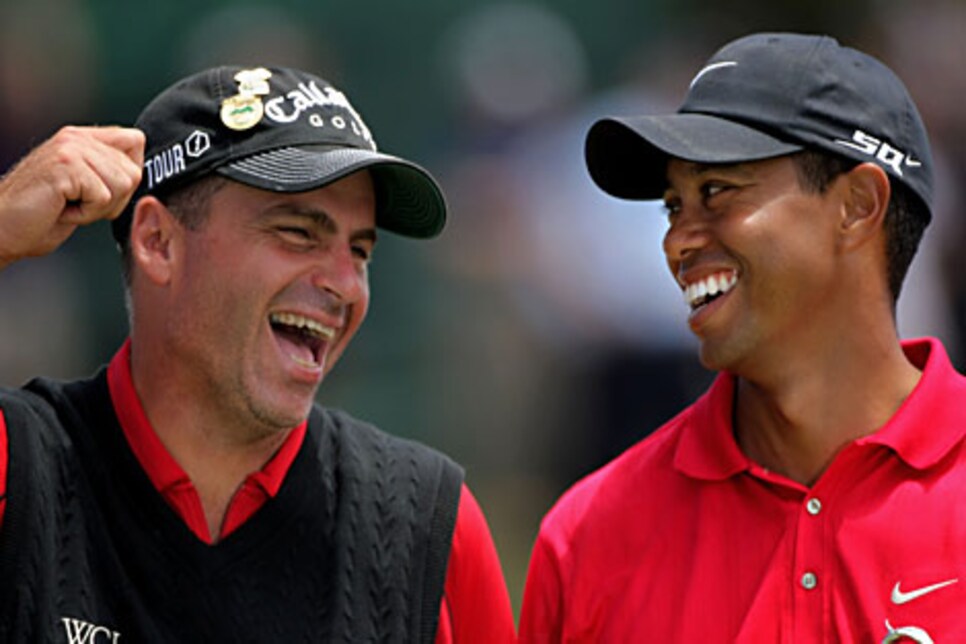 For both Rocco Mediate and Tiger Woods, their playoff battle in the 2008 U.S. Open was a defining moment.
ORLANDO -- So what's the most notable improvement on the PGA Tour so far this year?
"Tiger's back," said Rocco Mediate. "That's real good. You kind of notice him every once in awhile when he's around."
And this week at the Arnold Palmer Invitational at Bay Hill, Woods gets another chance to get noticed as he takes a third step in his comeback from left knee surgery nine months ago. Bay Hill is Woods' third tournament this year, following his second-round exit of the Match Play Championship and a tie for ninth at Doral.
Chances are that Bay Hill is going to be significant for Woods. Not only is it the first full-field stroke play event he's played since he won the U.S. Open last June, it's also a course where he's won five times, including last year.
Mediate, of course, is linked with Woods because of the Open at Torrey Pines, where Woods wound up playing 19 extra holes on Monday to beat him. If Mediate was sort of popular with fans before, he's extra popular now because of the way he handled himself battling the world's No. 1 player.
That confrontation also drew the two closer. Last week at the Grand Cypress Resort here, Mediate joined Woods at an event to support Woods' video game for EA Sports.
"I said 'I watched [Doral] a little bit, it looks pretty good,'" Mediate said. "He goes, 'I made one bogey the last four rounds.'"
Woods was actually bogey-free over the weekend, but you get the point. Mediate did.
"He isn't putting yet, either. Danger, danger, danger. If he makes one bogey [in two rounds], he's obviously hitting it better. We know his short game is the best, but we know as we saw on television . . . I saw some highlights . . . he didn't really make a lot of putts.
"When he does that, that will be the Tiger we know, and that will be the end of the game."
Woods is the first off for his pro-am round at 7:30 a.m. Wednesday, playing with Anthony Kim.
Mediate has played four times since he had arthroscopic surgery on his knee after Phoenix and is still trying to get some traction in his game. He tied for 41st at Riviera, tied for 73rd at Honda, tied for 74th at Puerto Rico and then tied for 27th last week at the Transitions Championship.
That's going in the right direction, which is one good sign. Another is that he should feel at home this week. It's his 21st year playing Bay Hill.
He played the Arnold Palmer Invitational at Bay Hill for the first time in 1985, thanks to a sponsor's invitation from Palmer, like Mediate a native of western Pennsylvania.
"Probably felt bad for me," Mediate said.
But Mediate has long since moved from being an object of sympathy and sort of evolved into another role as unofficial tour analyst. In that role, he's bullish on Tiger.
"The Tour is really cool when he's not here, but it's way cooler when he is."