News
"It's time for us to make a change ...."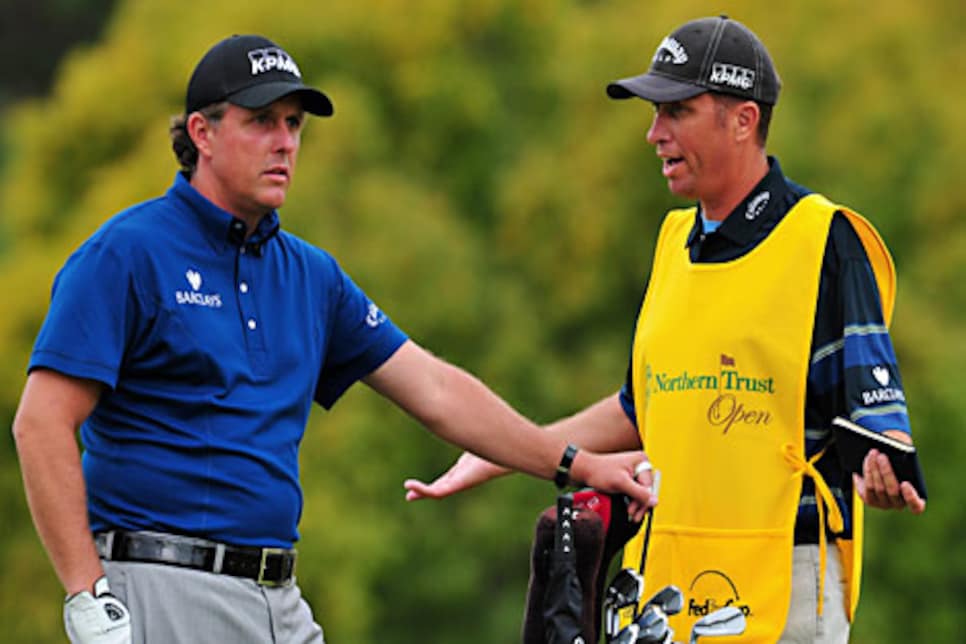 PALM HARBOR, Fla. -- The only way Phil Mickelson could advance his ball from underneath a bush on the 12th hole at Doral was to swing from the other side. As is often the case, risk was involved.
"I certainly didn't want to have to hit a right-handed shot with the lead," he said.
What concerned his caddie was the chance it could hit a palm tree and ricochet into even worse trouble, if not out of bounds. That's why Jim "Bones" Mackay suggested a more conservative option by taking a penalty stroke and moving 20 yards back.
He was overruled. Lefty was adamant about going righty.
"I've done this before," Mickelson told him.
That might make the top 10 list of the worst things a caddie can hear his player say, but it's not on Mackay's list. He knew Mickelson had actually done it before.
"One year Phil was playing at Summerlin with Neal Lancaster," Mackay said, referring to the Las Vegas tournament. "The 12th hole was a par 4 where you drive it short of this lake, and then it runs all the way up the right side. Phil drove it next to a tree in front of the lake, so the next shot was entirely over water. He turns over an 8-iron and knocks it right-handed onto the green, 15 feet from the hole.
"Neal hits it to 30 feet and left the first putt 15 feet short. Before he putted the next one, he turns to Phil and says two things -- 'I can't believe that shot you hit,' and 'I've got no chance of making this putt.' And he missed it."
The right-handed shot at Doral came out perfectly -- except that it hit a tree. Luckily for Mickelson, it dropped down into the rough, and he wound up making only a bogey. Mickelson went on to win the CA Championship by one shot.
The caddie-player relationship took on a peculiar twist Tuesday afternoon on the practice range at Innisbrook when J.P. Hayes hit a smother-hook into the trees and uttered with genuine surprise, "Whooooaaa!"
Paul Goydos looked over at him and smiled.
"That's probably the worst thing a caddie can hear his player say," Goydos said.
And so began an animated discussion of the worst things a caddie can hear his player say. Among them:
"I think it's time for us to make a change."
This is player-caddie code for "you're fired."
"I'll keep the yardage book today."
This does not mean the player is taking some of the workload off the caddie. This is a bad sign that usually precedes, "I think it's time for us to make a change." It happened to Mike "Fluff" Cowan at Riviera in 1999, and it was the last time he caddied for Tiger Woods.
"How far did you say we had?"
Such a question typically is posed after a shot goes either 30 yards over the green or comes up 30 yards short. Usually, it means the caddie made a mathematical blunder -- but not always.
Shaun Micheel flew the 16th green at Wentworth by some 20 yards in the World Match Play Championship final against Paul Casey. Everyone assumed he had a bad yardage, especially when Micheel was overheard telling caddie Tony Lingard after making double bogey, "Don't say another word to me the rest of the day."
But that's not what happened. Micheel wanted to hit 8-iron, and when the ball sailed over the green, caddie Tony Lingard said to him, "Told you it was a 9-iron." Now that's probably the worst thing a caddie can say to his player.
Some other things a caddie never wants to hear from his player:
In other words, the ball has no chance of finding the green.
"Why do we have two drivers in the bag?"
Ian Woosnam's caddie actually figured this out by himself on the second tee of the final round at the 2001 British Open. The extra club came with a two-stroke penalty.
"Can you get my cell phone? I'm going to see if I can catch an early flight."
This is especially bad to hear on Friday morning. It means the player has no chance of making the cut, or believes he has no chance, which is even worse.
"I think I'm going to add Pebble Beach to my schedule this year." Why is this the last thing a caddie wants to hear? Not just because the rounds can be long with two pros and two amateurs over three days. And not because the bag will be heavier than usual with all the rain gear. The toughest part for a caddie is getting to the other two courses on the rotation, then finding the parking lot.
Mackay has been working for Mickelson the last 16 years, and he was asked for his own list of the worst things Lefty could say to him. Based on the answers, he probably was kidding.
"Do you like this club if I decide to skip it across the water?" Mickelson is among the best at skipping tee shots across the pond on the 16th hole at Augusta National, which has become a tradition during the practice round. It would not be terribly unusual for him to try it in competition.
"Did you hear what I just said to you?"
Mickelson said this on the 18th hole at Baltusrol in the third round of the 2005 PGA Championship. He was buried in the left rough with a stream dissecting the fairway about 80 yards away. Lefty wanted to hit a 4-wood. Mackay insisted that he lay up short with a wedge, fearing the 4-wood would tumble into the water.
The caddie tried one last time to talk him out of it when Mickelson interrupted by saying, "Did you hear what I just said to you?"
In other words, end of discussion.
"I looked like a buffoon when it came to rest behind the green," Mackay said.
Doug Ferguson is the golf writer for the Associated Press.