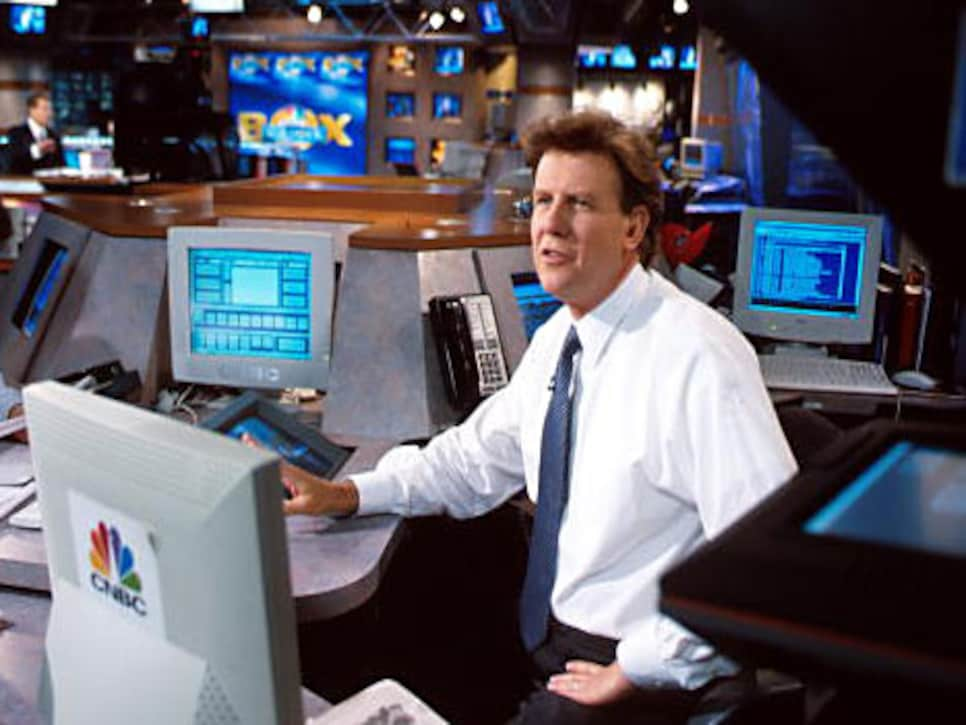 *__Editor's Note:__It may be reassuring to know A-listers succumb to golf's charms and challenges just as easily as the rest of us. In "My Game", a weekly series, GolfDigest.com asks noted personalities to expound on their experiences in golf, and what keeps bringing them back. Next up is CNBC anchor Joe Kernen. The co-anchor of "Squawk Box" plays out of famed Baltusrol Golf Club in New Jersey, and tries to squeeze in as much golf as he can when he's not spending time with his young family or reporting on the state of the market. Apparently that's been kind of a big story recently. *
Player: Joe Kernen • Occupation: Co-anchor CBNC's Squawk Box • Home Club: Baltusrol Golf Club, Springfield, N.J. • Handicap Index: 10.2
My wife Penelope and I were married on a golf course, on the 18th tee of the .Four Seasons Kona Hualalai. At least we think we were married. It was a Hawaiian guy performing the ceremony and I'm not really sure what he said.
But it was beautiful. It was just us. We played golf on the morning of our wedding and we played golf the next day, too. That's a pretty good way to have a marriage and a honeymoon.
I've been playing golf my whole life. I grew up in Cincinnati and learned to play at Western Hills Country Club, where my parents were members since before I was born.
My wife is a good player in her own right. Her family has been at Baltusrol Golf Club for years. Her brother Christopher won the club championship when he was 17. Her late father Edward was a great golfer and a member at the Mid Ocean Club and other great places. Penelope has made it to the final of the club championship at Baltusrol.
So we're members at Baltusrol and play most of our golf there, when we play. At 53, I'm an old father. I have a 9-year-old and a 6-year old. So we don't play much. It's my first family, not my second family, like a lot of guys my age have. I just got a little bit of a late start.
Even coming here (to the Bob Hope Chrysler Classic), we flew into San Diego and went to Legoland for eight hours on Saturday and SeaWorld for four hours on Sunday, and then drove over the pass and into the desert. The kids are here now. We're not partying tonight. We'll probably watch a movie and do some Jiffy Pop. I really appreciate fatherhood at my age, having these great kids.
When Penelope and I do play, I usually beat her, though there are times that she beats me. Her handicap is back up to about a 13 or 14 now. We're both in the high 80s, low 90s now.
We get to play down at the Floridian in Stuart, Fla., the husband and wives tournament. I call it the Divorce Open. I dread it for 364 days, then play in it, then dread it for another 364 days. I don't want to let her down. I've had yippy problems with my chips and putts for years. The small muscles aren't so good any more.
Golf stocks? Just mentioning the word "stock", after the last year my confidence is shaken in everything. I never thought we'd be questioning the basic tenets of capitalism and the free markets. But we're in a once-in-a-lifetime situation here and I'm not smart enough to know what the right policy moves are. I'd like to say let the chips fall where they may, but it's the real world and we're doing the best we can. The Fed and the Treasury are doing the best they can at this point, so we've got to be behind them.