News
Yang Breaks Through For First Win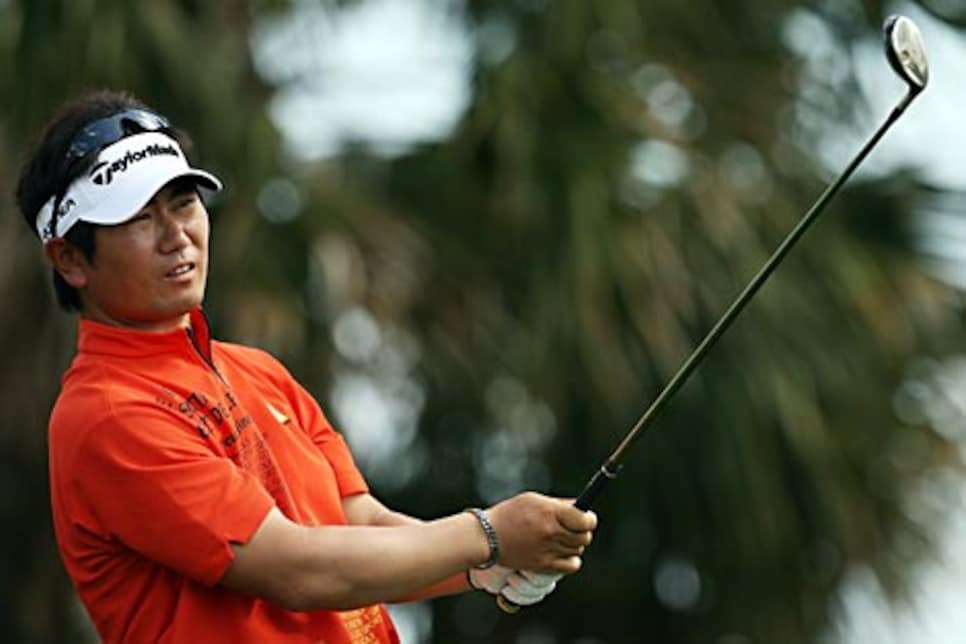 Yang joins K.J. Choi as the only Korean's to win on the PGA Tour.
PALM BEACH GARDENS, Fla. (AP) -- Y.E. Yang was first to finish at last year's Honda Classic.
This time, he finished first.
Alone in front the whole way Sunday, Yang shot a 2-under 68 to end up one shot ahead of John Rollins and pick up his first PGA Tour victory.
The Korean took command with three straight birdies on the front side and wouldn't fold, picking up a two-year exemption and a check for $1,008,000. With the win -- his eighth worldwide -- he qualified for next week's CA Championship at Doral, plus earned an invitation to next month's Masters.
"This win is the biggest of my career," Yang said.
Yang played last year's final round at PGA National by himself, going off first and needing only 1 hour, 53 minutes to finish.
He was there until the very end this time, pumping his fist in the air when his 50-footer for birdie stopped a foot away from the cup, sealing the victory. He finished at 9-under 271.
For a guy whose claim to fame was beating Tiger Woods at the 2006 HSBC Champions in Shanghai, it was a moment to savor.
"Pure emotion," said Yang, who canceled plans to fly to Puerto Rico for a tournament there next week. "I just felt all the fans were supporting me. I just wanted to thank them."
Rollins made birdie at the par-5 18th to get within two shots of Yang, who was one hole behind and in a greenside bunker at the par-3 17th. And when Yang's 10-footer for par tailed right and stopped short, the lead -- four shots earlier in the day -- was down to one.
He cringed when his third shot sailed off target at the finishing hole, but coolly two-putted for the win.
"From 50 feet, it's not easy to do that to win your first golf tournament," Rollins said. "My hat's off to him."
Rollins (67) was alone in second and he, like Yang, qualified for the CA Championship by moving into the top 10 in the FedEx Cup standings. Ben Crane (68) was third after finishing 6 under and Jeff Klauk (71, with 17 pars and one bogey) was alone in fourth, another shot back.
"I have no complaints," Rollins said. "I did all I can do. Shot 3 under on championship Sunday and came up short."
He was one of the few guys who made a lasting charge at Yang.
Robert Allenby started with two birdies in his first three holes, but struggled from there and finished 4 under, tied for fifth with Will MacKenzie (70), Fredrik Jacobson (70) and Scott Piercy (65).
Just like last year, when he was in contention during the Honda's final round before chipping onto a waterside pile of rocks and tossing his ball into the drink, Mark Calcavecchia's chances were all wet again.
The two-time Honda winner's undoing came at the 11th, when he hit into a greenside hazard. He rolled up his right pant leg, hacked the ball out of some muck and salvaged a bogey, but got no closer and shot 73.
Rory McIlroy -- bidding to become the youngest winner in PGA Tour history -- worked his way up the leaderboard as well, before consecutive bogeys left him tied for 13th.
"I'm pretty disappointed the way I finished," McIlroy said.
Davis Love III also was part of the nine-way tie for 13th, which turned out to be significant. Love should barely be No. 50 in the world rankings on Monday, which would be good enough to get him into Doral. If he stays in the top 50 through Bay Hill, he'd be back at Augusta National as well.
Erik Compton's inspiring week ended with a 72, finishing tied for 44th at 3 over. The two-time heart transplant recipient said he struck the ball well but simply couldn't score, three-putting from 20 feet at the first, missing a tap-in at 15, and not making anything longer than 8 feet all day.
He will play next week on a sponsor's exemption in Puerto Rico, take a week off, then finish the month at Bay Hill.
And while walking the 72 holes left him a bit tired -- he is nine months removed from getting his third heart -- Compton refused to make excuses.
"I'm just stupid to think that I can play well enough to win out here," Compton said. "I should have done better this week. I played better than what I got out of my game. So that's the frustrating part. My health is fine."
Safe to say, Yang was feeling even better than Compton.
His introduction to golf came when he took a job on a driving range as a 19-year-old -- the same age McIlroy is now -- and didn't break 100 the first time he played. He didn't even know there was such a thing as a touring golf pro until after serving 18 months as an armed guard in the South Korean Army.
Now, the son of vegetable farmers is a PGA Tour winner. And next week, he gets to play alongside Woods once again.
"To be able to face Tiger again and again, it's an honor for me," Yang said.
Notes:@ The last person to win the Honda by more than two shots was Calcavecchia, who beat Vijay Singh by three in 1998. ... Klauk had a chance to chip in at the 14th hole for the third straight day, but missed by about a foot. ... Defending champion Ernie Els shot 66 and finished tied for 22nd.