News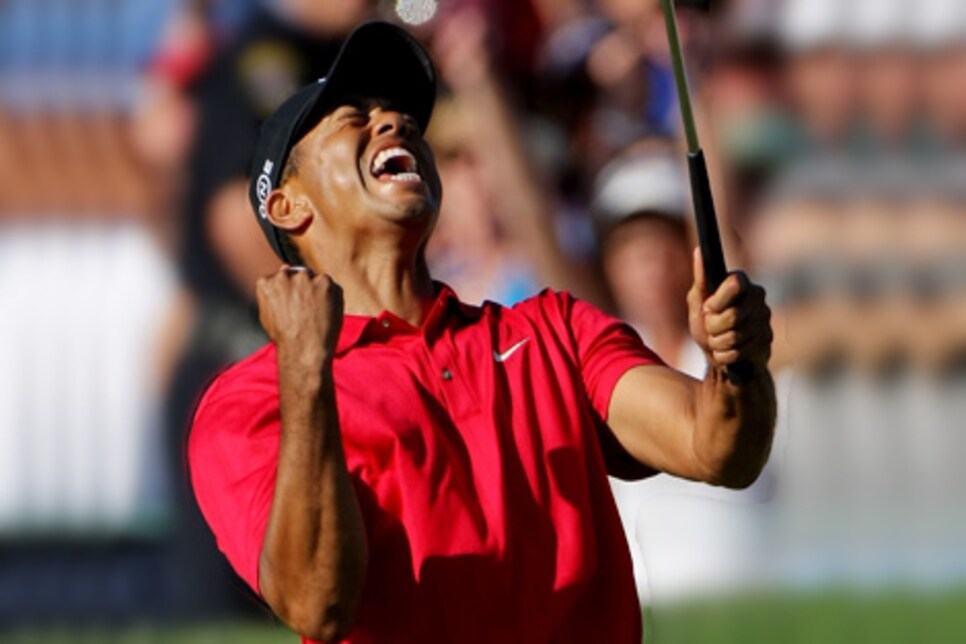 The Match Play Championship will be Woods' first tournament since his dramatic win in the 2008 U. S. Open.
Tiger Woods is ending his nearly eight-month long absence from the PGA Tour, announcing today that he will defend his title in the $8.5 million WGC-Accenture Match Play Championship next week at Dove Mountain in Marana, Ariz., near Tucson.
Woods, who has not played since his playoff win in the U.S. Open at Torrey Pines, made the announcement on his web site.
"I'm now ready to go play again," Woods said.
As the top seed in the match play, Woods will likely face 64th ranked Brendan Jones of Australia in Wednesday's first round. It will be Woods' first competitive round in 253 days, dating back to his 19-hole playoff June 16 at the Open when he defeated Rocco Mediate for his third U.S. Open victory and 14th major title.
Two days later, Woods revealed he had won the Open despite playing with a torn left knee ligament as well as twin stress fractures of his tibia. He also announced he needed knee surgery and would be out for the rest of 2008, ending a season in which he won five times in the seven events he played worldwide, including four wins on the PGA Tour.
Woods underwent surgery June 24 to replace a torn anterior cruciate ligament in his knee, his third operation in five years on the same knee, and fourth overall. On April 15, two days after he was second to Trevor Immelman at the Masters, Woods had surgery on his left knee to repair cartilage damage; and in 2002, he had fluid drained from around the ACL and also had a cyst removed. Woods also had surgery on the knee in 1994 to remove a benign tumor.
Woods said he tore the ACL while jogging after the 2007 British Open, remarkable in that he still went on to win 10 of the next 13 events he played. He incurred the double fractures of his tibia two weeks before the U.S. Open and ignored the advice of his surgeon, Thomas Rosenberg of Park City, Utah, to take six weeks off.
The 33-year-old Woods, who became a father for the second time when his wife Elin gave birth to son, Charlie Axel, earlier this month, has insisted he would not return to the game until he felt he could win. He has recently spent considerable time with swing coach Hank Haney and said he is pain-free for the first time in years.
"It's a nice feeling," said Woods.
Haney said recently that the number of surgical procedures on Woods' left knee may be misleading.
"People sensationalize about him having four knee surgeries," Haney said. "But he's had only one reconstructive knee surgery."
Haney also said he expects no falloff in Woods' game. "My expectation is that Tiger will come back better than when he left," he said. "I know Tiger Woods. I know how dedicated and determined he is."
Woods has had significant success in WGC events, winning 15 of 26 starts, posting 24 top 10 finishes and has earned more than $19 million. A three-time winner of the Match Play, he ousted Stewart Cink last year, 8 and 7. The win was the 63rd of Woods' career, allowing him to surpass Arnold Palmer for fourth on the tour's all-time victory list. In nine Match Play starts, Woods is 31-6 and has won 23 of his last 26 matches. Lifetime, he is 20-4 against International players and 11-2 versus Americans.
Still unclear is the rest of Woods' schedule leading up to the Masters, although it is assumed he will enter both the WGC-CA Championship March 12-15 at Doral; and the Arnold Palmer Invitational, March 26-29 at Bay Hill. The Masters, which Woods has won four times, is April 9-12.
Mark Soltau contributed to this report.