News
Pate and Langer Lead By Two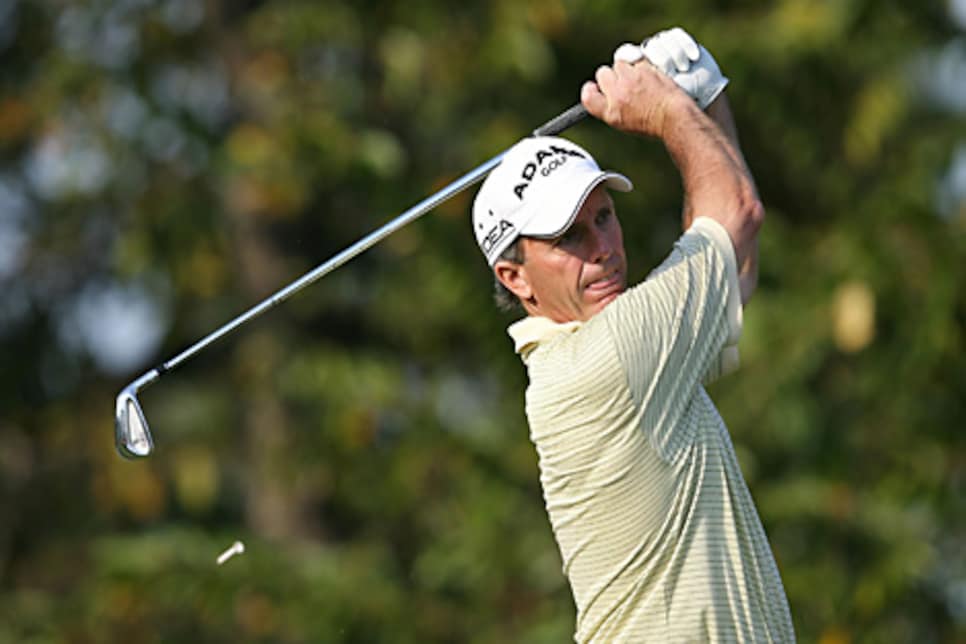 Pate's round was his best since joining the Champions Tour.
BOCA RATON, Fla. -- Old friends Jerry Pate and Bernhard Langer were in the lead at 8 under after the opening round of the Allianz Championship on Friday.
Pate, who finished his round just ahead of Langer, wasn't even sure he would play at the Old Course at Broken Sound. He's been trying to get over a recent cold and has been hobbled by surgeries on his knee and shoulder.
He finally made the decision to play late Tuesday night -- and it wound up being a good one. Pate had an eagle and six birdies in his round of 64, matching his best score since joining the senior circuit.
"The beauty of playing the Champions Tour is we're all old and have some ailments, so you can have a positive outlook on something that should be negative," said Pate, who was tied for the lead after the opening day here last year.
"We just all go out there with a smile on our faces and play."
Pate played the back nine first and hit a 5-iron from 201 yards to about 5 feet on the par-5 18th, rolling in the putt for a momentum-building eagle.
"If I putt well and my confidence is there, I'll be in contention," he said.
Langer, who led the Champions Tour in earnings during his debut season last year, had nine birdies and a bogey in matching Pate with a 64.
Part of the appeal for the German to play this tournament is that it's located near his Boca Raton home -- family and friends made for a large gallery cheering him on.
"It feels good to have a good start," Langer said. "Success breeds confidence. I got off to a good start in Hawaii [in January] and I'm still playing well."
Competing in his first tournament of the year, Fulton Allem made seven birdies and one bogey to finish at 6-under 66.
"It's nice to be back in competition because four months off is a very long time," said the South African, who finished 34th on the money list last season and had to qualify Monday for this tournament. "I feel like a beginner, you know?
"If I stand on the first tee and don't have a bit of the jitters, you know you're not going to play well."
Allem's nerves calmed down when he birdied the par-4 first, and things were going well until the 17th, when he pulled his tee shot left. Allem hit trees on his next shot before finally reaching the green, and ended up two-putting for bogey.
He recovered to birdie the final hole.
For the 13th time since joining the tour, 73-year-old Gary Player matched his age.
Defending champion Scott Hoch withdrew from the tournament earlier in the week citing a wrist injury.