News
Pernice, Green Tied For Lead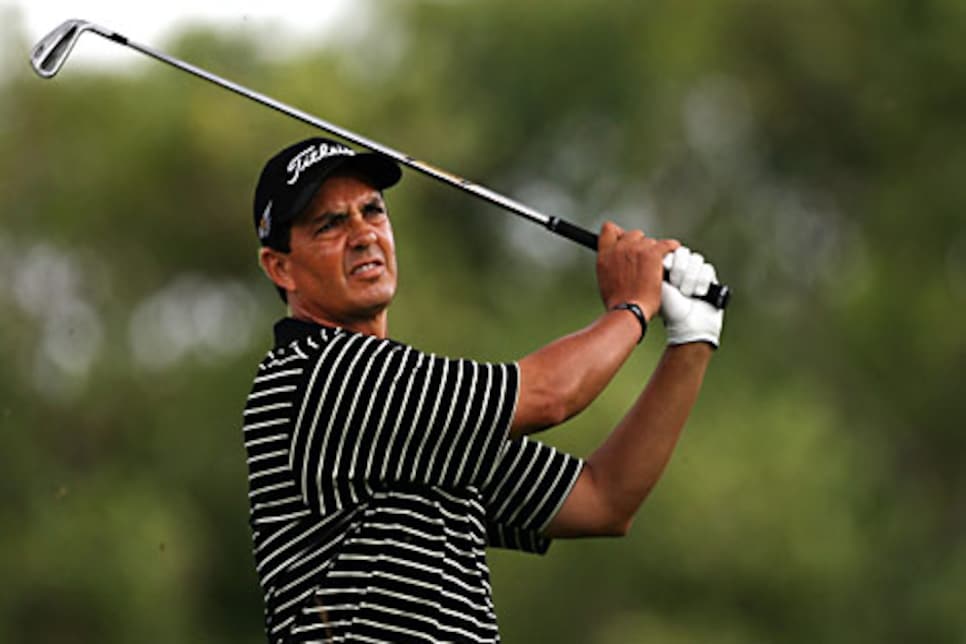 With six top-10 finishes last year, Pernice ranked 80th on the money list.
HONOLULU (AP) -- Hardly anything went according to plan in the Sony Open.
The forecast was so severe, with gusts expected to top 50 mph, that schools on Oahu were canceled Friday and tournament officials were not even sure they could play, much less finish the second round. Instead, the wind was a tough but steady 20 mph.
Nathan Green appeared safe atop the leaderboard, having made only one bad swing in the morning during his second straight round of 66. But in the final hour, into the strength of the wind, Tom Pernice Jr. spun back a wedge from 92 yards into the cup for eagle to complete a bogey-free 63 and join him in the lead.
One more thing -- Tadd Fujikawa, the 18-year-old who turned pro after his sophomore year in high school, made the cut.
Only he wasn't the least bit surprised.
"Honestly, it kind of feels like I'm supposed to do it," said the 5-foot-1 senior. "Last year, it would have been a big deal to me. But knowing how hard I worked, and knowing that I have played well recently, I really don't think of it as a big deal. It's a good feeling, of course, but I'm just really happy that all of my hard work ... is slowly paying off."
Fujikawa has done this before.
Two years ago as an amateur, he made an eagle putt on the final hole of his second round of a 66 to make the cut by three shots, becoming the youngest player in 50 years on the PGA Tour make it to the weekend.
He turned pro that summer, and in six subsequent starts on the PGA Tour, he was always going home early.
Fujikawa had reason to think this might end the same way, except for a shorter trip home, when he began the tournament with a double bogey. But he steadied himself for a 71, then was solid on Friday after getting away with a big mistake.
He didn't bother wiping the face of his driver when it was raining, and combined with a poor swing, watched his ball head for the road next to Waialae Country Club. Just his luck, there was enough wind to keep the ball in play, he escaped with a bogey, then polished off his round with two shots to the par-5 ninth, and an eagle putt that grazed the edge.
He was at even-par 140, still eight shots behind the leaders at 8-under 132, but part of what could be a wild weekend at Waialae.
The last time Green put together two consecutive rounds this good at the Sony Open, he closed with a 65-64 as a rookie in 2006 and finished fifth. This time, two 66s have an Australian atop the leaderboard through 36 holes for the second straight week.
Geoff Ogilvy won the Mercedes-Benz Championship last week at Kapalua, and he's in the mix after a 69 put him three shots behind. Ogilvy was among a dozen players within four shots of the lead, a group that starts with Shigeki Maruyama (68) at 133 and includes former Masters champion Zach Johnson, who finished birdie-birdie-eagle for a 65, Boo Weekley and David Toms.
Pernice was surprised on a couple of counts.
He has missed the cut in six of his previous eight trips to the Sony Open, but began this year with an attitude adjustment. Pernice is not lacking in intensity, but working with Jim Fanning taught him to enjoy life a bit more.
It helps when you walk the length of a football field to the final green with nothing left to do but pluck the ball from the cup.
Pernice had played bogey-free for the first 17 holes, a worthy feat in such wind. Facing the strength of the bluster, he hammered a driver and a 3-wood to 92 yards short of the hole, then played a punch pitching wedge for his third.
"The finish was spectacular," Pernice said. "You're not thinking about holing it from the fairway. It was tough out there today. Luckily, I scraped it around when I needed to and didn't make any bogeys, and just kind of hung in there."
There were other great finishes, even if the result wasn't a share of the lead.
Andres Romero, still rusty from his offseason in Argentina, was headed for a long flight home until two late birdies, then an eagle on his final hole to make the cut on the number.
Davis Love III wasn't so fortunate. A runner-up last week at Kapalua that moved him to No. 54 in the world as he tries to qualify for the Masters, he had a 12-foot eagle putt to make the cut, but missed.
The forecast was for sunshine on the weekend, but after Friday, don't blame the players for expecting rain. One thing to be assured is Fujikawa back on the golf course, and his first PGA Tour paycheck -- assuming he isn't disqualified.
And he can feel as though he truly earned this one.
Unlike last year, he didn't get a sponsor exemption and had to endure two days of qualifying -- Sunday to get through a pre-qualifying stage, then 18 holes Monday against a group that included PGA Tour rookies.
Fujikawa noticed a change in the level of respect from PGA Tour players for playing his way into the tournament.
"That's kind of the vibe that I've gotten from the players," he said. "It's a good vibe. I really like it."
His biggest check since turning pro in the summer of 2007 was $13,500 for his lone victory in the Mid-Pacific Open. Last place at the Sony Open pays $9,936, although Fujikawa is looking for something bigger.