News
Maruyama Comes Out Of The Shadows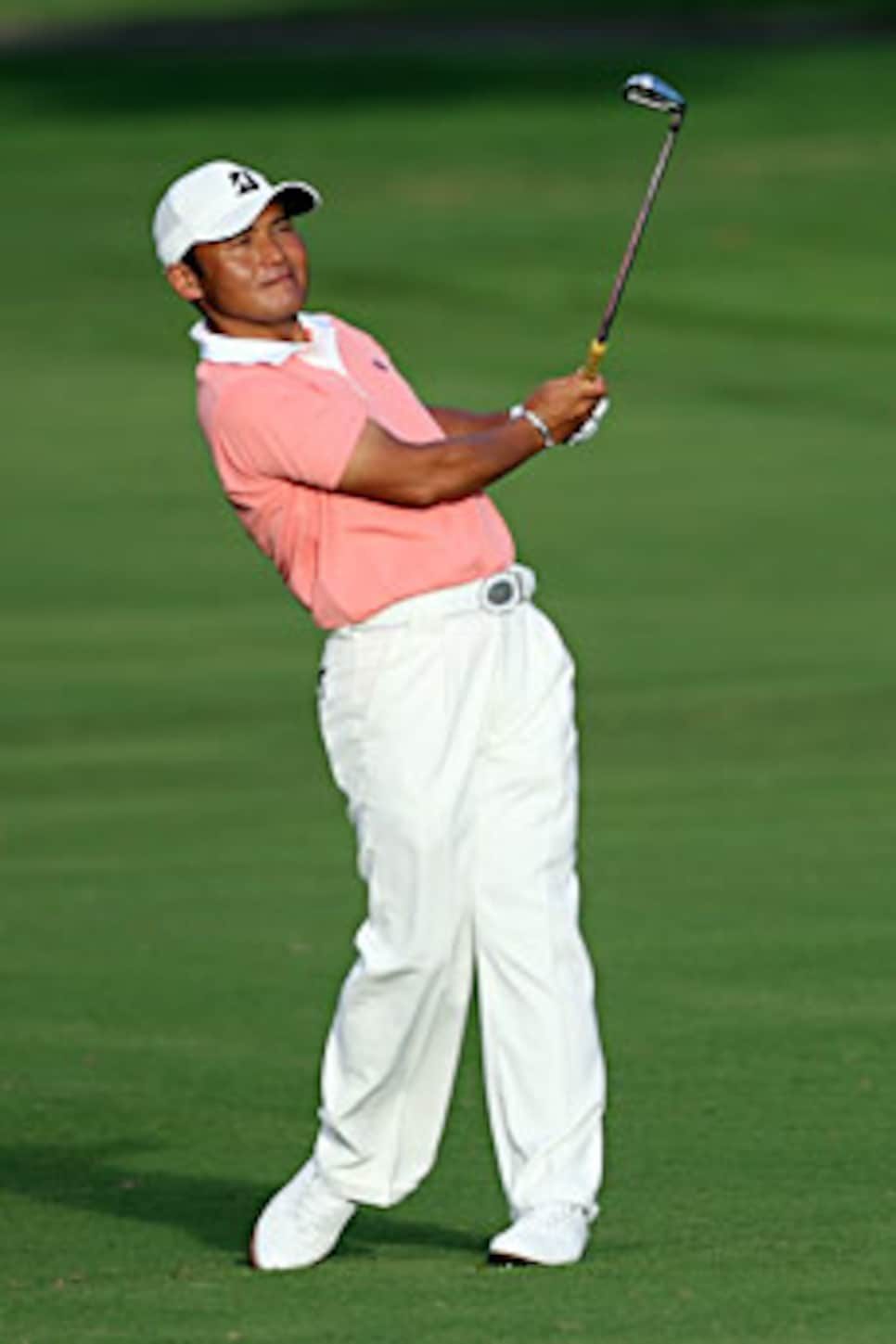 Maruyama had a rough 2008, losing his tour card for the first time in a decade.
HONOLULU -- Shigeki Maruyama took a step back from obscurity on the PGA Tour with a 5-under 65 in the wind and occasional rain Thursday afternoon for a one-shot lead in the Sony Open.
Maruyama, who failed to keep his tour card last year for the first time this decade, showed signs of improving in Japan late last year and kept it up on a challenging afternoon at Waialae.
He dropped only one shot, and took the outright lead with a 5-foot birdie on the par-3 17th.
That knocked Geoff Ogilvy off the top of the leaderboard for the first time this year. The Sony Open is only the second tournament, but Ogilvy is coming off a wire-to-wire victory in the Mercedes-Benz Championship last week, and opened with a 66.
Boo Weekley, Brian Gay and PGA Tour rookie Webb Simpson also were at 66.
The first full-field event of the 2009 season was filled with all kinds of weather -- hot blasts of sunshine would be interrupted by pounding rain that would last 10 minutes, and then the skies would clear.
But the wind never left, blowing 20 mph at sunrise and still causing the palm trees to sway late in the afternoon. Tour officials moved up several tees by at least 30 yards, and Waialae played 166 yards shorter than the scorecard.
The forecast Friday was for gusts up to 50 mph, and the Honolulu public schools already have been closed.
"I knew the weather report was for a lot of wind today, so I was mentally prepared when I got to the golf course," Maruyama said. "Then I snap-hooked one on the first hole, but all I was trying to do really all day was just keep my rhythm, keep my tempo."
Ogilvy was simply trying to keep going, and he did that well.
One week after his six-shot victory at Kapalua, the 31-year-old Australian kept the ball in the tiny fairways of Waialae and made six birdies to take the lead among the morning starters.
"I just think everyone who played last week is at an advantage coming here, because they have all got a week of tournament golf under their belt, a week in the wind under their belt, same sort of grass," Ogilvy said.
That would explain Weekley and Gay, who also played last week in the winners-only Mercedes-Benz Championship.
The rookie from Wake Forest has not played since earning his card at Q-school last month, and weather at home in North Carolina hasn't been conducive to practice. Waialae proved to be a tough place to start, especially with the wind.
"I was pretty nervous," Simpson said. "I said a quick prayer before I teed off, and I was fine."
The group at 67 included Luke Donald, Charles Howell III and Brendon de Jonge, who won the Nationwide Tour money title last year.
The teenagers held their own.
Tadd Fujikawa, an 18-year-old senior in high school playing the Sony Open for the third straight year, took double bogey on the tough opening hole and settled down the rest of the way for a 71, leaving him a good chance to make his first PGA Tour cut as a pro. He tied for 20th two years ago as an amateur.
Lorens Chan, the 14-year-old who earned the amateur exemption, had two birdies in his round of 72.
Maruyama struggled with shoulder and knee injuries last year, and went home to Japan the final five months of the season to recharge. He had a pair of top threes late in the year, and his confidence is slowly coming around.
"It was a number of things last year -- physically, mentally, emotionally," he said. "That's why I went to Japan."
He is playing this week on a sponsor's exemption and would like to play more on the PGA Tour. "It would sure make things easier if I could win," Maruyama said.
Defending champion K.J. Choi bogeyed the par-5 18th for a 68, and he spoke for a majority of the field when he described the difficulties of such a strong wind.
"First time in the Kona wind," he said "Today is more difficult than the last time, especially short putts. The grain is going left-to-right, the wind is blowing left-to-right. Very confusing."
"Six times with the umbrella," he said.
Only 39 players in the 144-man field managed to break par. That included Jeff Klauk, one of 26 rookies at Waialae, who was tied for the lead at 5 under with his third straight birdie on the 11th hole. He was 4 over the rest of the way.
"It's windy out there, ain't no doubt about that," Weekley said. "I like the conditions that's out here right now. I don't think anybody can run away from you in these conditions."
He played with Ogilvy, who did just that last week at Kapalua when he won by six shots. The wind never blew quite this hard at Kapalua, but it was manageable this week because Waialae is at sea level.
"It was a fair bit easier," Ogilvy said. "There's so much guesswork last week when you're 230 yards away and between an 8-iron and a 9-iron. When it's flat, it's just the wind you have to deal with."
Divots: Without a club deal, Paul Azinger had equipment from six brands in his bag at the Sony Open, including the Mizuno irons he was using when he won at Waialae in 2000. ... John Huston (79) and Darron Stiles (78) withdrew after the opening round.