News
A New Home For The Opener?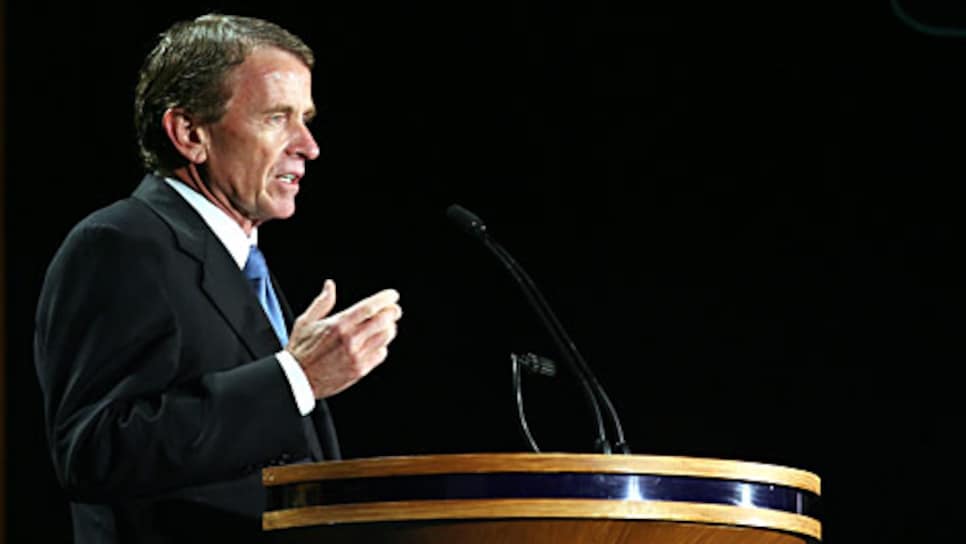 Kapalua wants to keep the event, but after Finchem's comments it's up in the air.
KAPALUA, Hawaii (AP) -- The stunning contrast of green grass, blue Pacific and the occasional white splash of a humpback whale gave way to dreary clouds Sunday morning for the final round at Kapalua.
Perhaps it was only fitting.
After 11 years of the winners-only field at the Mercedes-Benz Championship being pampered with butler-drawn baths in their free room at the Ritz-Carlton and playing a Plantation course with spacious fairways and sharp changes in elevation - unlike any other style they play the rest of the year - the future at Kapalua suddenly is cloudy.
PGA Tour commissioner Tim Finchem was as vague as the Sunday view when he said this week that "we are looking at some options in terms of what is the best future for this tournament."
That was as far as he went, so it's not clear who is looking for change, only who isn't. "We want to continue at Kapalua," said Gary Planos, the tournament chairman and senior vice president at Kapalua. "But we're not sure what's going to happen in the future."
If the players had a vote, speculation probably wouldn't last long.
The best part of winning the Honda Classic for Ernie Els was a return trip to Kapalua, where he set the tournament record (31 under) in 2003 during a week of pristine conditions. Even though his putter has been a problem this week, it's tough for Els to say it has been a bad week. He spent one morning in the ocean with his son, Ben, teaching him to body surf.
Rory Sabbatini was here this week, even though he didn't qualify. He loves the place so much he comes to Kapalua on vacation.
"We all want it to stay here," Davis Love III said. "There's a few players that don't like coming here, but for the most part, this is a great place for us to come. I love coming here and I would hate to see it leave."
The Plantation course can be an acquired taste - with so much elevation, 400-yard drives can be the norm - but it offers wide fairways that can be ideal for players trying to knock winter rust off their game.
"This is a perfect place to start," Geoff Ogilvy said. "It's quite easy to hit a lot of fairways."
Ogilvy is among those who took up joint membership on the European Tour this year, and one reason was a variety of courses that he believes the U.S. tour lacks. He finds it odd that a move from Kapalua is being discussed.
"After Florida, you probably play the same golf course 20 times in a row," Ogilvy said. "But to play such an extremely different setup, it's a cool place to start."
The Mercedes moved to the western tip of Maui in 1999 after 30 years at La Costa Resort north of San Diego, which could get cold and soggy. Tiger Woods won a 54-hole event in 1997 in a playoff on the one hole that was above water. Three years later, he won a playoff against Els at Kapalua in what remains their most epic duel.
Woods hasn't returned since 2005 for reasons that had to do more with his family and the calendar than the golf course and how he was treated. His season-ending charity event has been moved so late in December that Woods felt he needed time off. He is lobbying to have the Chevron World Challenge moved to the week after Thanksgiving. Whatever the case, his absence is a bigger blow to this tournament than when he skips the first playoff event.
What hurt the perception even more was the absence of the next three guys behind him in the world ranking. Phil Mickelson played only the first three years at Kapalua. He wants time off to spend with his family, but it's no secret he is not a fan of Kapalua and the wind, saying it gets him into bad swing habits.
Padraig Harrington is from Ireland and takes January as his one month away from golf. Sergio Garcia is a past winner at Kapalua, but the schedule didn't work for him. He lives in Spain and plays next week in Abu Dhabi.
The tour is said to be looking at Wailea, about an hour to the east on Maui, where the weather is more predictable. It might have more options for Mercedes' clients to play golf, but it doesn't have the caliber of course that Kapalua offers. Players often criticize the tour for not playing on the best courses available; this could be one of those example.
"I love coming here," said Stewart Cink, one of four players on the tour's policy board. "I like playing here. I think this is a fun course to play. It's different and a challenge in its own way. I would not want to move it. But it's a business decision, I'm sure."
Some players believe the tour is looking at a move to the mainland to make it easier to travel.
"If you're trying to get one or two players, you're going to have to move it to San Diego or Orlando," said Justin Leonard, referring to Mickelson and Woods. "And even then, I don't think those guys would play. It's nice to start here."
Moving to the mainland also would leave the Sony Open in Honolulu on an island, such as it is.
The wild card in all this is Mercedes. It's sponsorship expires in 2010 - as does the tour's contract with Kapalua - and the automaker has been quiet this week in casual conversations with tournament and resort officials.
Finchem said it wasn't only Kapalua under review.
"The way we like to believe you will get better is to constantly challenge what you are doing and ask the question, 'Can you do it better?'" he said. "It doesn't necessarily mean we will do anything particularly different."
Most players would tell him it's pretty good as it is.
But maybe in these economic conditions, it's not always about the players.