News
The Wait For Tiger Begins ... Again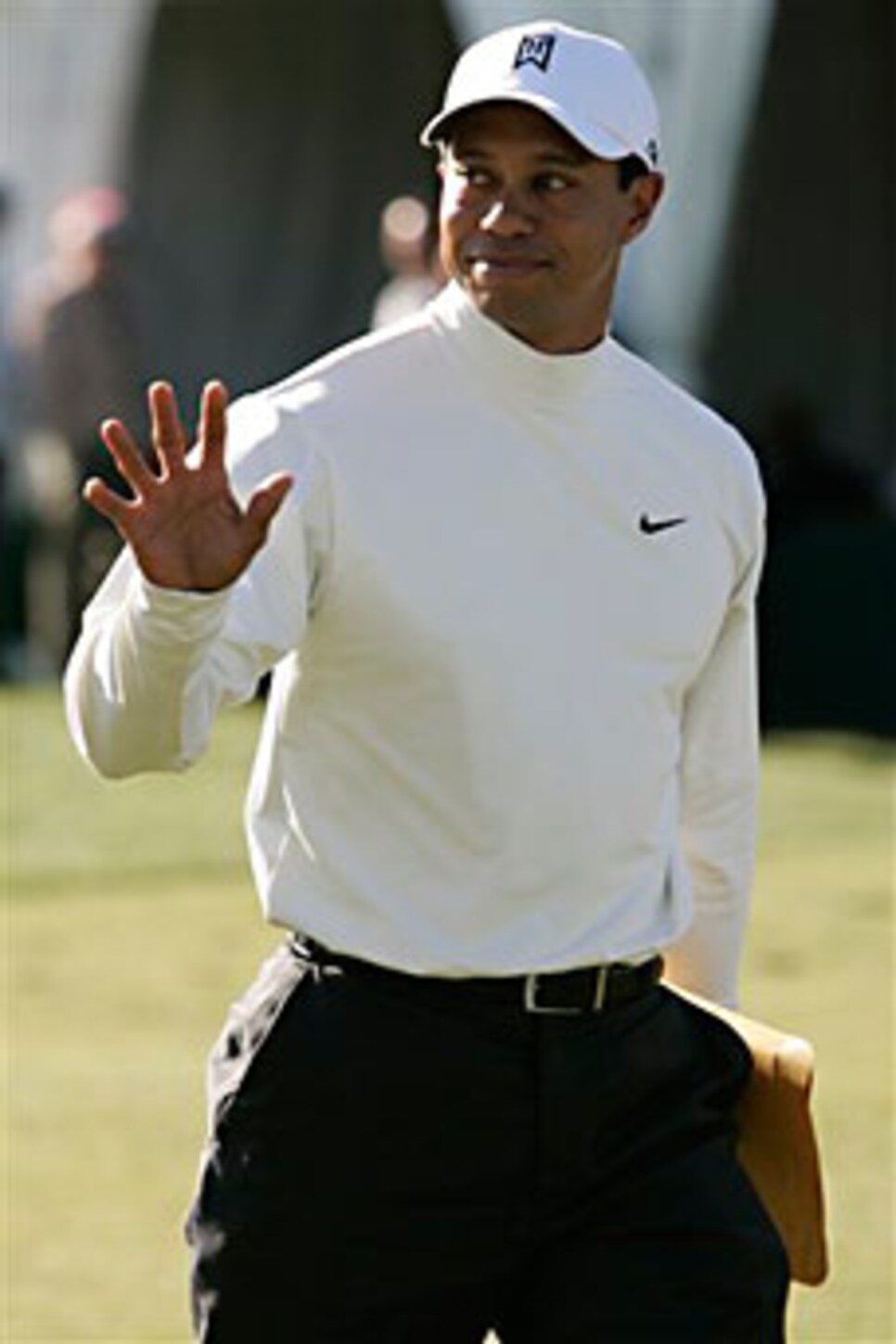 Tiger kept a low profile at the Chevron, attending meetings and spending time in the TV booth.
THOUSAND OAKS, Calif. -- Tiger Woods handed a wooden trophy with a ceramic figure of a Tiger cub perched on top to Vijay Singh, thanked the fans who circled the 18th green at Sherwood Country Club, posed for enough photographs to clog a portfolio, signed some autographs, walked up a grassy hill to the red brick clubhouse and disappeared inside.
Sunday was the first day of winter and the shortest day of the year. And it may be the longest time until we see Woods again.
"I'm really not that fired up about playing," he said. "And that's basically because I can't play."
All week, Woods served as the host of his own tournament, the Chevron World Challenge, his duties restricted to the ceremonial side, such as shaking a lot of hands, greeting sponsors, making an appearance in the NBC booth and sitting in on board meetings for his foundation that benefits from the 10-year-old event.
As Woods the tournament host said, Woods the tournament player still isn't happening. He hasn't hit a ball in an event since he won the U.S. Open in June at Torrey Pines, where he persevered through five days and 91 holes and won his 14th major championship despite a torn knee ligament and twin stress fractures in his leg. It was as compelling a performance under pressure and pain that Woods has ever produced, another distinct piece of history for his legacy.
When the next one comes along is anybody's guess.
Maybe it'll be at the match play event in Tucson the last week of February. It could be at Doral in mid-March or at Bay Hill two weeks after that. It's open for speculation right now, and even Woods isn't sure.
All anybody knows for certain is Woods will come back and play, almost certainly before the Masters, and that's the moment when the playing field on the PGA Tour quickly levels . . . or tilts once again toward Tiger, take your pick.
That's why it was important to check out Woods one last time this year, sort of a status report. He walked easily and without any trace of a limp, and in fact worked out every morning in the gym at the tony Four Seasons Hotel on the other side of the freeway from Sherwood.
At night, to let off some steam, Woods favored hanging out with a small group of his friends at the hotel and shot pool on one of the three tables opposite the wood-paneled bar just off the main lobby. So what if his golf game isn't ready to show off anytime soon.
"My pool game is improved."
He showed up at the course in the late morning every day in his white courtesy car and parked in the same reserved space, under the attentive eyes of a set of red-shirted security guards. When Woods' wife, Elin, was here early in the week, she drove the car and chauffeured her husband.
Woods described his workweek as the "operational" side, which differs greatly from his normal inside-the-rope workweek that can be described as "confrontational," . . . at least in his relationship with a golf course that he would prefer to decimate.
His wardrobe for Sunday's final round was coolly businesslike: a black sports coat with a black golf shirt and charcoal gray slacks with a crease so sharp it could give you a paper cut.
Coming up next for Woods is a lot of, well, nothing, he said. The holidays are a distraction for which he is prepared.
"I'm going to just kind of hang out. It's going to take a little bit of time."
And time is exactly what Woods has been dealing with lately, since his knee surgery six months ago. That's a long time to influence a knee to heal, to weigh a comeback, and this week, to run a tournament.
In the trophy presentation ceremony on the 18th green in the late afternoon sunshine, Singh accepted his winner's check of $1.35 million, shook Woods' hand, then offered a piece of advice to his host.
"Tiger, take your time, don't come back too early. In fact, take a year off."
It seems like he's been gone that long already.