News
Love Wins, Earns Lifetime Exemption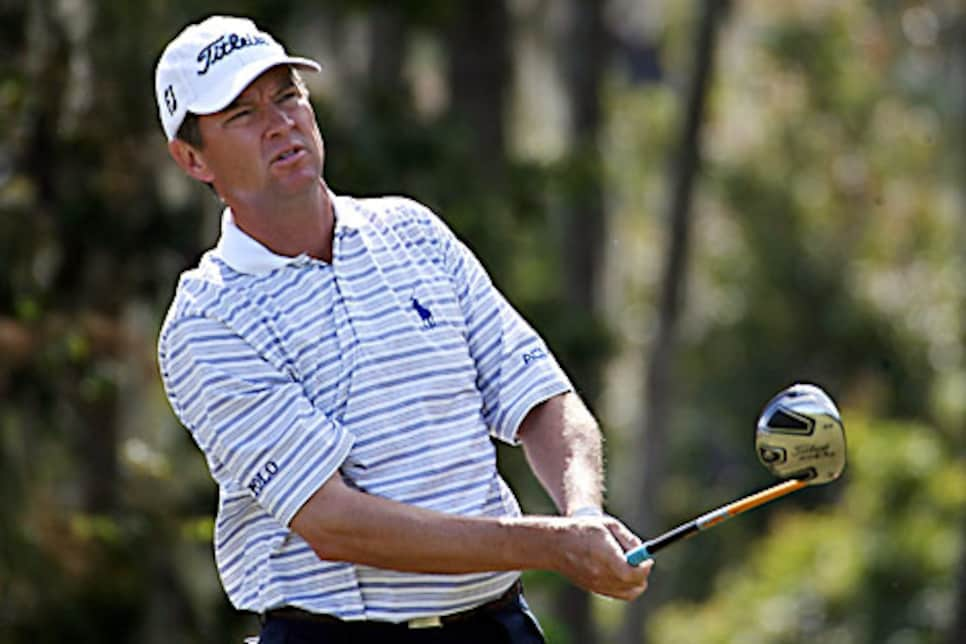 Love's first win in 2 1/2 years capped a long road back from his September 2007 ankle injury and subsequent surgery.
LAKE BUENA VISTA, Fla. -- Davis Love III hit into the rough and a bunker on the last two holes. Then he hit the jackpot.
Love scrambled for pars on both holes and closed with an 8-under 64 to win his first tournament in more than two years, holding off a late challenge from Tommy Gainey for a one-shot victory Sunday in the Children's Miracle Network Classic at Disney World.
It was the 20th career PGA Tour victory for Love, giving him a lifetime exemption. Among active players, only Tiger Woods, Vijay Singh and Phil Mickelson have won at least 20 times.
"I always questioned, 'Am I doing the right thing? Why am I still doing this,'" the 44-year-old Love said. "I didn't doubt my desire, or that I could still compete, it was just the little things I had to do."
Gainey, who had $65,405 in earnings heading into the final tournament of the year, shot 30 on the back nine including birdies on the final two holes for a 64. He made $496,800 to go from No. 228 to No. 148 on the money list. That gets him into the final stage of Q-school, and his conditional status for being in the top 150 should get him about 15 starts next year.
"I played horrible, terrible this year," Gainey said. "I had one week, and this was the week. I definitely assured myself of a place to play next year."
Love stepped in a hole playing a recreational round last year and tore two ankle ligaments. During his time off, he worked harder on conditioning and spent time with sports psychologist Bob Rotella, who convinced him to adopt a take-no-prisoners approach.
That came in handy over the final two holes.
With a two-shot lead, Love's tee shot on the 17th nearly found the water but still was buried in deep rough, leaving him no shot at the green. He laid up 100 yards short, hit wedge to 7 feet and saved par. From the right rough on the 18th, his ball came out hot and flew the green into a back bunker. Needing par to win, he blasted out to 3 feet and made the putt.
"I was in trouble [on 18] but I was still confident I could get the ball up and in," Love said. "I didn't worry about winning or losing or screwing up."
Love went 64-64 on the weekend, the best final 36-hole score in the tournament's 38-year history.
Gainey went to the driving range after Love hit his second shot on 18 into the sand.
"I thought that would be a tough downhill shot, and I thought I had to go to the range to loosen up," Gainey said.
He had barely begun loosening up when his ears told him everything he needed to know.
"You could hear the crowd," Gainey said. "The crowd said it all. When I'd heard he chipped within 3 feet, or 2-foot-11-inches or whatever, I knew Davis Love wasn't going to miss that.
"I took my gloves off and put them back in the bag."
Scott Verplank and Steve Marino, tied for the lead going into the final round, each closed with 71 and tied for third. Verplank shot 38 on the front nine, and four straight birdies to start the back nine were not enough to get him back into contention.
Verplank has been the 54-hole leader at Disney three times without winning.
Marino, however, matched birdies with Love and was tied for the lead when it all fell apart on the easy par-4 13th. With his tee shot just short of the green, Marino's pitch failed to clear the bunker and plugged into the slope of the sand. His next shot caromed off the lip of the bunker, and he took bogey to fall two shots behind.
The win was Love's seventh top five finish in the tournament and his 15th straight round in the tournament in the 60s, breaking the record held by Tiger Woods. His last tour win came at the 2006 Chrysler Classic at Greensboro, NC.
Erik Compton, who has had two heart transplants and was playing on a sponsor's exemption, shot an even-par 72 and finished tied for 60th. The 28-year-old will be playing in the second stage of Q-school next week, only six months after his second transplant.
"It's frustrating, because I know I can play," Compton said. "It's just getting my stroke back. My body's holding up and I feel more energetic now than at Q-school."
Jeff Overton, playing less than three weeks after an emergency appendectomy to try to secure his card, was 125th on the money list but tied for 21st to easily retain his card.
One of the biggest shots belonged to Martin Laird, who holed an 8-footer for par on the last hole for a 71 to tie for 21st. That enabled him to move up to No. 125 on the money list and secure his full card for next year.