News
Johnson Stuns Allenby With Birdie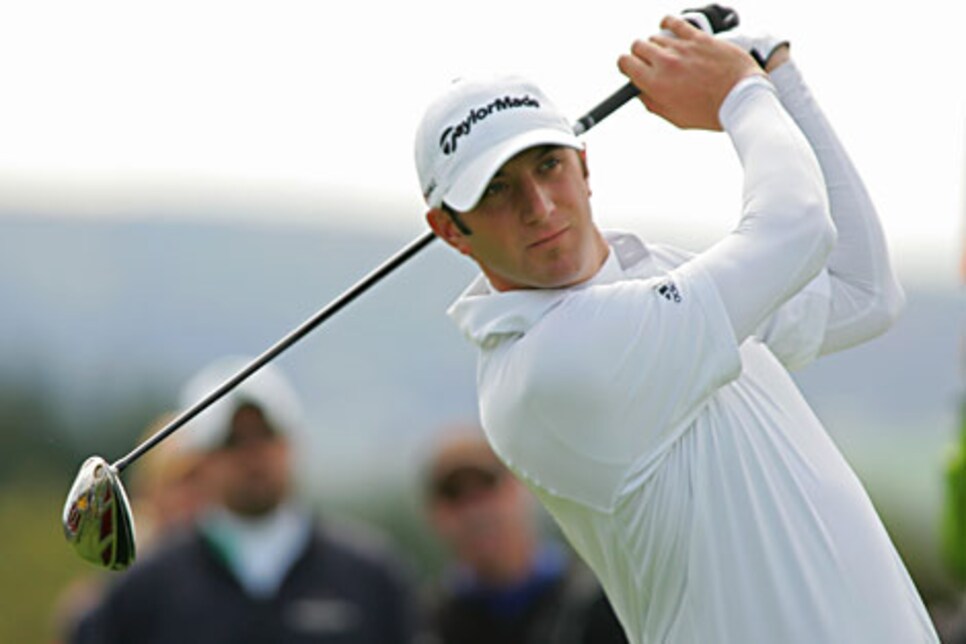 Johnson's win catapulted him from 128th on the money list to 41st.
VERONA, N.Y. (AP) -- When the final round of the Turning Stone Resort Championship began, six players near the top of the leaderboard had a chance at that elusive first PGA Tour victory. Rookie Dustin Johnson was the last man standing.
The long-hitting Johnson birdied the final two holes Sunday, sinking an 8-foot putt on the final hole to beat Australian Robert Allenby by one shot.
"I started off the year really well and then I don't really know what happened," said the 24-year-old Johnson, who had two top-10s in his first four starts and then missed nine cuts and withdrew from two other events. "Me and my coach sat down about a month ago and set some goals. I practiced hard and tried to get my game back."
Johnson (69) finished at 9-under 279 and pocketed $1.08 million of the $6 million purse, the richest of the Fall Series. That catapulted him from 128th to 41st on the PGA money list. The top 125 at the end of the year retain full exemption for 2009.
"It's kind of hard to explain. I haven't grasped everything yet," said Johnson, who had to sit and wait patiently until third-round co-leader Charles Howell III, the last man with a chance, hit his third shot at 18. "Right now I feel pretty good. I'm obviously very, very excited. Hopefully, it'll hit me a little bit later. I'll probably have to sit down and re-evaluate my goals."
Allenby (70), seeking his fifth victory and first since 2001, had a chance to tie at 18, but his 12-foot putt for birdie stopped inches short of the hole.
"I left everything short," said Allenby, who needed 126 putts on the four rounds. "Yesterday, I probably had the worst putting round of my life. I just lost my nerve with the putter. I tried to regain it, took the putter home last night and slept with it. All you can do is just give it your best."
Mathew Goggin (69), Steve Allan (69), Woody Austin (69), Davis Love III (70), Ryuji Imada (69), Robert Garrigus (69), and Howell (73) all finished at 7 under. Nick O'Hern (68), Pat Perez (70), Joe Ogilvie (70), and Jeff Overton (73) were another shot back.
Tag Ridings (79), who was tied with Howell for the lead at 8 under entering the day, self-destructed with three bogeys, a triple bogey, and one double bogey in an eight-hole span. Ridings, Kyle Thompson, Overton, Davis, and Jason Day (75) also were seeking their first win.
The back nine at the 7,482-yard Atunyote Golf Club course has a 13-acre lake and three other water hazards that make four of the holes difficult, and Johnson found that out. After making birdie at the par-5 12th hole to move to 8 under and within a shot of Allenby, he drove into the water along the right fairway at No. 13 and made bogey.
Allenby, meanwhile, stayed out of trouble all day until his drive at the par-4 15th hole sailed into the right trees. He hit his second shot into a greenside bunker, blasted a terrific shot out to 9 feet but missed the par putt and never managed to get that stroke back.
Overton, who led the first two rounds, tied Allenby at 8 under with a 16-foot birdie putt that just dropped in the hole at 14, but his rally ended quickly. He missed 5-foot par putts at both 16 and 17 to end his chances.
Johnson, who began the day two shots off the lead, had three birdies and two bogeys through the first 13 holes to stay close. He drove it 328 yards off the tee at No. 17 and made a 6-foot birdie putt to tie Allenby at 8 under, then boomed a 357-yard drive at 18.
Johnson seemed like he might be in trouble when he hit his second shot 256 yards and it bounced 37 feet past the green and into the rough. But he recovered with a clutch chip and made the nerve-racking putt.
"Coming down 17, I knew I had to go birdie-birdie," Johnson said.
Love, whose 66 on Saturday was the best round of the tournament and vaulted him into contention, bogeyed No. 2 and birdied the ninth hole to remain 5 under at the turn.
It could have been better for Love, who's trying to come back from surgery to his left ankle to repair torn ligaments suffered after stepping in a hole about a year ago. He missed birdies at Nos. 4 and 13, watching in amazement as his putts stopped at the lip and failed to drop, but finished his round with consecutive birdies for a nice payday.
There were nine players within two shots of the lead to start the day, and all felt they would have to make several birdies to have a chance.
Allenby was the only one to make an early surge. He birdied three of the first five holes, making a pretty 24-foot putt that curled in at the par-3 third hole and hitting inside 5 feet at the par-5 fifth hole to reach 9 under.
But seven players were still within two shots and Overton, who managed just one birdie on Saturday, tied Allenby with eagle at No. 5. After driving a fairway bunker and making bogey at the fourth hole, Overton hit his second shot to 16 feet and made the putt for a two-shot surge.
Overton's stay at the top was short-lived. He made a three-putt bogey from 50 feet at the par-4 seventh hole and watched his 7-foot par putt at the par-5 eighth hole lip out to fall two shots behind again.
Still, when Allenby teed off at the 12th hole, six players trailed him by just two shots.
The best conditions of the weekend were predicted for Sunday, and the weatherman was right. Although there was an occasional sprinkle early, the sun was shining off and on most of the day as temperatures moderated somewhat into the high 50s and the wind dissipated. The players also were allowed to lift and clean their golf balls for the second straight round.
The relative warmth allowed the players to ditch the many layers they had been wearing the first three days, when rain, winds as stiff as 20 mph, and even a brief hail shower made it difficult to get around the course.
Divots:@ Howell has held or shared the 54-hole lead four times in his career, most recently at the AT&T Classic in May, and has yet to win.