News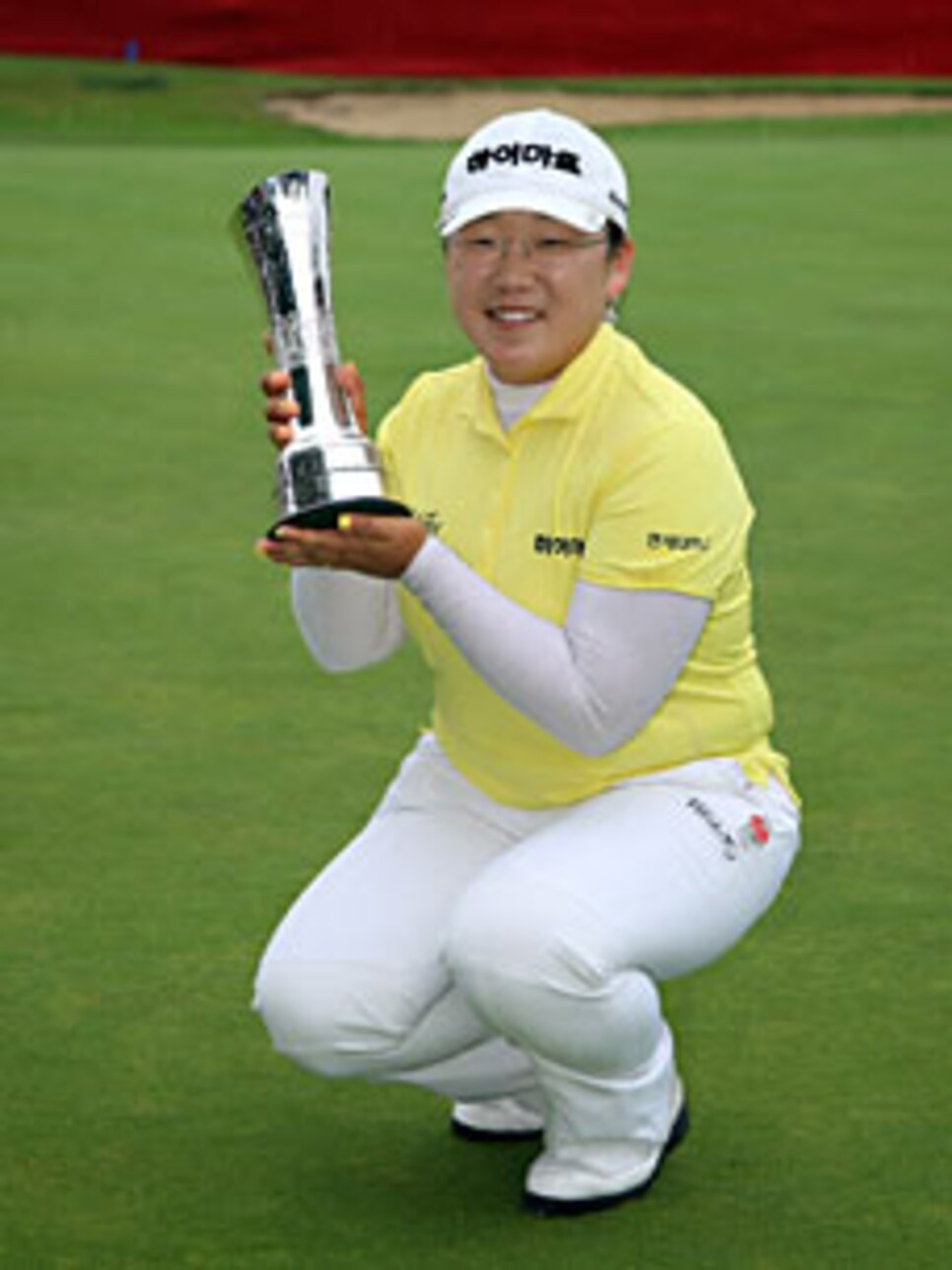 With her win, Shin is considering leaving the LPGA Japan Tour to play in America.
SUNNINGDALE, England (AP) -- Ji-Yai Shin won the Women's British Open by three strokes after a final round 6-under 66 on Sunday, maintaining Asia's recent domination of the majors on the LPGA Tour.
The 20-year-old South Korean, whose 21 previous victories were all in her homeland or Japan, captured her first major with an 18-under score of 270. Taiwan's Yani Tseng, winner of the LPGA Championship, was second with a 66 and a 15-under total of 273.
"This morning I was very nervous but I focused on my game and now I won, so I am happy," said Shin, who led an Asian top five. "I was planning to play in Japan, but maybe now I change my plans and play in America."
Korea's Eun Hee Ji (67) and Japan's third-round leader, Yuri Fudoh (71), tied for third on 14-under. Ai Miyazato (70) of Japan placed fifth on 13-under 275 in a tournament that was Annika Sorenstam's major farewell.
The Swede, who is quitting tournament golf at the end of the year to get married, start a family and focus on her business and other golf interests, finished with a 10-foot birdie putt for a 68 and a 6-under 282, which left her tied for 24th.
"I'm going to miss it, no doubt about it," said Sorenstam, who won 10 majors in her 14-year career, including this one in 2003 at Royal Lytham. "To finish with a birdie was special. There didn't seem to be any doubt it was going in."
The leading American was Cristie Kerr, who placed sixth at 12 under after a 70. Juli Inkster, who led the first round with a 65 and was aiming to become the oldest winner of a major at age 48, finished tied for 14th on 9-under 279. Owner of seven majors but none since the 2002 U.S. Open, Inkster finished with a 1-over 73.
Defending champion Lorena Ochoa tied for seventh with a 69 for an 11-under 277. Although she added the Kraft Nabisco as her second major title this year, the Mexican is disappointed with only two majors in two years.
"I think it could be better," said Ochoa, the No. 1 ranked player. "I'm always trying to win more than one, but this is what happened this year and I'm really disappointed."
Shin, who had to wipe the rain off her glasses during the early part of her round, made up a one-stroke deficit on Fudoh with a birdie at the fifth and then opened up a lead at the turn.
Fudoh found a bunker at the ninth, splashed out to another and took a bogey 5 while Shin tapped in a short birdie putt after her second shot left the ball 3 feet from the flag.
With the rain showers gone, Shin moved two ahead with another birdie at the 10th. And then came a big putt at 13 that pushed her three clear of her rivals. From 45 feet, she had the strength and line just right as it curled in from the left and dropped in.
Shin went to the last hole with her three-shot lead and, even when her second shot found a greenside bunker, there was no sign of panic. She pitched out to four feet and made that to complete her bogey-free round.