News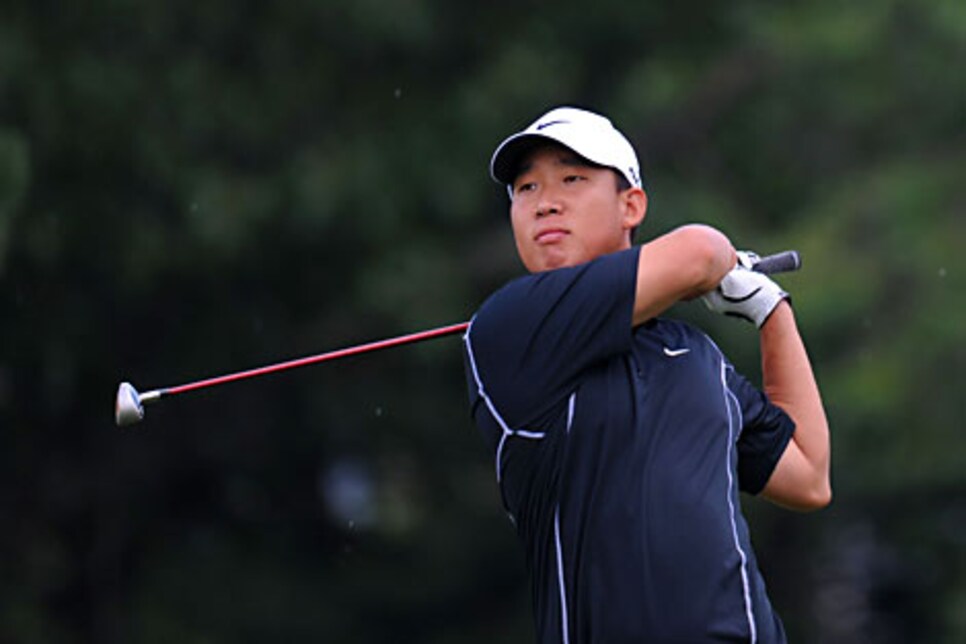 With nine birdies and one eagle in 21 holes, Kim was nearly perfect Saturday.
OAKVILLE, Ontario (AP) _ Anthony Kim and Chez Reavie topped the leaderboard when the sun -- yes, the sun -- dipped below the trees at rain-drenched Glen Abbey, ending yet another long day at the Canadian Open.
Kim made nine birdies and an eagle in 21 holes Saturday for a share of the lead with Reavie during the suspended third round.
"Anthony and I play different games," Reavie said. "He hits the ball really long and I don't. So I need to stick to my game plan, hit fairways and greens and give myself opportunities to make birdies."
The 23-year-old Kim, tied for 26th at 4 under through 15 holes when second-round play was suspended Friday night, went birdie-birdie-eagle Saturday morning for a 2-under 69, then added a bogey-free 64 in the third round to match Reavie at 15 under.
"I've put myself in a good position," said Kim, a two-time winner this year. "I'm looking forward to the challenge tomorrow."
Reavie was 2 under through 16 holes when darkness ended play on the course saturated by more than 8 inches of rain in a week. He had a 25-foot putt from the fringe on No. 17 when he called it a day.
"When we got up to 17, I didn't want to putt. It was too dark to read my putt," said Reavie, the 26-year-old former Arizona State player in his first PGA Tour season. "We figured we had to play 18 in the morning, so what difference does finishing 17 do.
"I've got to be back here at 7:30 to finish and that's what I'll do. Then I'll get some rest. Somehow, I'll figure out what to do after to get ready for my final round."
Kim's morning finish gave him a 7-under 29 on the back nine after he played the front nine Friday in 5-over 40. The American played the final nine holes of the second round and first nine holes of the third in 11-under 60.
"I was just trying to take it one shot at a time and chip away at that 40," said Kim, the Wachovia Championship and AT&T National winner coming off a seventh-place tie in the British Open. "My swing's coming back. I feel comfortable out there."
He birdied the par-5 18th in fading light to tie Reavie.
"It was a pretty long day," Kim said. "It's always hard to stop and start, especially when you have some momentum like I did when I finished birdie-birdie-eagle. I would have liked to have gone off pretty soon, but that's just the way the cards fall sometimes. You just have to deal with it and just try to keep plugging away."
Scott McCarron had a 63 -- the best round of the week -- to get to 12 under. He had 11 birdies, three bogeys -- all in the first four holes -- and four pars.
"I didn't even know how many birdies I made," McCarron said. "It was just like, 'Hit the next tee. Hit the fairway.' That is the only thing I could control."
Steve Marino (67) also was 12 under, and Billy Mayfair (68) followed at 11 under. Marino birdied the final five holes on the front nine.
Canadian star Mike Weir birdied four of the last five holes for 68 to join to Mark Calcavecchia (67), Sean O'Hair (67) and Nicolas Thompson (70) at 10 under. Two-time defending champion Jim Furyk was 8 under after a 67.
"I'm happy where I'm at," Weir said. "This has been tough for everyone."
Because of the wet conditions, players were allowed to use preferred lies in the fairways for the third straight day.
Reavie played 33 holes in 13 under Friday, shooting 65-64 for a tournament-record matching 13-under 129 total and a three-stroke lead after the completion of the suspended second round Saturday morning.
He made a 15-foot birdie putt on No. 10 to take a three-stroke lead over Kim and Marino at 16 under, but had three bogeys, two birdies and a par on his final six holes to drop back to 15 under.
"I played really solid today," Reavie said. "Had a couple three-putts on the back nine, but besides that, I played well."
Bands of rain showers moved in soon after the second round finished, flooding bunkers and fairways. Third-round play was suspended because of lightning at 12:44 p.m., and rain kept the players off the course for 2 hours, 40 minutes.
Divots:@ Furyk won in 2006 at Hamilton and 2007 at Angus Glen. ... Reavie has an apparel deal with Toronto-based Quagmire Golf. ... The winner will receive $900,000 from the $5 million purse.