News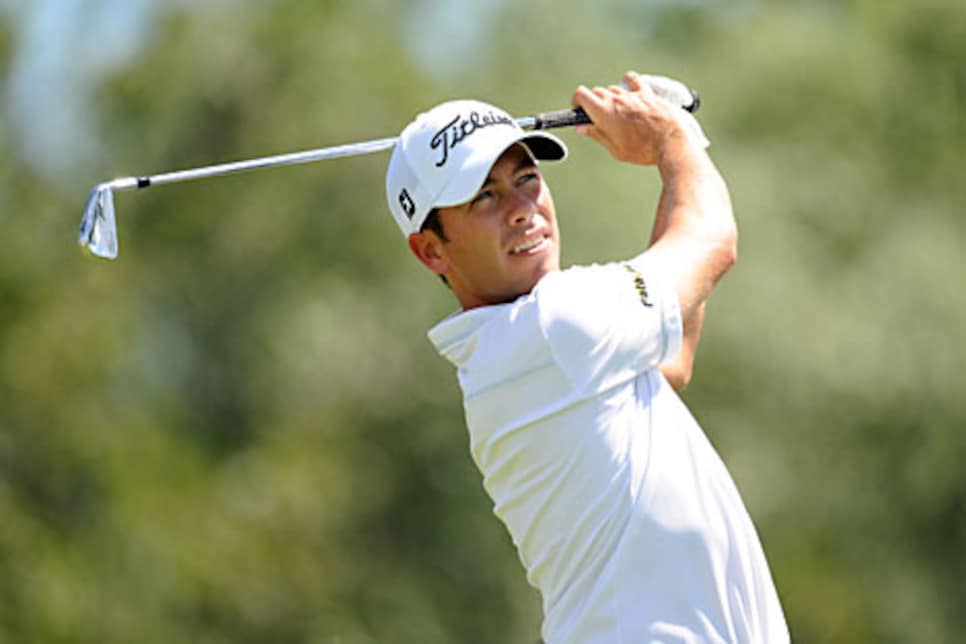 Reavie's 13-under 129 total for 36 holes matched the tournament record.
OAKVILLE, Ontario (AP) -- Chez Reavie figured sleeping on the Canadian Open lead would be easy after a long, sunny day at soggy Glen Abbey.
"I'm tired," Reavie said after playing 33 holes Friday to take a two-stroke lead over Eric Axley in the suspended second round.
"I played really well and I felt fine on the last hole, but when I signed my scorecard I could kind of feel the energy just kind of leave my body."
Reavie was 13 under Friday after opening play Thursday with three straight pars. He finished the rain-delayed first round with a 6-under 65 and had a 64 in the second.
"I got to keep my momentum and just keep playing all day," said Reavie, playing for the sixth straight week. "This is by far my best start. I've been hitting the ball real well all year, but I haven't been scoring real well."
At 13-under 129 the 26-year-old PGA Tour rookie matched the tournament record for the first 36 holes set by Scott Dunlap in 1996 when Glen Abbey played to a par of 72. The 129 total also matched the best on the PGA Tour this year.
Axley, one of 63 players unable to finish the round, was 11 under with a hole left when play was suspended because of darkness.
"I'm playing well, so hopefully it will continue tomorrow," Axley said.
Nicholas Thompson was 9 under with a hole remaining. Billy Mayfair (68-66) and Steve Marino (67-67) were in the clubhouse at 8 under, and Briny Baird and Brian Davis also were five strokes back. Baird had five holes to go, and Davis had one left.
Weir, part of a tournament-record, seven-man tie for the first-round lead after a bogey-free 65 Thursday morning, was even par in the second round with two holes to play, leaving the Canadian star seven strokes back at 6 under.
"There's tons of golf left," Weir said.
Reavie eagled the par-5 13th in the second round to reach 12 under, holing a 78-yard shot over the water guarding the front of the green.
"I wanted to fly it 83 yards and I think I flew it about 83 yards and spun it back into the hole," Reavie said. "The going into the hole part is a bit lucky."
The former Arizona State player made a 13-foot birdie putt on No. 16 and holed an 8-footer for par on 18. His 2-iron approach from 240 yards sailed long and left on the par-5 closing hole, leaving him an awkward shot on a steep downslope, but he hit into a bunker, blasted onto the green and holed the putt.
"I actually had a good lie, but I was on such a slope I had to get under it," Reavie said. "I went right under it and it went into the bunker."
Because of the wet conditions, players were allowed to use preferred lies in the fairways, giving the accurate Reavie a big advantage. In the two rounds, he hit 24 of 28 fairways, 27 of 36 greens in regulation and needed only 50 putts.
"Every time you're in the fairway you get to clean it and then place it in a perfect lie," Reavie said. "You can even move it a full club-length."
Two-time defending champion Jim Furyk, grouped with Mayfair and Sean O'Hair, was 4 under after a 27-hole day on the course saturated by 8 inches of rain in a week. He finished off a first-round 70 and added a bogey-free 68 in the second.
"It's like walking in sand and out there. Twenty-seven today kind of felt like 36," said Furyk, the winner in 2006 at Hamilton and 2007 at Angus Glen. "I'm hanging in there. No bogeys, but only three birdies. I need to stay focused and be real patient."
O'Hair was 6 under after rounds of 65 and 71. He made consecutive double bogeys on Nos. 1 and 2 -- his 10th and 11th holes -- in the second round, but rebounded with birdies on Nos. 4-6 and finished with three pars.
"All of a sudden I starting hitting it sideways," O'Hair said.
Divots:@ Reavie, the Knoxville Open winner last year on the Nationwide Tour, has a sponsorship deal with the Arizona Diamondbacks. His shirts feature the baseball team's "A'' logo. ... Pat Fletcher was the last Canadian winner, taking the 1954 event at Point Grey in Vancouver, British Columbia. Fletcher was born in England. ... Will McKenzie withdrew after a first-round 70 to return to Greenville, N.C., where wife Alli is due with their first child. ... In 1996, Dunlap followed his 64-65 start with a 76 to tie for third in the rain-shortened event.