News
Norman, Duval turn back clock at British Open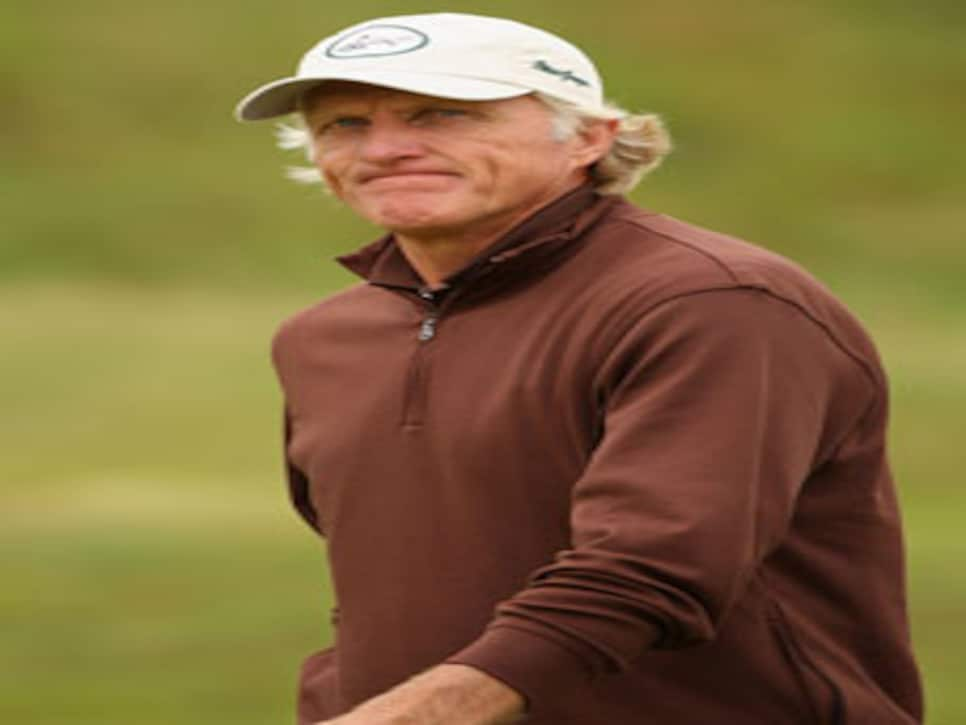 With his second straight par 70 on Friday, Greg Norman has one stroke off Choi's lead.
SOUTHPORT, England (AP) -- Greg Norman turned back the clock. So did David Duval. And K.J. Choi found himself in a familiar position -- leading the final group of the British Open heading to the weekend.
Three weeks after marrying tennis great Chris Evert, Norman kept up the honeymoon at Royal Birkdale with his second straight par 70 on Friday, leaving him one stroke off Choi's lead.
Norman won the Open twice in his prime but never thought it was still there for the taking at age 53.
"My expectations were almost nil coming in," he said bluntly. "I hadn't played a lot of golf."
Talk about low expectations. There's no way Duval could have expected much, not after missing the cut 10 of 11 times on the PGA Tour this year.
Suddenly, he's playing like the guy who won the 2001 British Open and seemed ready to challenge Tiger Woods as the world's best player. After that, injuries and erratic play sent his career into steep decline.
Duval shot a 69 -- his first round in the 60s at the British Open since he won at Royal Lytham & St. Annes -- and was three shots behind Choi in a large group that included defending champion Padraig Harrington.
The Irishman wasn't even sure he could play because of his sore wrist, yet Harrington looked just fine in playing the final four holes 4 under for a 68 that gave him a chance to become Europe's first repeat winner of the British Open since 1906.
Choi finished with back-to-back birdies for a 67, rolling in a 20-footer at No. 18 to push his two-round total to 1-under 139. He was the only player in the field under par.
"I'm very surprised," the South Korean said.
He shouldn't be. A year ago, Choi was just two strokes off the lead at the 36-hole mark, playing in the final group Saturday with Sergio Garcia. He couldn't keep it going and tied for eighth.
With two days to go, Norman still considers himself the longest of long shots, and he's got players half his age -- such as 26-year-old Camilo Villegas, who shot the best round yet with a brilliant 5-under 65 Friday -- poised to challenge.
Still, it was amazing to see Norman's name atop the leaderboard at a tournament he won in 1986 at Turnberry and then again in at Royal St. George's seven years later -- especially since he's trying to be the oldest player by far to win a major.
Julius Boros was 48 when he captured the PGA Championship in 1968.
"You feel like you're stepping back in time," Norman said, his bride watching from the back of the room after following him around the links course. "My expectations are still realistically low. ... I haven't been there for a long time."
Norman's focus has certainly been elsewhere in recent years as he cut back on his golf, turned to his myriad business interests and endured a messy, costly divorce. Recently, he was more concerned about planning his wedding to Evert than prepping for the Open, one of the rare golf events on his schedule.
The two got married in the Bahamas less than three weeks ago, then kept the honeymoon going once they headed across the Atlantic.
"The least of my worries was getting out there and practicing," Norman conceded. "My mind has really been elsewhere."
With no offense to Norman's steady play, no one was hotter Friday than Villegas, who started his round with two bogeys but closed with five straight birdies -- rolling in putts of 16, 6, 16, 3 and 20 feet.
"I obviously played unbelievable," the Colombian said.
Villegas, dubbed "Spider-Man" for his unique, crouching style of reading putts and one of golf's most noted fashion plates, has come across as more flash than substance. He's never won on the PGA Tour, but put himself right in contention at a tournament known for unlikely champions, including Ben Curtis and Todd Hamilton.
The Colombian had eight birdies overall. He capped his amazing run at the end by striking the flagstick with his approach at No. 18, then sinking the putt after the ball ricocheted onto the fringe.
Golf's oldest major began in miserable weather, but conditions improved dramatically Friday. Despite a grim forecast, the rain largely held off and the breeze off the Irish Sea remained relatively calm by Birkdale standards.
Others in the logjam at 2-over 142 were Rocco Mediate (73), Graeme McDowell (73), Jim Furyk (71), Robert Allenby (73) and Alexander Noren (70).
Garcia, looking to make up for a devastating playoff loss to Harrington at Carnoustie, rolled in a 75-foot birdie at No. 4 but ran into trouble after the turn. He bogeyed the 10th and double bogeyed the next hole on the way to a 73, leaving him six shots behind going to Saturday, instead of holding the lead.
Several big names flirted with the cut line. Ernie Els followed an opening-round 80 with a 69, but slammed his putter to the ground after missing a short par putt at No. 18. Vijay Singh, who also started with an 80, looked to be heading home after shooting 71.
Phil Mickelson appeared safely through to the weekend after rebounding with a 68 -- 11 strokes better than he shot in the soaking rain and howling wind on Thursday. Lefty was eight strokes behind Choi.
Playing in the morning, Norman had a two-stroke lead on the field until he made a mess of No. 17. He put two shots in the rough and another in a backside bunker, but rolled in a 12-footer for bogey that limited the damage.
After a perfect drive on No. 18, Norman walked up the fairway twirling his club and taking in a huge roar from the British gallery, which knows him as a two-time Open winner, not the guy who squandered numerous chances to win majors in the States.
Norman was in danger of another bogey after he powered a long putt 20 feet past the cup. But he made the par saver, giving the slightest hint of a fist pump, then a tip of the cap as his caddie patted him on the shoulder.
"That was quite an ordeal last few holes," Norman said. "I felt like it was getting away from me a little bit."