News
Mr. Everyman Shares The Lead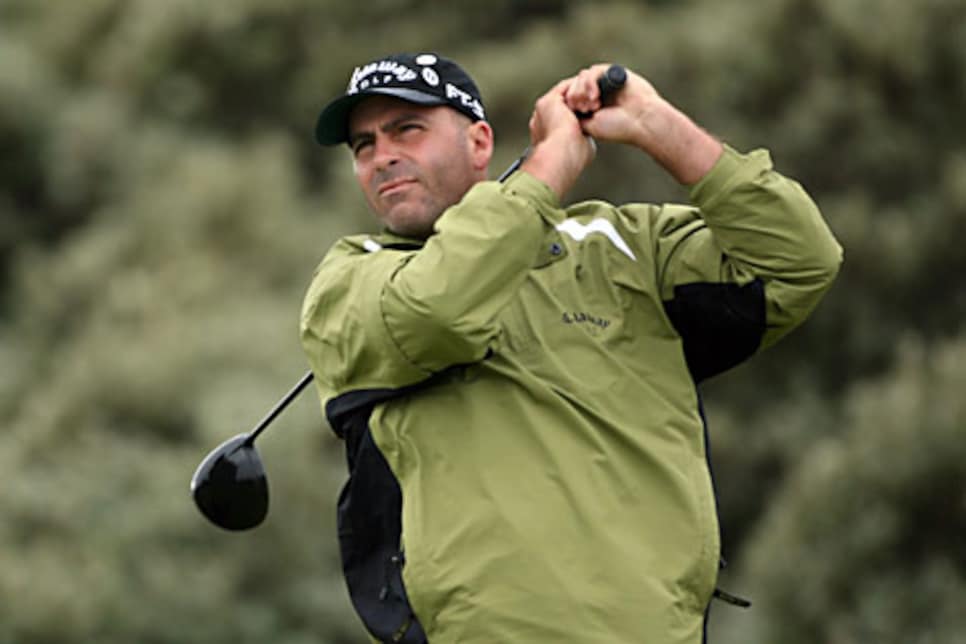 Being the first player to break par Thursday, Rocco proved his last performance at a major was no fluke.
SOUTHPORT, England (AP) -- From sunny San Diego to bleak and blustery Royal Birkdale, the expression on Rocco Mediate's face didn't change.
He watched one final birdie tumble into the cup for a 1-under 69 and a three-way share of the lead in the British Open, straightened his 45-year-old back, then dropped his jaw into a smile that said, "How did that just happen?"
Others must have been wondering the same thing Thursday.
Ernie Els was playing some of his best golf in the worst of the weather until taking 45 shots on the back nine and posting an 80, his highest score in nearly two decades at his favorite major.
Phil Mickelson was up to his knees in grass right of the sixth green and never found his ball, taking a triple bogey that sent him to a 79.
Robert Allenby and Graeme McDowell, who watched on television as the early starters suffered through raging wind and stinging rain coming off an angry Irish Sea, must have wondered where all that nasty weather went as they made their way around Birkdale in tamer wind to join Mediate atop the leaderboard.
Stranger still was seeing 53-year-old newlywed Greg Norman in the hunt.
Indeed, how did all that happen?
"I have no explanation for that whatsoever. No idea why that happened," said Mediate, still going strong after his epic playoff loss to Tiger Woods last month in the U.S. Open.
"It was just one of those rounds," he said. "It was just up and down, up and down, and a couple of birdies, and here we are. I would have been ecstatic with 73 or 74 today."
For those who thought his performance at Torrey Pines was merely a mirage, Mediate again found bright lines under leaden skies of the Lancashire Coast by bouncing back from three bogeys on the opening six holes by holing a 40-foot birdie putt on the 13th, chipping in from off the 17th green for birdie and ending his round with a 20-foot birdie.
Norman made enough par-saving putts to sustain momentum and finish at 70 along with Australian protege Adam Scott and Bart Bryant.
The group at 71 included Retief Goosen, who might have played the best golf of anyone.
Goosen awoke at 2 a.m. when rain pelted his windows, and he caught the brunt of the bad weather his entire round. He still managed four birdies and was under par most of the round until a pair of late bogeys.
"How in the hell is he 1 under?" Pat Perez said from the warmth of the locker room after an 82. "I would pay to learn how to do that."
The leaders caught a break by getting slightly better weather, although it was by no means easy. The average score in the opening round was about 76, driven up by 19 rounds in the 80s.
But they arrived at Royal Birkdale in good form.
McDowell, the first-round leader down the coast at Royal Liverpool in 2006, won the Scottish Open four days ago at Loch Lomond. Allenby lost in a playoff at the Stanford St. Jude Classic in Memphis, Tenn., last month, and tied for third two weeks ago at Congressional.
Even so, the British Open lived up to its billing as the major that sometimes requires the most luck. It wasn't a goofy bounce but the tee times, thanks to weather that shifted along with the tide in the middle of the 15 hours of action.
"We did get the better side of the draw, no doubt about it," Norman said. "When you watch it in the morning, you feel sorry for the guys. But there's times when you say, 'Well, I've been there before. I've been on that side of the draw, too.' It all balances out, and you have to take advantage of it."
Former Masters champion Mike Weir did his best in the morning, making an eagle on the 17th for a 71.
Sergio Garcia, the betting favorite at Birkdale with Woods on the disabled list, was among the late starters but did not make his first birdie until the par-5 15th and had to settle for a 72. Also at 72 was Brandt Snedeker, who has contended in both majors this year. After five bogeys on the first six holes, he was 3 under the rest of the way.
Now for the gloomy side of this opening round.
"It was miserable, miserable, miserable weather," Vijay Singh said after his 80. "It was just a miserable day."
Mickelson, at No. 2 the highest-ranked player at a major for the first time, was not terribly bothered by his 79 because he figured everyone else would struggle. When the winds died slightly, so did his hopes. He was tied for 123rd.
"You can't play," Simon Dyson said after an 82 while playing in the opening group. "You put a 4-handicapper on that first tee and they'd probably shoot 100. That's no exaggeration. I don't think I've played a par 4 that I couldn't reach with my best drive and my best 3-wood, and there's three of them."
Royal & Ancient chief executive Peter Dawson responded to the complaints with a statement as old as this championship.
"Links golf," he said. "Tough day by the seaside."
It was so brutal that two major champions didn't even bother to finish. Sandy Lyle stopped after 10 holes and former PGA champion Rich Beem made his exit after a 46 on the front.
"It's the greatest golf known to man," Beem said. "It was just difficult."
McDowell considered himself fortunate. The British Open starts at 6:30 a.m. and did not finish until nearly 10 p.m., offering the late starters a chance to tune into the BBC and see how the course is playing.
"I sat at home this morning with my breakfast cereal and cup of coffee in my hand going, 'God, do I really have to go out there this afternoon?' Obviously, we got pretty lucky," McDowell said.
He added to his good fortunes on the 499-yard sixth hole, playing dead into the wind toward the sea, when he got greedy with his second shot out of the rough and advanced it only 10 yards. He had to lay up to 9-iron range, hit that 30 feet and made it for bogey.
"If I made double there, I'm obviously feeling pretty bad about things," McDowell said.
This was a day where a lot of players felt plenty miserable -- except for Mediate, of course. Even in the chill of late afternoon, he felt the warmth of the gallery, of another good round and what is shaping up as a magical summer.
"A lot of crazy things have happened the last six weeks," Mediate said.