News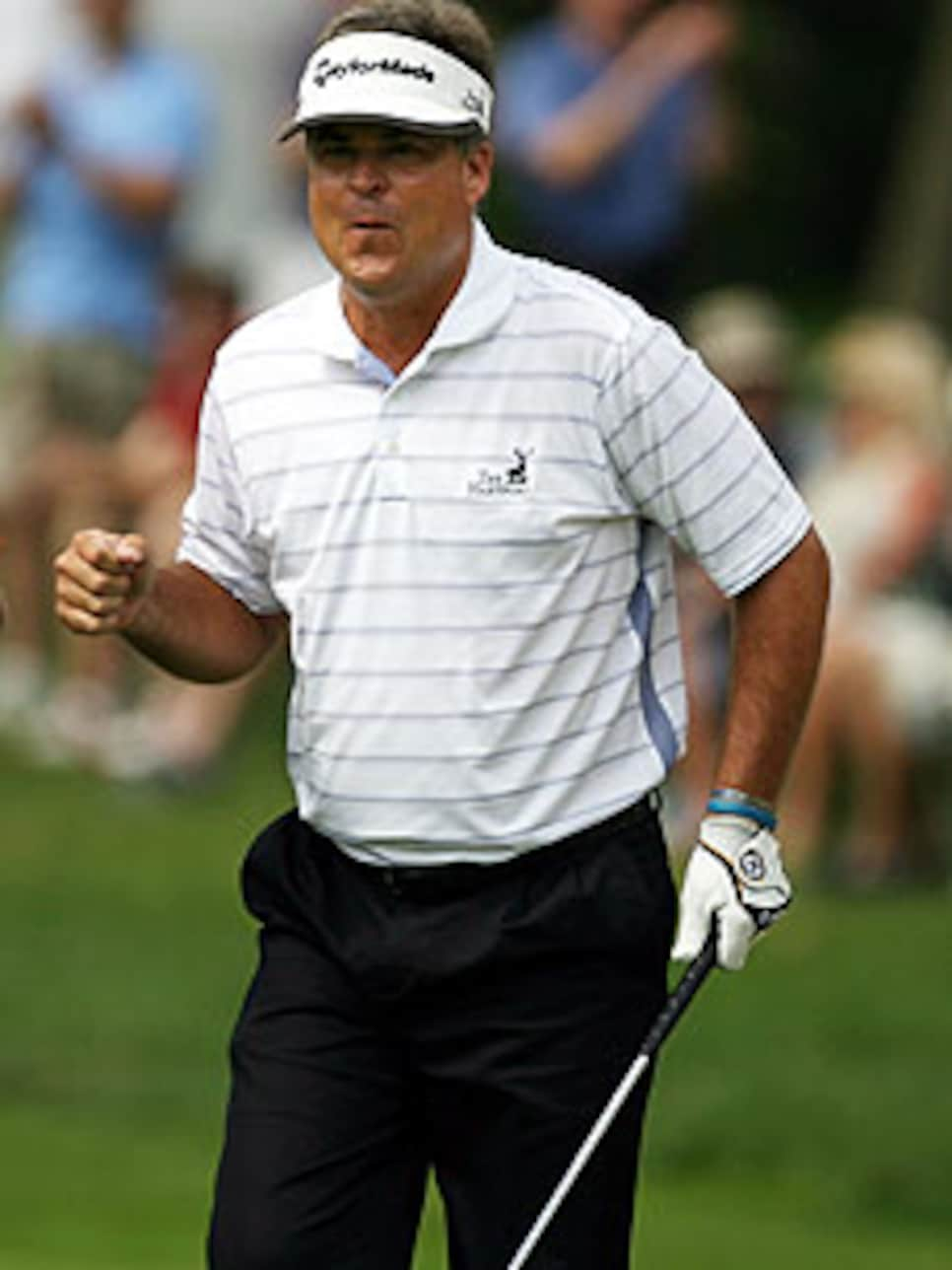 With his second win of the year Kenny Perry joined Tiger and Phil as multiple winners in 2008.
GRAND BLANC, Mich. (AP) -- Kentucky, Kenny Perry is coming home.
Perry shot a 6-under 66 on Sunday to win the Buick Open by a stroke at 19 under, likely locking up a spot on the Ryder Cup team that will face Europe at Valhalla about 40 miles from his birthplace.
"I'm ecstatic," he said. "It really won't sink in until I'm actually putting on the red, white and blue."
Perry was amazed he won at Warwick Hills for a second time because Woody Austin closed with consecutive bogeys to blow the tournament and Bubba Watson just missed a 12-footer that would've forced a playoff.
While Perry was on the driving range, he backed into earning $900,000.
"I still can't believe I won," he said. "I feel like I need to go make a birdie out there to win."
Austin and Watson shot 68s.
The 47-year-old Perry joined Tiger Woods and Phil Mickelson as the only multiple winners this year on the PGA Tour, became the oldest player to win at Warwick Hills and joined a short list of multiple champions in the event.
Vijay Singh has three Buick Open titles, while Tiger Woods, Julius Boros, Tony Lema and now Perry have two in the tournament that celebrated its 50th anniversary.
"It's always nice to have your name associated with the greats of the game," Perry said. "I'm just hanging onto the shirttails.
"I'm the guy that's going to get their clubs out of the trunks of their car."
Austin sounded like he wanted to hide in a trunk.
He became the leader by curling a 9-footer in at the 16th, then fell back into a tie by missing a 13-foot putt for par on the next hole. Austin three-putted from 63 feet to close the tournament and put Perry ahead.
"I threw it away," said Austin, whose demonstrative ways led him to cup a ball and slam it against the wood board marking the 7th tee. "I didn't hit the ball close enough to the hole the last two holes to counteract my yips.
"I've got to figure it out or I'd better quit."
Watson had a chance to force a 73rd hole despite a hooked tee shot by remarkably punching the ball onto the green to set up a makable putt that he barely missed.
"If someone had told me that on a tight golf course I'd have a putt for a playoff, I'd have taken the putt and skipped the rest of the week," he said.
Perry is not going to be at the British Open because he already committed to playing in Milwaukee the same week, following his decision to not attempt to qualify for the U.S. Open the day after winning the Memorial.
"I committed to all these tournaments before when I was ranked 100th in the world," he explained. "Now all of a sudden I've won twice, I'm probably top 20 in the world now.
"I've already committed to Milwaukee and I'm not going to back out."
Perry, who won in 2001 at Warwick Hills, has 11 victories on the PGA Tour.
He had a bogey-eagle-bogey-birdie stretch that dropped him from the lead and put him back into a tie with Austin at the 16th.
His best shot of the week was at the par-4 14th, where his tee shot landed in sand and he chipped in for eagle from 30 yards.
"It came off like a dream, took two hops and just slam-dunked right in the cup," Perry said. "You never expect to make them, but that really energized me for the last few holes."
But Perry lost the lead at 15 when he plugged a shot into a greenside bunker, leading to a bogey that put Austin ahead.
Perry bounced back at 16 with a birdie, putting him in position to take advantage of Austin's collapse and Watson's errant tee shot on the final hole.
With Tiger Woods sidelined by season-ending knee surgery, Perry trails just two active players in U.S. Ryder Cup standings and one in the FedEx Cup standings.
He has all but guaranteed he'll reach his goal of playing for his country in his home state and improving his chances to win $10 million in the PGA Tour's playoff.
"With Tiger out, it's just a great opportunity for an old guy here to actually steal some money in that FedEx Cup," Perry said. "So that's what we're after now."
Before Perry gets a chance to win the loot, though, he will get an opportunity in September to live a dream.
"My only goal was to make The Ryder Cup team, and that's really got me focused for whatever reason," he said. "It's at home in Valhalla in my home state and at a golf course that I lost the 1996 PGA Championship to Mark Brooks in a playoff.
"I just feel like I needed to go back there."
Notes:@ U.S. Open runner-up Rocco Mediate closed with a 70 and finished at 11 under, tied for 28th. ... Third-round leader Daniel Chopra (75) started the day with a two-shot lead that he lost quickly while going 4 over on the front nine. He will stay in Michigan on Monday to compete at a British Open qualifier. ... Former champions Jim Furyk and Justin Leonard, the top ranked players in the lackluster field, closed with 71s to finish tied for 36th and 55th respectively.