News
Bo Van Pelt: Looking For Win No. 1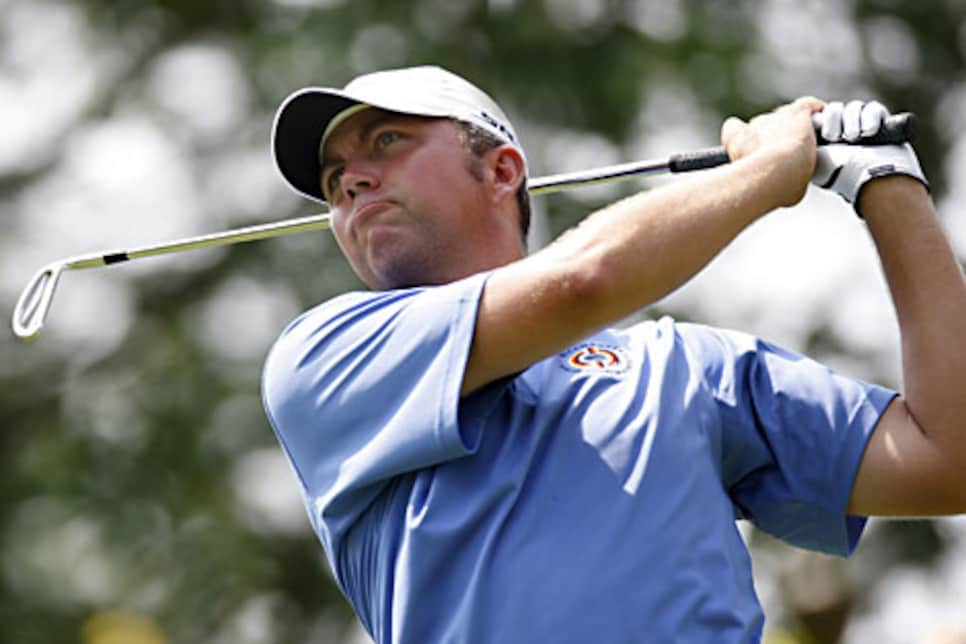 With strong rounds Thursday and Friday, Van Pelt has put himself in position to capture his first PGA Tour win.
GRAND BLANC, Mich. (AP) -- The PGA Tour's optimistic view of life without Tiger Woods is that it gives unheralded players a chance in the spotlight.
Bo Van Pelt is trying to take advantage.
Van Pelt shot a 6-under 66 Friday at the Buick Open, making him a career-best 14-under 130 through 36 holes and the second-round leader by two shots.
He missed out on his best chance to win for the first time in seven PGA Tour seasons at the Puerto Rico Open, where he led for three-plus rounds before losing by a stroke to first-time winner Greg Kraft.
"The more I put myself in that position, one of these Sundays is going to be my day," he said.
Daniel Chopra (67) and Dudley Hart (68) head into the weekend at 12 under, two shots behind Van Pelt.
Woody Austin (67) was another stroke back along with Matt Jones (63).
While some relative unknowns fill the leaderboard at a tournament expecting to feature Woods before he had season-ending knee surgery, the top players in a lackluster field are failing to dominate.
Jim Furyk (No. 12), Justin Leonard (No. 23) and Kenny Perry (No. 27) are the only players among the top 30 in the world at Warwick Hills, where just nine of the top 50 players in the world ranking are competing.
Perry (67) fared the best of the trio of standouts, trailing Van Pelt by six shots. Leonard (68) was nine strokes back, and Furyk was another shot behind after following up a solid first round with an even-par 72.
Rocco Mediate (69) made the cut at 4 under in his first tournament since pushing Woods for five-plus rounds in the U.S. Open before coming up just short in a dramatic matchup watched by millions.
"I got some sleep and I played a little bit better," Mediate said.
The Buick Open isn't generating a ton of interest without Woods at Warwick Hills or elsewhere, but Van Pelt is doing his best to make a name for himself with a bogey-free 36 holes after starting the week 108th on the money list.
Van Pelt and wife Carrie sell nutritional products and his father is a former NFL player.
No, not five-time Pro Bowl linebacker Brad Van Pelt.
It's Bob Van Pelt, who was drafted by the Philadelphia Eagles in 1967.
"My dad's line is that Brad Van Pelt played about 15 years in the league and he played 15 minutes," he cracked.
Chopra, who ended the first round only a stroke behind the leaders, stayed in contention with another strong round thanks in part to a crafty shot at the par-3 eighth. With his ball on the lip of a greenside bunker, Chopra hit his second shot from both knees outside the sand to set up a gimme for par.
"It's a shot I used to play and practice as a kid," Chopra said. "We used to have little chipping games around the greens and used to find the most difficult spots.
"I nearly holed it, so it worked out just perfect."
A morning tee time also helped Chopra because it gave him an opportunity to drive about an hour away to check out the TPC Michigan, where he hopes to qualify for the British Open on Monday.
Chopra won the PGA Tour's season-opening event at the Mercedes-Benz Championship, but has failed to crack the top 30 in any tournament since.
Hart has won twice on the PGA Tour, with the last victory coming in 2000 at the Honda Classic. His highlight this year was a third-place finish at Pebble Beach.
Austin was making a run at Van Pelt early in his round when went 6 under over a five-hole stretch, but then he parred 10 straight holes and bogeyed his last one to fall to 11 under.
"I didn't take full advantage of having it going," Austin said.
Brian Bateman became the fourth Buick Open defending champion to miss the cut and the first in a decade. Now, a shoulder injury might put him on the shelf soon.
"I thought in the last few weeks that it was time just to have the surgery and then call it a year," he said. "But I really wanted to play here and really wanted to try to defend."
Jesper Parnevik withdrew from the tournament because of a wrist injury after shooting an opening-round 74.
With rain in the forecast, the groups will be threesomes instead of twosomes and will go off both tees in the hopes of completing the third round Saturday.