News
Corey Pavin Tied For Lead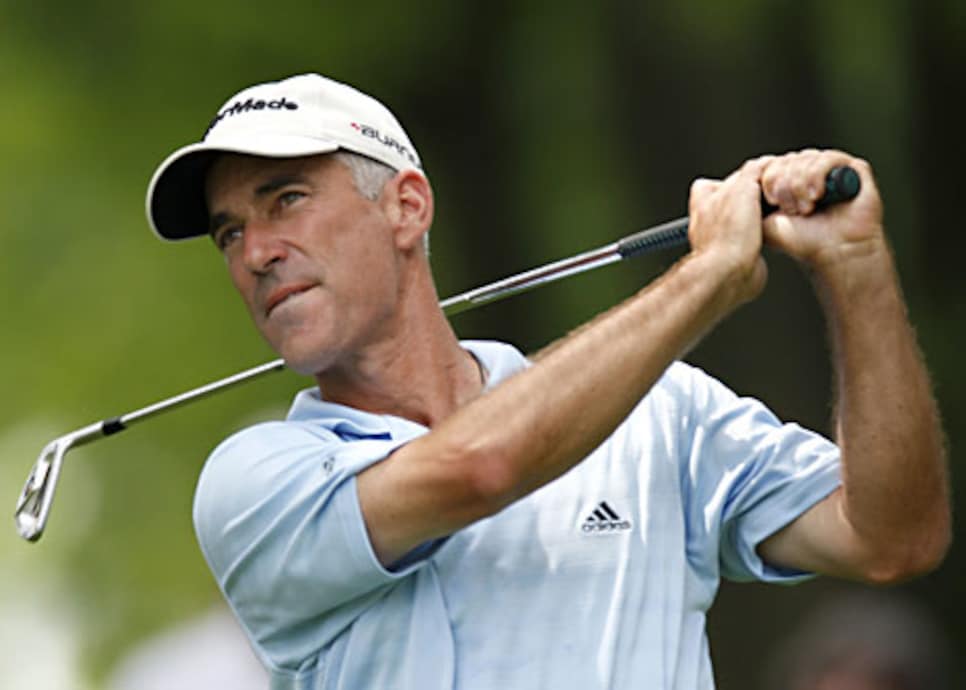 Short off the tee, but steady the rest of the way, Pavin grabbed a piece of the Buck Open lead.
GRAND BLANC, Mich. (AP) -- Rocco Mediate was simply exhausted.
After pushing Tiger Woods for five-plus rounds at the U.S. Open and doing countless interviews, Mediate didn't have much left Thursday in the first round of the Buick Open.
"I'm about to faint," Mediate said after signing for a 1-under 71 in the scoring trailer.
Mediate got a boost of energy moments later when he walked into the locker room.
Tom Lehman was the first of a few players to greet him with a hug or handshake and kind words about his showing in U.S. Open. Then, Mediate opened his locker and read the latest batch of handwritten notes from PGA Tour peers.
"This whole experience has been unbelievable," he said.
Mediate's first tournament since falling just short of winning his first major might not last long.
He likely will have to improve upon his opening round on Friday just to make the cut at Warwick Hills, where players who don't reach about 3 under after two days usually go home.
Corey Pavin, Bo Van Pelt and Dudley Hart shared the opening-round lead at 8-under 64, a shot ahead of Briny Baird and Daniel Chopra.
Woody Austin was in a group at 66. Bubba Watson was in a pack another stroke back with Charles Warren, whose had six straight birdies to tie the longest birdie-eagle streak this year on the PGA Tour.
Jim Furyk was among a big group four shots behind the leaders.
Pavin, who closed strong to tie for 10th last week at the Travelers Championship, shot 64s in consecutive rounds for the first time in his 25-year career. He credited his Bulls Eye putter, a rare piece of equipment today on the PGA Tour.
"It's a putter I got in 1984 -- brand new," Pavin said. "I used it for quite a while, probably up until about the middle of '95.
"Then, it took a break until last year. It was on the bench for over a decade."
Pavin's 15th and last victory on the PGA Tour was in 2006 in Milwaukee.
The Buick Open took a hit at the gate and with buzz when Woods had season-ending knee surgery earlier this week, leaving the tournament with a lackluster field that includes just nine of the top 50 players in the world ranking.
Furyk (No. 12), Justin Leonard (No. 23) and Perry (No. 27) are the only players among the top 30 in the world.
Perry opened with a 69 and Leonard had a 71, tying Mediate's first-round performance.
Even though he was tired and wasn't playing well, Mediate had enough pep to have a good time and banter with spectators.
Mediate's approach from 115 yards at No. 6 sailed to the right and landed in rough thick enough it almost hid the ball, an errant shot just 46 fans standing along the ropes saw at the sparsely attended event.
Instead of cursing at himself, Mediate conversed with fans and joked about how many of them say "That's a gimme," any time a ball is remotely close to the cup.
"You need to come up with something else," Mediate joked.
After a nice chip and par-saving putt, Mediate ducked under the ropes to chat with a Florida Southern College roommate and Cindi Hilfman, who helps him as a physical therapist and doubles as sports psychologist of sorts.
While Mediate's playing partners waited on the seventh tee, he chatted with Hilfman and signed autographs for a couple of young boys.
"He really needs some rest," Hilfman, who also was tired after flying from Los Angeles to be with Mediate.
Hilfman and Mediate later resumed their conversation, walking shoulder to shoulder toward his drive in the rough on his final hole surrounded by several fans.
Mediate closed the opening round with a birdie, putting him at 1 under and improving his chances to make the cut.
"Rocco, that was a great battle with Tiger," a fan shouted to Mediate as he walked to the scoring trailer.