News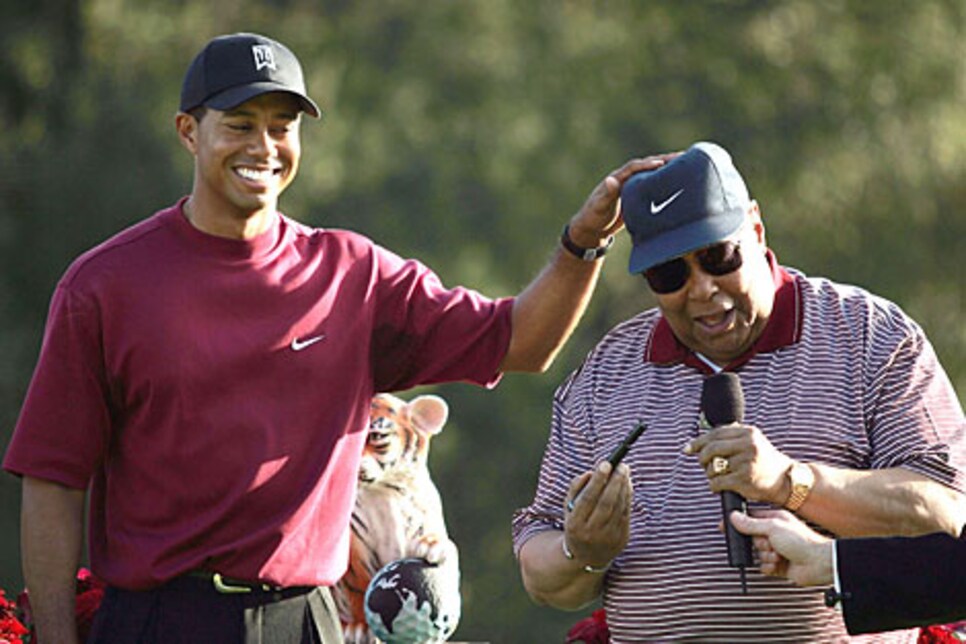 As you watched Tiger seemingly talking to himself you had to wonder if he and Earl were communicating telepathically.
Even before Tiger Woods revealed he had played the U.S. Open on a broken leg there was little doubt we had witnessed a remarkable performance at Torrey Pines. With Rocco Mediate playing the perfect foil, Woods made this year's Open one of the most memorable in history.
We saw in Woods not only a supremely talented golfer, but also one of the most determined athletes in any sport. It reminded me of two conversations I had more than a decade ago--one with Tiger and one with his father, Earl Woods.
At the end of 1997--a remarkable year in which the 21-year-old Woods won the Masters by 12 strokes and Tigermania reached a frenzy at the Byron Nelson Classic, which Woods won a month later--I had a chance to get Tiger's take on the season. He spoke honestly about the toll all the attention had taken on him.
"By the U.S. Open [in June] I was emotionally exhausted, and by the PGA [Championship in August] I was physically exhausted," Woods told me. I asked him how this impacted his golf and he responded with one of the most remarkable answers I've ever heard: "I lost my ability to will things to happen," he said.
From just about anyone else I would have thrown the b.s. flag and dismissed those words as a lot of hot air, but I had already seen Woods do so many remarkable things I was willing to take the bait. "Give me an example of when you willed something to happen," I asked.
"At the [1996 U.S.] Amateur," he said. "That putt on 17 against [Steve] Scott. I told myself there was no way I was going to miss it. I willed that ball into the hole."
The putt he referred to was a 35-foot birdie that capped a comeback from 5 down with 16 holes to play in a 36-hole match he eventually won on the 38th hole. That week at Pumpkin Ridge was the first time I grasped the fact that Woods was able to make magic happen. It's a realization that has been reinforced many times during the past 12 years.
Virtually every conversation I had with Earl Woods was memorable. He was a remarkable man, who possessed an intuitive genius and an instinctual feel for life. He also had a way of saying things that would make you shake your head, but time has proven many of his most outlandish statements to be true.
Earl was sitting in a golf cart near the practice green at that '97 Byron Nelson, watching Tiger putt. I sat next to Earl and started to chat. Two things he said remained lodged in my mind. One was that it was the first time I heard him call Tiger "Sam"--the code word he used for his son, and the name Tiger gave to his daughter.
As our conversation meandered along I asked if Earl ever felt like he wanted to give Tiger advice as he was competing in a tournament. His answer was classic Earl, and it made me smile. "I coach him all the time." Pops said. "We communicate telepathically."
All right, now I am going to throw the biggest b.s. flag in the world. But I never forgot those words, and the more I watched Tiger play--especially after Earl died--the more I understood exactly what Earl meant. Those words came back to me last week at Torrey Pines, as did Tiger's statement about willing things to happen.
Truly, Woods willed that U.S. Open victory. The birdie he made on the 72nd hole was one of the ugliest birdies I have ever seen--left bunker, right rough, club throw, gouge out onto the green and a putt that bounced a million times and snuck in the right side of the cup. But was there doubt in anyone's mind that he was going to make it? Certainly not in Tiger's mind.
And did you notice how frequently Tiger seemed to be talking to himself on the course at Torrey Pines? You could see his lips move as he pondered his predicament. That made me wonder if, in fact, he and Earl were communicating telepathically. It was then I realized what Earl really meant.
What Earl was saying to me was that he had taught lessons to Tiger so well that, under pressure, Tiger could hear Earl's voice in his head telling him what to do. It's as if when we saw Tiger's lips move he was asking: "What should I do now, Pops?" And then Tiger would hear his Dad's words and remember the mission at hand and how to accomplish it.
There are those who do not think golfers are athletes. Sadly for them, they have to live with the knowledge that perhaps the most remarkable athlete of our lifetime happens to be a golfer. The man won the U.S. Open--the most demanding of all tournaments--with a torn ligament in his left knee and two stress fractures in his left leg.
What Tiger proved is that beyond his immense physical skills what really makes him special is his mind. With no disrespect to anyone else playing the game, this is absolutely true: No one wants it as badly as Tiger does.
Think back to when he won at Bay Hill earlier this year, making an 18-foot birdie putt on the final hole for the victory. He took off is hat, threw it to the ground, screamed, and pumped his fist. It was as if he had never won tournament before--and it was victory No. 64. Winning never gets old for Tiger. We saw that again at Torrey Pines.
Once again, Woods willed something to happen. Once again, Tiger and Earl talked their way around the golf course. As we speculate on what kind of competitor Woods will be when he returns from knee surgery remember this: He will still be able to will things to happen, he will still be able to hear Earl's voice in his head, and he will still want it more than anyone else. That's a difficult combination to beat.