News
Yesterday Cold, Today Wind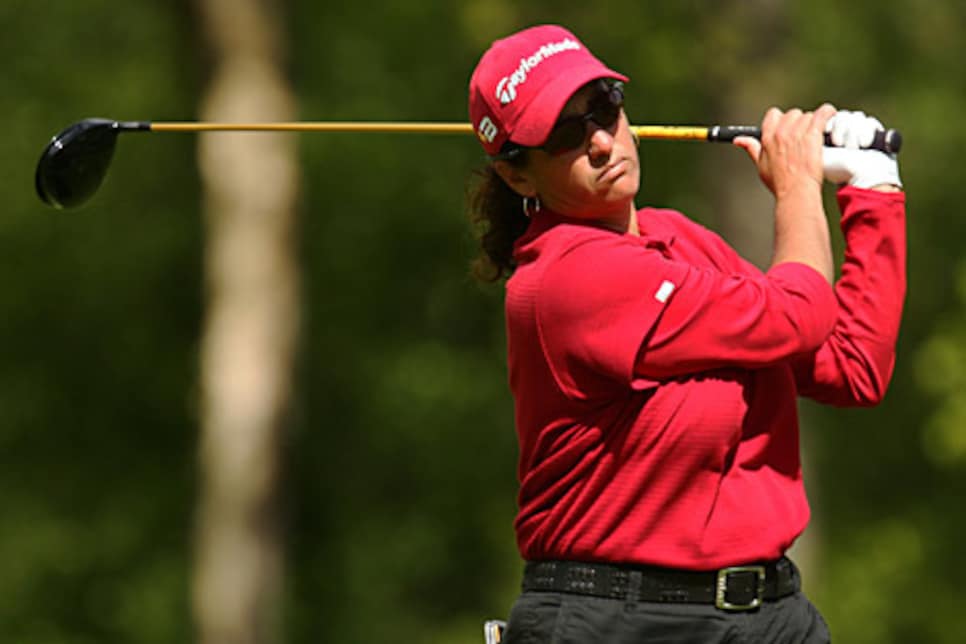 Ammaccapane joined the LPGA Tour 20 years ago and is still looking for her first win.
CORNING, N.Y. (AP) -- On a seesaw day, Dina Ammaccapane liked what she saw when it was over.
Ammaccapane, who had six birdies and three bogeys, shot her second straight 69 on Friday to gain a one-stroke lead after the second-round of the LPGA Corning Classic. Ammaccapane, winless since joining the tour full-time two decades ago and non-exempt this year, was at 6-under 138. First-round leader Erica Blasberg (74), Janice Moodie (68), Wendy Ward (70) and Katie Futcher (69) were one shot back.
Lurking another shot behind were Johanna Head (69), Becky Morgan (70), Sandra Gal (72), Leta Lindley (67) and Jeong Jang (69), who struggled mightily with her driver, hitting just seven of 14 fairways because of an arthritic right wrist.
Na On Min and Karine Icher, who began the day tied for second, two shots behind Blasberg, each shot 74 and remained tied at 141 as 17 players were within three shots of the lead. Paula Creamer (74), third on the tour money list and a two-time winner this year, was at 144.
Two-time Corning winner Rosie Jones, who came out of retirement to help celebrate the tournament's 30th anniversary, followed her opening 74 with a 76 and missed the cut in her first appearance on tour since the 2006 U.S. Open.
Although 48 players broke par on the cold-and-rainy first round, there were more bogeys (493) than birdies (435) over the 6,223-yard Corning Country Club course. On Friday, the sun emerged and the temperature soared into the 60s -- more than 20 degrees warmer than when the tournament began. But the wind picked up to nearly 20 mph and played havoc for most of the round.
Right from the start, it was evident it would be a difficult day. Blasberg parred her first four holes and then made bogey at the 510-yard, par-5 14th to lose the lead to Min. Blasberg, seeking her first career victory, followed with seven pars before rallying with birdie at the par-4 fourth to move back to 7 under.
"I just wasn't relaxed out there for some reason the first few holes," Blasberg said.
Min made double-bogey at the first hole before rallying with four birdies to get to 7 under and a one-shot lead at the turn, but that advantage was short-lived. Moments after Blasberg tied it with her first birdie of the day, Min hit a poor chip at the par-4 13th that rolled off the far side of the green, and she three-putted for double-bogey.
Back on the front side at the par-5 fifth, Blasberg made birdie after hitting a scoreboard and taking a drop to get to 8 under, then quickly squandered the lead for good at the par-3 seventh. She hit a bad tee shot, chipped her second shot past the hole, and three-putted from 10 feet for double-bogey.
Blasberg closed with bogey at No. 9 when her 30-foot birdie putt lipped out 4 feet past the pin and she missed coming back.
"I was a little confused on the fairway, what club to hit just because the wind was up, the wind was down," Blasberg said with a painful smile. "But there's a lot of positives. I really didn't hit the ball that well today, but I still was able to kind of keep it respectable for the most part. I don't usually pull off shots, and I backed off maybe four shots today. It's just tough, especially when you are trying to protect a little bit."
That left Patricia Meunier-Lebouc with sole possession of the lead after three straight birdies on the front nine dropped her to 7 under. She, too, was unable to hold it, making three bogeys and a double-bogey on the back side to leave Ammaccapane alone at the top.
"I have got to be patient," said the 39-year-old Ammaccapane, who hit sand wedge to 8 feet and made birdie at 18, her final hole, to gain the lead. "The last two days were a test."
Creamer, admittedly rusty after taking a week off, had four bogeys and two birdies before finishing with seven straight pars to avoid missing her first cut of the year.
"It's just been so up and down out here," Creamer said. "Normally, I hit a lot of fairways, and I haven't hit that many. I think it's taken me out of rhythm. The first nine, I was chunking it, hitting it kind of all over the place, and whenever I had opportunity to make birdie, I didn't close the deal. I'm not in the best of positions, but it's not over yet. I wish I could be out there right now and start all over."
It was a bittersweet day for Jones, who missed a short par putt at No. 9, her final hole, but was still smiling.
"Darn it, I bogeyed it. The last time I played here, it was a birdie and I finished top-10," said Jones, who received shouts of thanks from many fans for coming back one last time. "You could definitely tell my game was rusty, but it was fun. I had a blast coming back here. I did OK."