News
Big Surprise, It's Lorena Again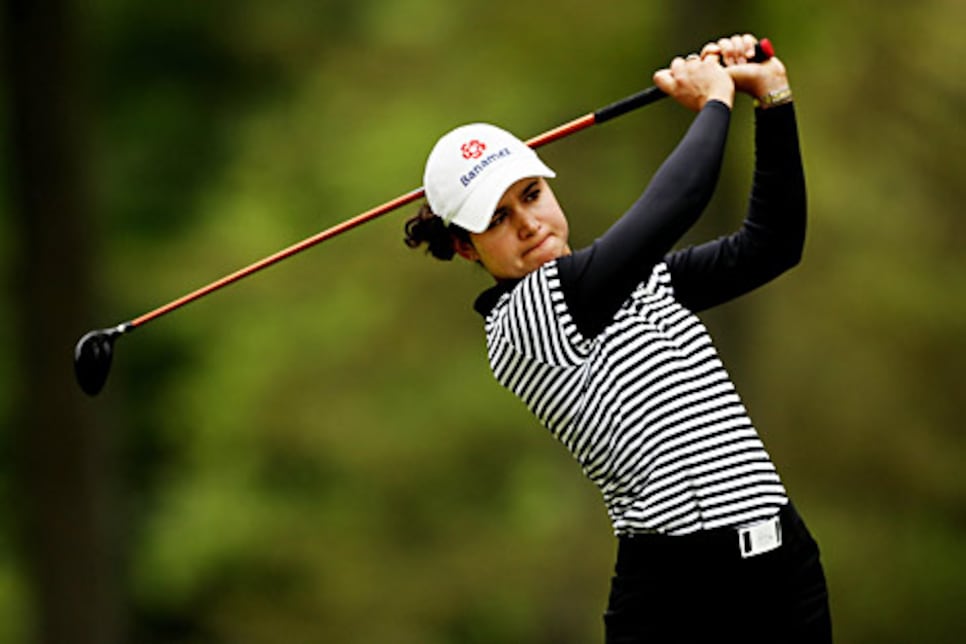 Even though her putter didn't exactly cooperate, Lorena's one-under 71 was good enough to go home a winner.
CLIFTON, N.J. (AP) -- Lorena Ochoa found a new way to win, grinding it out instead of running away from the field.
A day after leaving the retiring Annika Sorenstam in her wake, Ochoa overcame a balky putter to shoot a 1-under 71 and post a one-stroke victory over five players Sunday for her third straight victory in the rain-shortened Sybase Classic.
"It was a tough day, but I did it," Ochoa said. "I think that was what was important. It doesn't matter how you do it sometimes; you play really good, other players struggle, sometimes you just keep yourself in a good position. Today it was different; it was a different win, but I enjoyed it a lot."
The victory was the 22nd for Ochoa since April 2006, and the $300,000 prize pushed her career earnings past the $12 million mark, making her the fastest player on the LPGA Tour to reach that plateau.
Ochoa accomplished it in just over five years, more than four years faster than the old mark set by Sorenstam, who played herself out of contention with a second-round 73.
The win also ended the 26-year-old Mexican's two-tournament victory drought and reaffirmed her status as the best player in women's golf.
This win was much different than her first five this year. Ochoa won those events by a combined 37 strokes, with the closest margin being three shots.
Ochoa grabbed an early four-shot lead on Sunday with a birdie on No. 2 in the $2 million tournament, but she spent the rest of the day missing birdie putts and watching a host of players make runs at her lead.
Sophie Gustafson of Sweden, Morgan Pressel, Catriona Matthew of Scotland, rookie leader Na Yeon Choi and Brittany Lang all finished the 54-hole tournament at 9-under-par 207, a shot behind the winner.
Gustafson came the closest to catching Ochoa. She birdied No. 16 from 20 feet to get within two shots, and she pulled to within one when the leader bogeyed the par-3 No. 17 after hitting her tee shot into a bunker.
Both players reached the par-5 No. 18 in three, with Ochoa getting into position despite having to contend with some trees on her second shot after a drive into the rough.
Gustafson had a 12-footer to tie. The putt was right all the way.
Ochoa, who missed 10 birdie putts of 20 feet or less, then simply had to two-putt from 8 feet to win for the 24th time on tour. She missed the first putt, and then tapped in.
"I think that's why today feels a little bit weird, because I just missed so many putts, and there was a couple of them that maybe I misread, but some of them I hit pretty good," Ochoa said.
Pressel, who shot a final-round 6-under 66 to zoom into contention, also got within a shot after Ochoa bogeyed No. 9 and she birdied No. 12 for her fifth birdie in seven holes.
"I think I had two holes where I didn't have birdie opportunities, and one of them I chipped in," said the 19-year-old Pressel.
Ochoa then had a two-putt birdie at the par-5 No. 11 to get back to 11-under, and she stayed there by making a 15-footer for par at No. 13 after grounding her second shot out of the rough from one side of the fairway to the other.
Ochoa took a wild swing at the rough with her wood after the shot and then slammed the club head into the grass. She breathed a sigh of relief and pumped her fist twice after making the par saver.
It was the same reaction she had on No. 18 after tapping in and hugging caddie Dave Brooker.
"Dave told me on the 18th after I made that putt, 'I really like when you win by five,'" Ochoa said. "It's a little bit easier when you're walking up that 18th fairway; I guess you can enjoy a little bit more the last walk, instead of being nervous."
Christina Kim finished two shots back and a shot ahead of H.J. Choi. Natalie Castrale and Jimin Kang finished four shots behind Ochoa.
Sorenstam, who announced Tuesday that this would be her final year on tour, was in a group five back. She started the final round five shots behind Ochoa and never got into contention after bogeying the first hole en route to a 71.
"I wanted to start with birdies, put some pressure on and it started the other way," said Sorenstam, who had a two-tournament winning streak snapped. "It was tough to come back."