News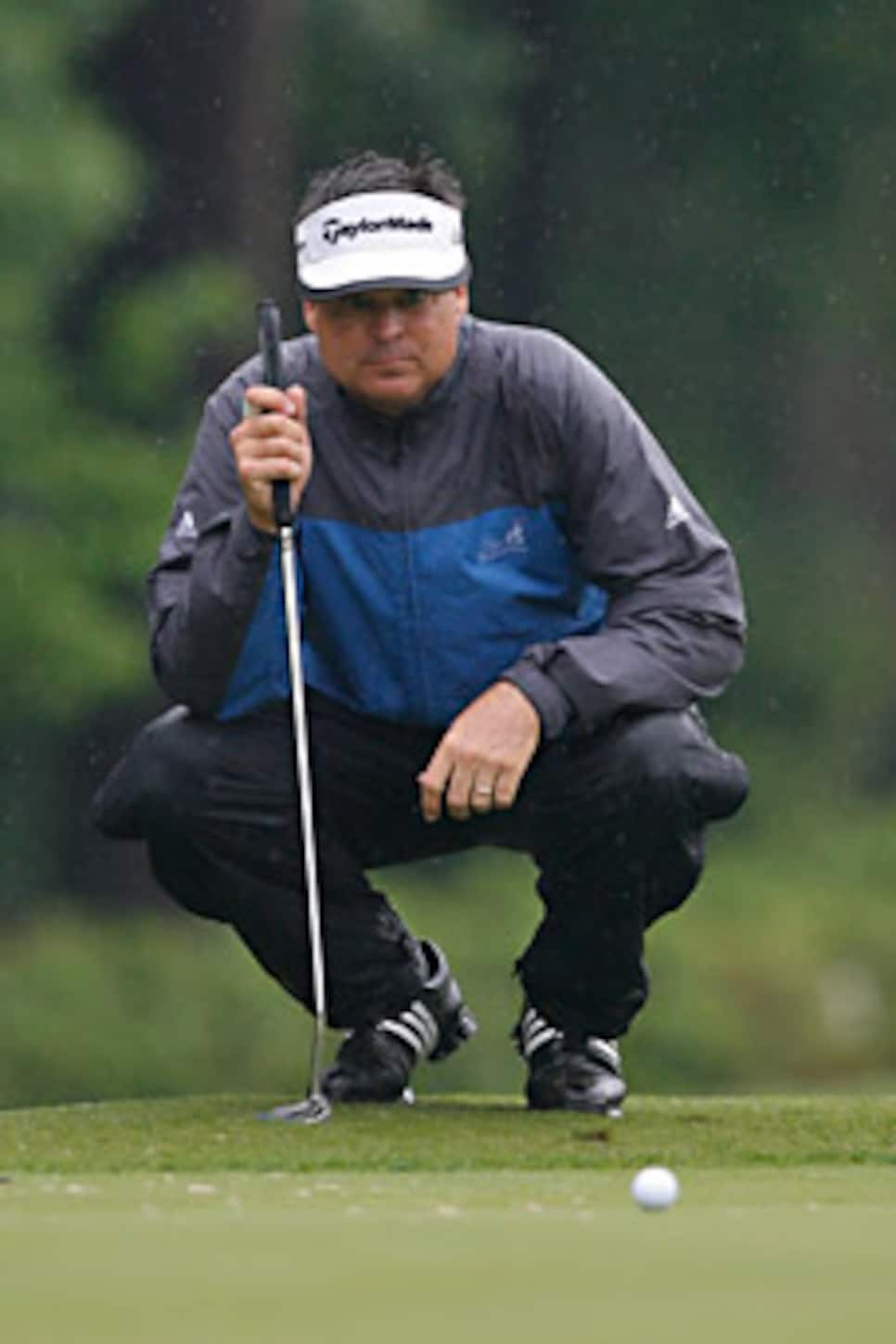 Six birdies and no bogeys gave Kenny Perry a share of the lead.
DULUTH, Ga. (AP) -- Kenny Perry sloshed through the water-logged fairways, ducking under an umbrella every chance he got.
He also hit plenty of good shots on a miserable day at the TPC Sugarloaf.
Perry endured a steady -- and occasionally driving rain -- to claim a share of the first-round lead with a 6-under 66 at the AT&T Classic on Thursday.
The other leaders -- Jonathan Kaye, Ryan Palmer, Jonathan Byrd and Parker McLachlin -- all teed off in the morning, before a huge weather system engulfed the suburban Atlanta course.
They were the lucky ones.
Byrd was likely watching from his nice, dry hotel room by the time Perry rolled in a 14-footer to save par at the treacherous ninth, his final hole.
"I don't like playing in the rain. I can't think of anybody who does," Byrd said. "It's just not a whole lot of fun. It's a lot of work."
Perry's bogey-free was especially impressive in light of the soggy conditions and other hardships.
He had to remain on the course during a 31-minute delay when the rain turned so heavy that play had to be halted. Then, when he got to his last hole, surely looking forward to calling it a day, he found a backlog of five groups waiting to tee off -- all of them held up by an earlier ruling on Glen Day that took nearly a half-hour to sort out.
"There's five groups here?" Rich Beem asked incredulously when his threesome arrived.
"Yep, you're the fifth," replied Greg Norman, making a rare appearance on the PGA Tour at the course he drew up.
"I guess it's your fault," Beem quipped. "You're the one who designed the place."
Perry drove his tee shot at 472-yard ninth into a huge puddle, forcing him to drop on drier ground. After hitting his second shot short and left of the green, he had to wait even longer while Dean Wilson got a ruling on a tee shot that faded into a deep ravine along the right side of the fairway.
Wilson wasn't out of trouble yet, hitting his next shot off a tree limb -- the ball shooting straight across the fairway. At that point, Perry had already walked ahead to get a look at his ball.
He flubbed a chip off the mushy ground, slamming his club in disgust, but rolled in the putt to close his round with a better feeling. Then it was off to the clubhouse to get dry.
"I hit some good shots and made some nice saves coming in," Perry said. "The last few holes were brutal."