News
Cool Confidence Under Pressure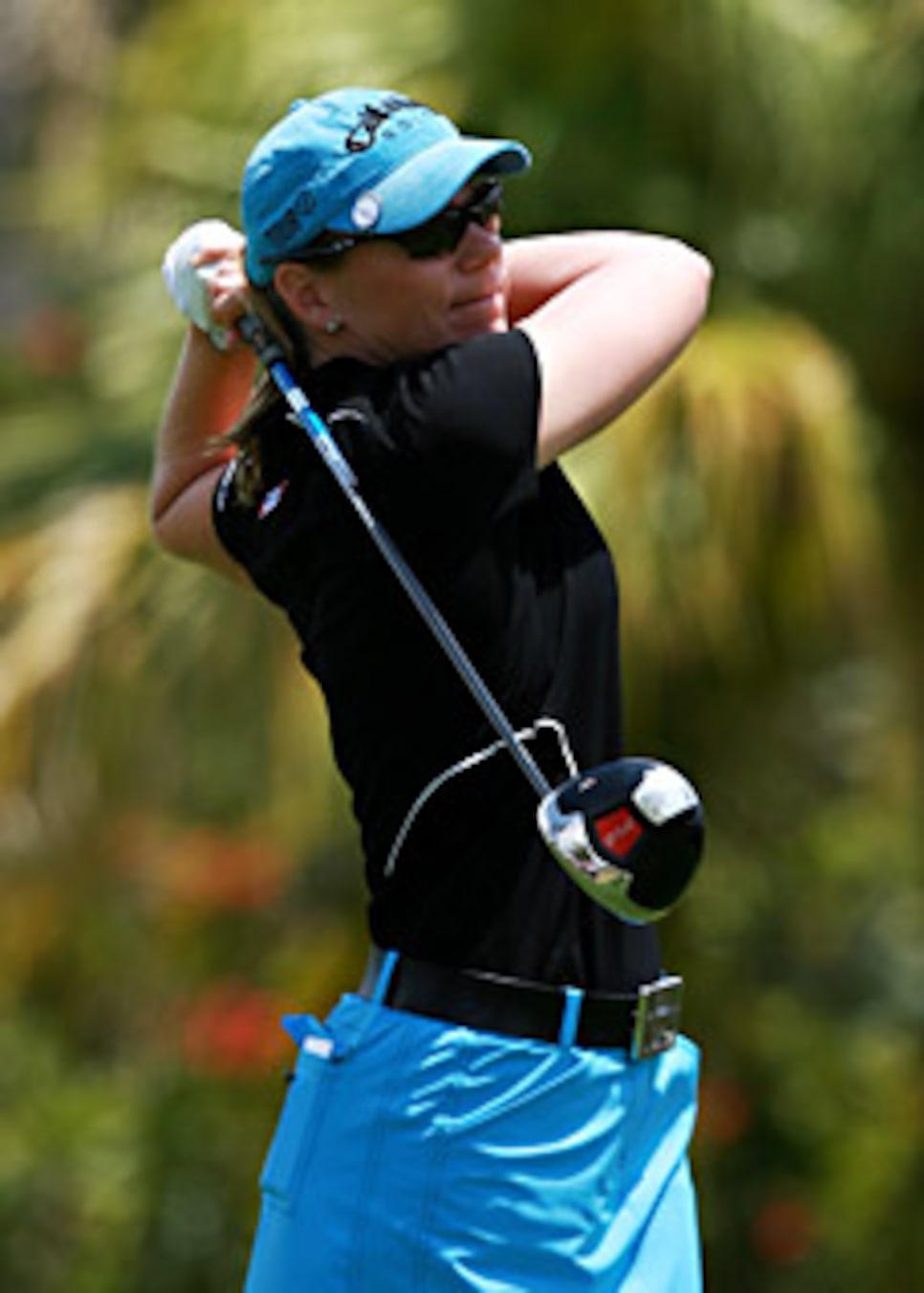 Sorenstam thrived on the playoff pressure while Creamer seemed to wilt under it.
AVENTURA, Fla. (AP) -- On the green at the first playoff hole, Paula Creamer and Annika Sorenstam couldn't have had more varying emotions.
A first-time playoff participant, Creamer said her hands shook grasping her putter.
Sorenstam was the polar opposite, exuding nothing but cool confidence. And it showed.
Sorenstam's par on the lone extra hole Sunday was good enough to beat Creamer and win the Stanford International Pro-Am, the Swede's 71st career victory on the LPGA Tour and one where she rallied from a one-shot deficit in the final two holes of regulation.
"That's what I love. That's why I do this," Sorenstam said. "Not to say I want to have playoffs every week, but it's a lot of drama and you have to hit that certain shot when it counts."
Alas, that was Creamer's downfall.
After a wayward 9-iron off the tee -- "a careless shot," she said -- followed by a poor pitch, Creamer made bogey at the par-3 17th to lose the outright lead with a hole left in regulation. At the par-5 18th, Creamer pulled her chip from just inside of 100 yards and was left with a 25-foot birdie putt, which stayed out and forced her to settle for par.
Both laid up at the 18th in the playoff, with Creamer facing a tricky downhill birdie putt from just off the fringe, and Sorenstam leaving herself a birdie try from almost the same spot where she missed a potential winner in regulation.
Sorenstam missed, but Creamer's 6-foot comebacker for par stopped short and gave the Swede the victory -- her 16th in 22 career playoff appearances.
"It's very disappointing," Creamer said. "But at the same time, I'm going against one of the best players in the world ever to play golf. There's a lot to learn from that."
Creamer closed with a 69, and Sorenstam shot a 70. They finished at 8 under.
It was the first time in five weeks someone other than Lorena Ochoa won on the LPGA Tour. The top-ranked Ochoa skipped this event.
Young Kim (69) and Karrie Webb, who turned in the round of the week with a 7-under 64, tied for third, one shot behind Sorenstam and Creamer. Momeko Ueda (71) finished alone in fifth at 5 under.
It was Webb's best finish since placing second at last year's LPGA Championship, 17 events ago.
"It's a good finish for me," Webb said. "I would have liked to made the one on the last, but I feel great about things. As much as I've been down on myself, I knew that if I could get my putter going, it just sort of goes to the rest of your game. I know my swing's been close, but when you feel like you can't make putts, you can't go at pins. It's a good start. Hopefully there's more to come."
Webb's charge started early, with five consecutive birdies on holes 2-6 vaulting her into serious contention. Lindsey Wright was 6 under for the day through 12, but that wasn't enough nearly enough to close the gap. Young Kim had consecutive double-bogeys late on her front side, which proved quite costly.
By late afternoon, it was a two-woman race.
"I made more mistakes than she did," Creamer said. "Obviously, I made more birdies than her and I knew going into it that I could make a lot of birdies out there. It was just the mistakes. She always plots herself around the golf course and that's why she's as good as she is. She doesn't make those bogeys. I just made too many."
Creamer made two birdies in her first three holes to take the lead by one, until Sorenstam answered with a birdie at the sixth -- ending a run of 26 pars in a stretch of 29 holes. Creamer blinked on the next hole, hitting one into a hazard and needing to remove her right shoe before splashing the ball out on the way to a bogey.
One hole later, Creamer rebounded with a birdie, tying Sorenstam again at 8 under.
They were both 9 under when Sorenstam pushed a 4-foot par try wide at the 13th, the mistake putting Creamer again alone in front. She stayed there until the bogey at 17 and that set up the nailbiter of a finish.
"Even though I was trailing by one for the last four or five holes, I knew anything could happen," Sorenstam said.
Notes:@ Ochoa is expected to play next week when the tour heads to Broken Arrow, Okla. for the SemGroup Championship. ... Moira Dunn, who went to college at nearby Florida International University, made a quad at the par-3 7th, then closed her day with a triple at the par-5 18th to finish 13 over. ... Christina Kim, who led through 17 holes Thursday before a triple at the 18th, made bogey there Sunday, which was an improvement. For the week, she played three trips to the Soffer course's finishing hole in 8 over, including a quadruple-bogey Saturday.