News
"Silly Tough", Said Annika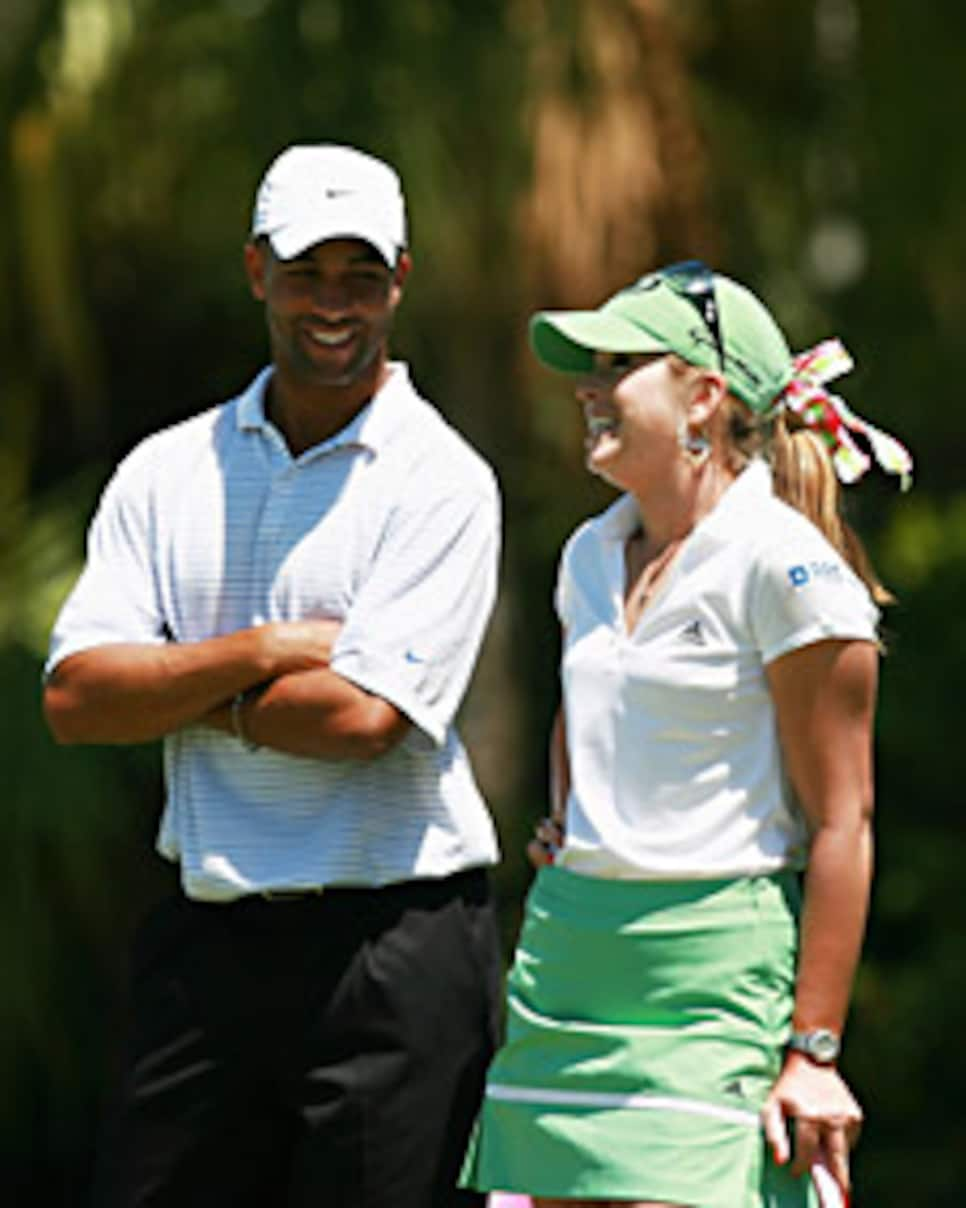 Distractions or not, Paula Creamer managed a share of the day one lead.
AVENTURA, Fla. (AP) -- Annika Sorenstam summed up the opening round of the inaugural Stanford International Pro-Am in two words.
And that's an assessment from someone only one stroke off the pace.
Paula Creamer shot a 3-under 68 Thursday, giving her a share of the lead with Momeko Ueda and Young Kim on a day that turned into a test of endurance more than anything else at windy Turnberry Isle. Only 21 of 111 pros broke par, on a course that was far from easy for the tour players -- and downright diabolical for amateurs.
"I thought it was extremely tough," Sorenstam said. "It was way too tough."
Sorenstam likened the course to a U.S. Open setup, saying she felt badly for the amateurs, many of whom struggled mightily on a course far tougher than their norm. Yani Tseng had a hamburger and two chocolate chip cookies after nine holes, because she couldn't endure not eating for three more hours. One tee box had four groups waiting at once. And most rounds lasted nearly six hours.
"It does take a toll on you," Creamer said. "I found myself a couple times wandering out there and would have to start my routine over and focus. There's a lot going on and that's something you're not necessarily used to. I'm pleased with how I managed it."
With only two bogeys on her card, she should be.
"I'll take 68 for three more days," Creamer said.
Creamer, teaming with tennis star James Blake this week, hasn't finished in the top 20 in any of her last three events, a mini-slump far from typical for the world's No. 4-ranked woman. But four birdies in a six-hole stretch gave her a shot of momentum, and she ended her round almost expecting to be one shot off Christina Kim's lead.
That is, until Kim visited the cart path, the water and the sand on the par-5 18th, en route to a triple bogey that sent her to 1 under.
"Maybe the mafia kind of used these greens to bury a couple people or something, because every hole tends to have a couple of mounds in them," Kim said.
Carolina Llano -- the final alternate to get into the field -- shot a 2-under 69 to be in the logjam one shot off the lead, along with Tseng, Sorenstam, Candie Kung, Kyeong Bae, Meena Lee and South Florida native Cristie Kerr.
Kim, Juli Inkster and Mi Hyun Kim were part of another large pack that finished two shots off the triumvirate of leaders.
There's two courses in use this week, the par-71 Soffer layout and the par-70 Miller track, with each team playing those courses once Thursday and Friday. For the third and fourth rounds, only the Soffer course will be used.
By then, the pace of play might be a bit more brisk.
Also by then, some of the tour's bigger names might be home for the weekend.
Morgan Pressel and Natalie Gulbis shot 5-over 75s on the Miller course, meaning they'll have work to do to make the cut. Laura Davies shot a 75 on the Soffer track. World No. 8 Jee Young Lee shot a 76. Brittany Lincicome slogged her way to an 80. And Nancy Lopez -- making her first start of the year -- shot a 91, a round replete with no birdies, four double bogeys and one quadruple bogey.
Maybe Lorena Ochoa -- the winner each of the previous four weeks on tour -- picked a good time to stay home.
"I actually had a good time today. These guys were very nice," Sorenstam said, talking about the two amateurs in her foursome along with Gulbis. "They stayed out the way. They were very courteous. It was just pace of play and when you have pins like that, it just makes it tough. I mean, it's not easy. It would be fun if it was a little more friendly for them so they can enjoy it."
Chris Higgs, the chief operations officer for the LPGA Tour, said there was a balance between making sure the "course setup is worthy of a championship round of golf in an LPGA tournament" and one that's suitable for the amateur players as well.
Higgs also pointed out that any first-year event tends to have some growing pains.
"I'm never going to question Annika and her opinions on the golf course," Higgs said. "She's one of the greatest golfers to ever play the game. She's entitled to her opinion."
Notes:@ Davies went out in 41, with three bogeys and a double bogey in a six-hole stretch. She atoned a bit on the 157-yard 13th, landing the ball about 15 feet short and having it roll in for an ace. ... Blake had a pink Nike bag holding his clubs, which he had to use because he lost a previous bet with Creamer, who's known for her predominantly pink wardrobe. "Embarrassing," Blake said.