News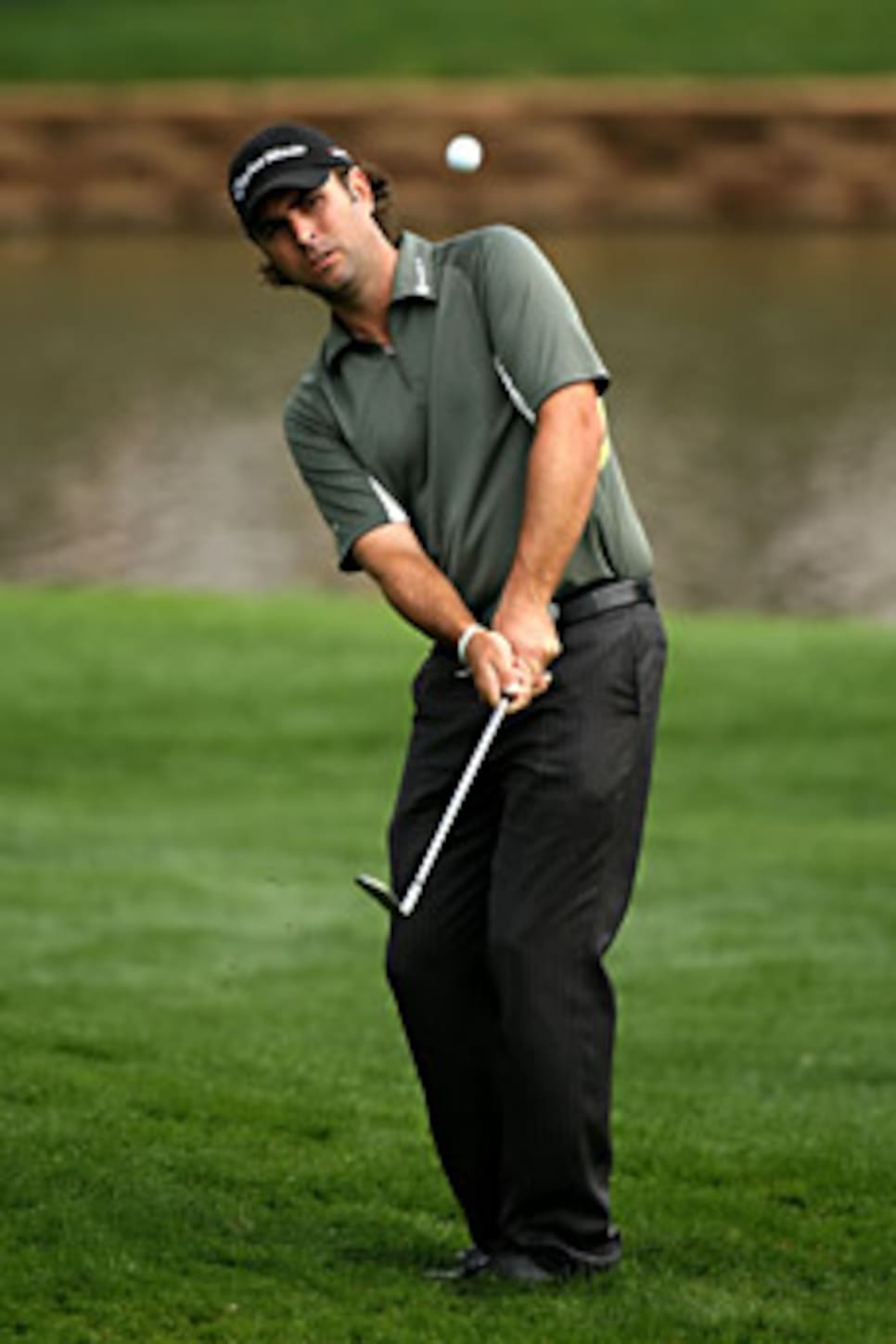 Goggin's five birdies and two bogeys netted out to a three-under 67 on Thursday.
IRVING, Texas -- Jesper Parnevik has been so inconsistent that he's willing to take advice from a golfing buddy he refers to as a "complete hack monster."
Something worked Thursday, with Parnevik overcoming gusty wind and a redesigned course to shoot a 2-under 68 in the first round of the EDS Byron Nelson Championship.
That left him only one shot behind Ryan Moore, Mathew Goggin and Eric Axley, whose 67s made them the highest-scoring first-round leaders at the Nelson since 1984.
So what was that tip Parnevik received during a phone call Wednesday night from his friend in Colorado?
"It was really a stupid thing," Parnevik said. "It was the way he had his left big toe at impact. ... It should be kind of pointed a little bit upwards."
Parnevik was in a group of eight players at 68 that included 10th-ranked Adam Scott, the only player from the top 10 in the world ranking in the field. Kevin Sutherland, Briny Baird, Shaun Micheel, Ian Poulter and Dustin Johnson and Parker McLachlin also shot 68s.
Only 24 of the 156 players in the field broke par. Masters champion Trevor Immelman, playing for the first time since winning the green jacket, finished with a 78, better than only three other players.
Axley, who overcame an early bogey with four consecutive birdies from Nos. 4-7, was in the lead alone until he bogeyed the 429-yard 18th hole. He missed the final fairway and hit his approach into a greenside bunker -- the only bunker he found all day.
Goggin, in the same group with Parnevik, got to 3 under with three consecutive birdies on their back nine. He sank putts of 15-20 feet on Nos. 5 and 6 before hitting his second shot at the 542-yard seventh hole to the fringe and chipping to 2 feet.
Moore had seven birdies and four bogeys in only his third tournament in 10 weeks. That included a six-hole stretch on the back nine when he had either a birdie or bogey on each.
"It was just one of those days that you knew it was going to be a battle the whole time you were out there," said Moore, who has taken extra time off the last 2½ months to cure a sore shoulder. "I'll take a 67 on any course any day. This is definitely one of my better rounds of the year, for sure, in these conditions."
The unusual high opening scores at the Nelson had more to do with the weather -- windy conditions with gusts of more than 30 mph and wet fairways after about an inch of rain overnight -- than the redesign of the TPC Four Seasons course since last year.
"It's hard to make a real fair comparison right now, with the soft fairways and the wind blowing 20 mph," said Harrison Frazar, a player from Dallas who was a consultant during the $10 million renovation. "I don't think we need to jump to any conclusions too early."
Frazar shot 73, a shot better than J.J. Henry, the Fort Worth resident who was the other player consultant on the project.
Soon after last year's tournament, when deteriorating greens were bumpy and sometimes brown, work began to make changes on every hole, with new tee boxes and more undulating greens, and to relocate 165 trees.
With the redone TPC, this is the first time since 1993 that the Nelson has been played on only one course. Cottonwood Valley across the street also was used during first- and second-round play from 1994 until last year.
Parnevik last won on the PGA Tour in 2001 and hasn't finished better than 24th this season, missing four of 10 cuts. The Swede matched his best score in 25 rounds even after giving up a couple of strokes late, missing a 5-foot birdie putt at No. 7 before hitting into fairway and greenside bunkers on the following 461-yard hole.
Even though Parnevik won the Nelson in 2000, and has played there 10 other times, he was uncertain at times on the greens.
"It gives me an advantage of coming here for 10, 12 years, that you know every putt, you know every break," Parnevik said. "And today, I didn't have a clue. I actually missed a lot of putts out there."
Immelman, the Nelson runner-up two years ago, was already 6 over through eight holes. He needed 34 putts and finished with a bogey at the 427-yard ninth, soon after his only birdies at Nos. 6 and 7. The South African admitted this week that the victory at Augusta "still hasn't quite sunk in yet" after more than a week to celebrate and reflect.
"I just think I've just run out of gas," Immelman said. "I'm obviously real tired. I'm been trying to get as much sleep as I can, as well as obviously running around."
Defending champion Scott Verplank shot a 72. Verplank is playing in his 22nd Nelson, the most among active players. ... Goggin hadn't had an opening sub-70 round since a 65 at the Bob Hope Chrysler Classic in January, his first event of the year, when he was also the first-round leader before going on to tie for 35th. ... Dean Wilson had a hole-in-one at the 174-yard fifth hole. He shot a 71. ... The first-round leader the previous seven years had a 65 or better. Dave Barr had an opening 67 in 1984, matching Lanny Wadkins' first-round score from the previous year.