News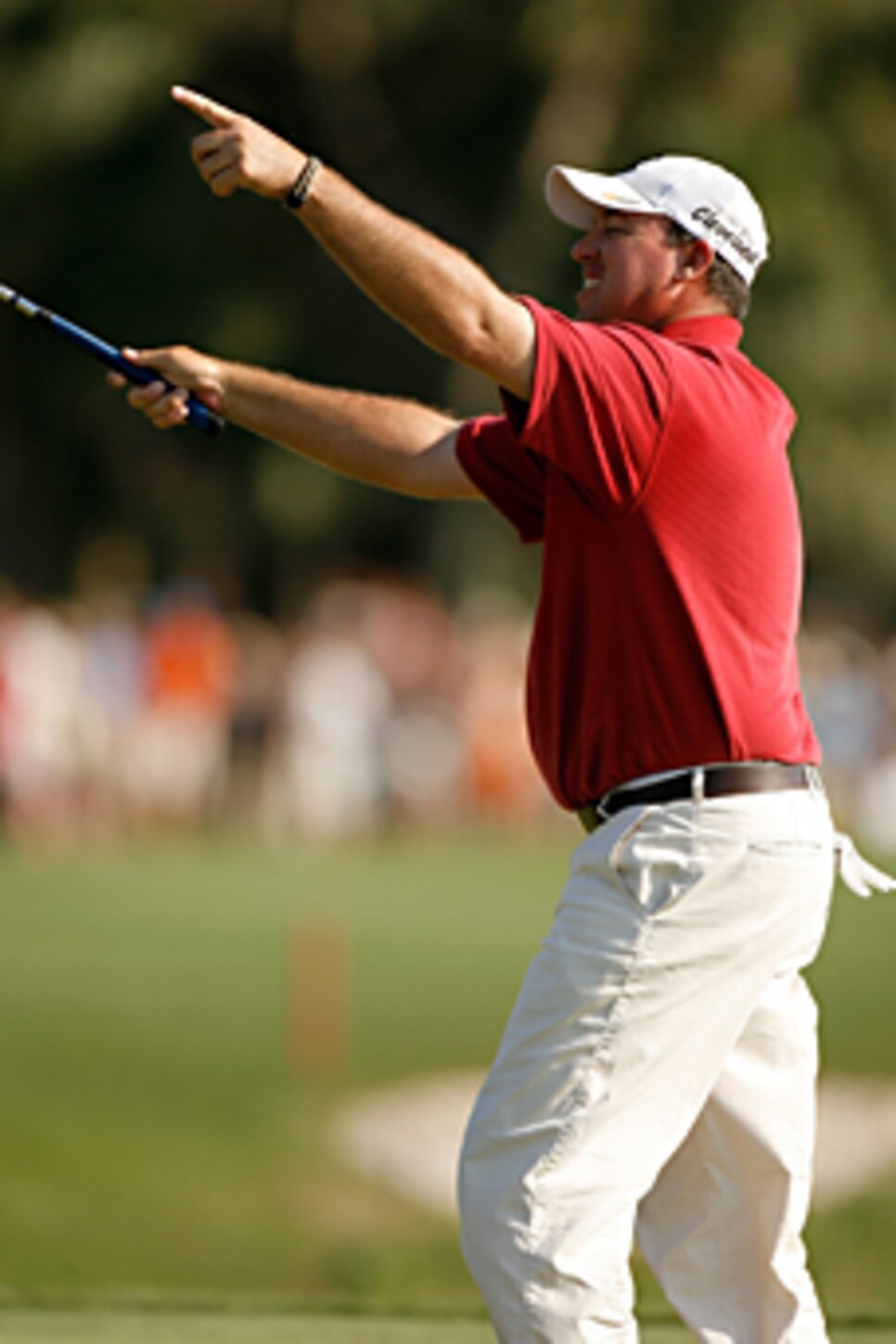 Boo celebrates on the 18th green after dropping the final putt.
HILTON HEAD ISLAND, S.C. (AP) -- Boo Weekley's first Verizon Heritage victory was a surprising relief. His latest? A joyful celebration that was a year overdue.
Weekley successfully defended his title Sunday at Harbour Town, closing with an even-par 71 for a three-stroke victory over Anthony Kim (71) and Aaron Baddeley (71).
Last year, Weekley needed chips-ins on the 71st and 72nd holes to beat Ernie Els by a stroke on a Monday morning for his first PGA Tour victory.
On Sunday, Weekley strode up the 18th fairway with the win very much in hand and the gallery chanting, "Boooo! Boooo!"
"I thought that you really won is when you stand there and pull the ball out of the hole and turn around to the crowd and say, 'You know, hey, I am the champ,'" Weekley said. "I chipped it in back to back last year, and I didn't get to stand there and turn to the crowd and do the fist pump."
And Weekley was ready to oblige. He gave the gallery a thumb's up as they loudly cheered, "Boooo!" He bowed to the fans and threw up his hands in triumph.
"I wanted to do the moonwalk, the belly-roll," Weekley said.
Weekley took a three-shot lead into the final round and watched it grow by mostly staying trouble free, and seeing competitors struggle to try and catch up.
"It was a lot easier than last year, wasn't it?" a smiling Weekley said to his group on the 17th hole after his routine par.
Kim trailed by three at the start and, paired with Weekley, was in the best spot to pressure the leader. But Kim's chance at a first PGA Tour title disappeared with a double bogey on the par-4 ninth.
Jim Furyk, ranked ninth in the world, was the hardest charger early, cutting a six-stroke deficit in half with three birdies in the first five holes. Furyk, though, fell back with a bogey on the 11th.
He shot a 69 to finish fourth, his third top-five finish in the past four Verizon Heritages.
No one else, including former Verizon Heritage champs Baddeley and Stewart Cink, could make a run at Weekley.
"I just struggled," Weekley said. "I reckon everybody struggled."
Not that Weekley didn't add his own pizazz to the round. He made bogey on No. 8 after botching a chip, then looked in trouble on the 10th with a difficult pitch over a bunker. And Weekley killed it -- right into the cup for a birdie that put him up by five.
Weekley grinned as the gallery chanted his name over and over.
He did it again four holes later, slam dunking a 30-footer for birdie from the fringe that if it didn't hit the cup might have rolled into the water off the edge of the peninsula green.
"Well, it didn't," Kim said.
Weekley earned $990,000, and a second straight invitation to the Masters. He tied for 20th at Augusta National to miss qualifying for 2009.
The even-par finishing round ended Weekley's string of seven rounds here in the 60s.
Weekley's the first with consecutive victories here since five-time winner Davis Love III in 1991 and 1992. The late Payne Stewart (1989, 1990) was the only other to go back-to-back in Harbour Town's history.
Both those stars had played this tournament several times before that success. Weekley just teed it up here for the first time last year.
Perhaps more important for him, Weekley can revel in his Harbour Town title for another year.
He's charmed the galleries with his "Hee Haw" demeanor in a country club world full of starched collars and hushed tones.
He proudly calls himself a redneck. He chews tobacco at times during his round. "It's just a habit," he says. "It's a bad one, but it's a habit."
He says the winner's trophy will probably sit in the barn for a few weeks until his new house is built. He's thrilled to get a second plaid champion's jacket. "I can wear one on Saturday, one on Sunday," he said.
Weekley's just as likely to rake a bunker or give a ball to a young fan -- as he did to one adorable blonde pre-schooler during Saturday's round -- as to shoo away autograph seekers.
What would you expect from some one who got his nickname from Yogi Bear's cartoon sidekick, Boo Boo.
It's clear that Weekley knows Harbour Town better than your aa-ver-age golfer.
Although, how long he keeps going at it is anyone's guess. The 34-year-old says the game's too stressful. "This golf is a crazy game. That's why I only want to do it for so long and then get out of it," he said.
What would Boo do? "Where you been?" he asked. "Huntin' and fishin'"
Divots:@ Davis Love III was in line for his first top 10 on the PGA Tour since last August. However, the five-time Harbour Town winner played the back nine in 6-over 41. He finished tied for 36th. ... Nick Dougherty withdrew before the final round due to a family illness. The Englishman had been nine shots in back of leader Boo Weekley after three rounds.