News
Tiger Cruises While Phil Loses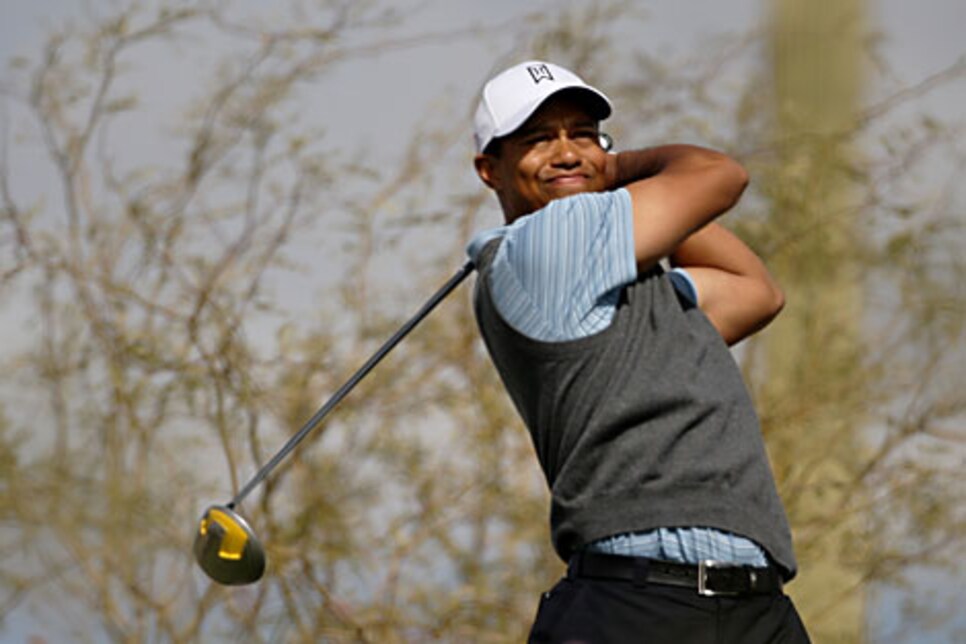 Other than both days ending in a "W", Thursday's round looked nothing like Wednesday's.
MARANA, Ariz. (AP) -- Tiger Woods barely broke a sweat. Steve Stricker went into overtime for the second straight day. They had only one thing in common Thursday in the Accenture Match Play Championship, which ultimately was all that mattered.
One day after a stunning comeback to survive the opening round, Woods built a quick lead against Arron Oberholser and never gave him much hope in a 3-and-2 victory.
The thrills belonged to Steve Stricker, who made a 10-foot birdie putt on the 19th hole to extend the match, then beat Presidents Cup teammate Hunter Mahan with a birdie putt just inside 50 feet. It was the second straight day Stricker won in 20 holes.
"I'm getting my money's worth out of this event," Stricker said.
It was the second straight year that Phil Mickelson was given a long weekend off.
Fresh of a victory at Riviera, he couldn't make enough birdies to keep up with Stuart Appleby, who couldn't miss. Appleby's ninth birdie came on the 17th hole, and it was enough to send Lefty packing with a 2-and-1 loss.
"It was a good match, but unfortunately, I just didn't shoot low enough," said Mickelson, who has never made it past the quarterfinals in this tournament. "I wanted a chance on 18, but unfortunately, I didn't get it."
David Toms didn't have any chance at all.
His back flared up late in his first-round victory over Masters champion Zach Johnson, and the pain was such that he had to withdraw before facing Aaron Baddeley, giving the Australian a day off.
Next up for Baddeley is a third-round date with Woods.
Woods had to play his final five holes in 5-under par to rally against J.B. Holmes in the first round. He had so such worries against Oberholser, playing in his first tournament of the year because of a shoulder injury. He hit his second shot into the desert to lose the opening hole, and didn't win a hole until a birdie at the 12th.
"Match play is an animal that's all about the moment," Woods said. "It's not about building toward Sunday. If you don't play well, you're going home. You'd better get organized quick and get off to a quick start and never give holes away. That's one of the things that I did today versus yesterday. I never gave Arron a hole. He had to earn holes."
Match play delivered some key moments on a sunny day amid saguaros and sagebrush.
• K.J. Choi was even par through 19 holes and advanced. Hunter Mahan was 7 under over 20 holes and lost.
• Sergio Garcia was cruising against Boo Weekley, going 2 up with an eagle on the 10th, then his putter started acting up, he bogeyed three of the next four holes and was headed home.
• Adam Scott missed three putts inside 10 feet over his last four holes and lost to Woody Austin, the seventh straight year that Scott was beaten in the Match Play by an American.
The most bizarre match was the final one of the second round. Defending champion Henrik Stenson was 4 up through eight holes against Trevor Immelman, but it took him 17 more holes to win -- and only after it appeared that he had lost.
Immelman, who lost in the semifinals to Stenson last year, drove the 314-yard seventh green and 20 feet for eagle, while Stenson hit into a bunker. Stenson blasted out to 3 feet, and Immelman's eagle putt slid 6 feet by the cup. He missed it for par, and Stenson calmly knocked in his birdie for the win.
Stenson has played 43 holes in two rounds. Jonathan Byrd has played only 27 after dispatching of Andres Romero, 6 and 4.
The victories came in all shapes and sizes, but when the dust settled in the high desert, 16 players remaining were starting from scratch.
"I don't need to savor the victory," Appleby said of beating the No. 2 player in the world. "Does it mean any more? No. It just means I'm advancing. I don't get a bonus for beating him. Yes, I have to get through one of the best players to move on, so that's been done."
Appleby has not reached the third round since 2001 in Australia.
Colin Montgomerie has not been this far since 2004, and it could not have come at a better time. He is No. 62 in the world and needs all the ranking points he can get to reach the Masters.
After building a 2-up lead over Charles Howell III, the match turned in the American's favor when Howell birdied five of the next six holes to take the lead. Monty put on his Ryder Cup cap, birdied three of the next four and held on for a 1-up victory.
Justin Leonard also survived an exciting run by Lee Westwood, who birdied four straight holes around the turn. Leonard answered with two of his own to stay tied, and he closed him out on the 17th.
Stenson's match was the longest. Stricker's was the most riveting.
Stricker has never trailed in 40 holes, although Mahan made him sweat. Mahan holed an 8-foot birdie on the 17th to square the match, and after Stricker hit his approach to 2 feet on the 18th, Mahan made birdie from 15 feet to go extra holes.
Then came the 20th hole, the par-4 fourth, with both players some 50 feet away.
Stricker's putt banged off the back of the cup and dropped, and he stretched out his fist to celebrate.
"It was going fast, but it looked good the whole way," Stricker said.
He advanced to play Angel Cabrera, who overpowered Luke Donald in a 2-and-1 victory.
"I'm still playing," Stricker said. "That's the key to this event."