News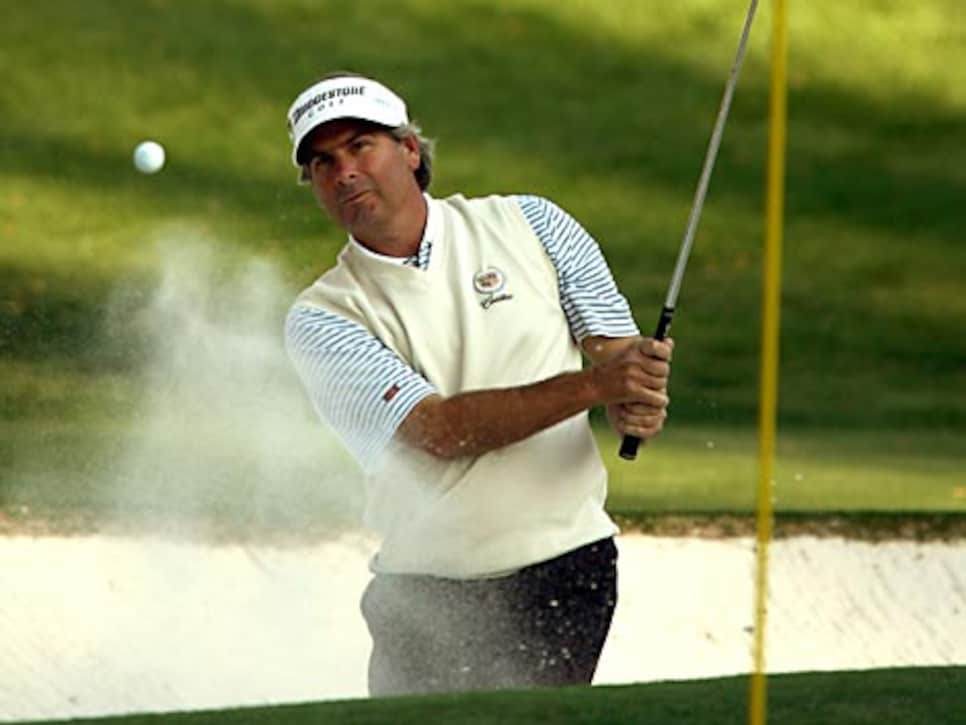 14 appearances, 89 skins, five wins and $3.97 million qualify Fred Couples for the title of Mr. Skins.
INDIAN WELLS, Calif. (AP) -- Fred Couples rolled in a 35-yard, curling shot from a bunker Saturday to win $75,000 and top the earnings on the first day of the LG Skins Game.
His eagle on the par-5, 501-yard fourth hole was worth three skins and the money grew when the previous two holes were tied.
Defending champion Stephen Ames was the only other player to win a skin over the first nine holes of the two-day, 18-hole event. He picked up $25,000 by making a 6-footer for birdie on the first hole.
Skins Game rookies Zach Johnson, this year's Masters Champion, and Brett Wetterich were shut out on opening day.
The made-for-TV event is in its 25th year, and Couples is playing for the 14th time. He's the five-time tournament champion and has won 89 skins and more than $3.9 million, all topping the Skins Game list.
Most of the prize money remained up for grabs since the other five holes were tied on the first day. When the foursome tees off on No. 10 Sunday, that hole alone will be worth $270,000, and $900,000 of the $1 million purse will be at stake.
Couples' shot out of the sand was the highlight on a day when none of the four played especially well, at times making the relatively short, new course at Indian Wells Golf Resort resemble a grueling U.S. Open layout.
Couples made his money-winning shot after a rough trip from the tee. His drive strayed left and struck a spectator's bag, but the ball bounced into the fairway. He then hit a 3-iron into the bunker behind the green before holing out to take the skins.
When the ball dropped on what seemed almost its final turn, Couples raised his arms in celebration, then added a brief end zone-type hip wiggle in the sand.
As Couples walked onto the green, some fresh bounce in his step, Johnson bowed to him a couple of times, honoring the player known as "King of the Skins."
The first six holes are worth $25,000, and Nos. 7-12 $50,000 apiece. The 13th through 17th carry a prize of $70,000 and No. 18 is worth $200,000.
A player takes a skin by winning a hole. If the hole is tied by any of the players, the money carries over and all four remain in the hunt. If there is a tie on the 18th, the players who tied enter a playoff.
Along with the $75,000 he won on No. 4, Couples got a bonus. Title sponsor LG had offered $50,000 in products for an eagle on either of the two par 5s on the course.