News
Weekely and Slocum Lead World Cup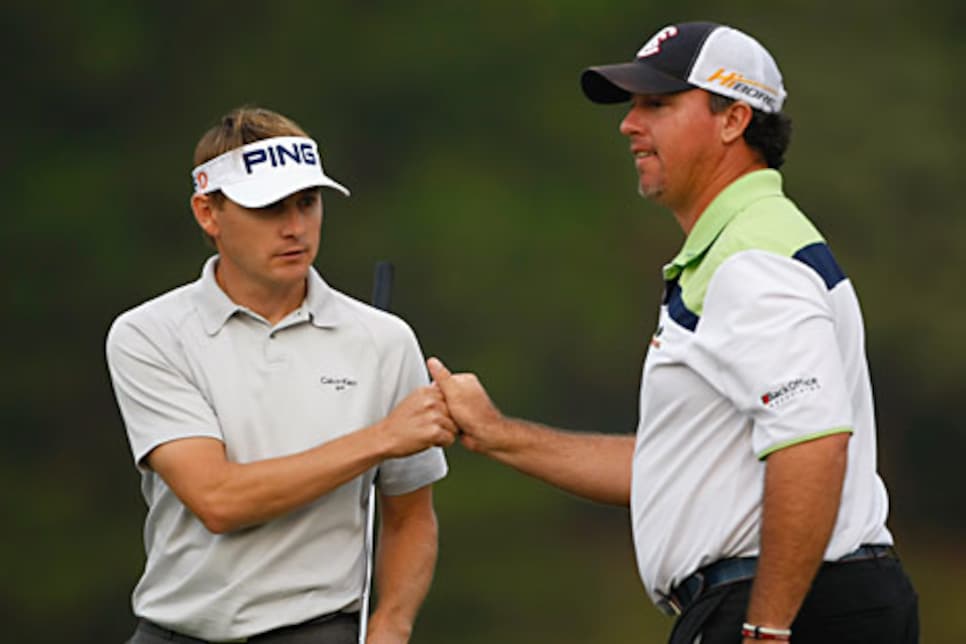 Weekley (right) and Slocum have proved a formidable pair representing the United States at Mission Hills in China.
SHENZHEN, China (AP) -- Police officers salute as players approach the tee. Fans jostle for space when silence is supposed to be in order. Golf carts buzz everywhere, cell phones ring and nobody is shy with a camera.
Welcome to golf, Chinese style.
"I mean, don't know if the Chinese crowd understands," said Boo Weekley, who shot a 3-under 69 Friday with partner Heath Slocum to keep a one-stroke lead for the United States after two rounds of the World Cup of Golf. "There's a lot of movement out there, a lot of talking."
England's Justin Rose and Ian Poulter and Scotland's Colin Montgomerie and Marc Warren shot 68s to trail by a shot at 13-under 131.
South Africa's Trevor Immelman and Retief Goosen were another shot back after a 69. Three teams were three behind -- Denmark (68), Italy (68) and Germany (71) -- and 18 teams were within eight shots of the lead.
Playing the more difficult foursomes (alternate-shot) format, scores soared after the easier fourballs (better-ball) on Thursday. Better-ball returns Saturday and alternate-shot features on Sunday. Though this is a stroke-play event, match-play rules are in play.
Weekley praised the enthusiasm of the Chinese, who have almost no golf tradition.
"They clap when you hit a good shot and they always say 'hey' and 'hi,'" he added. "But it's just different."
This is the first year in a 12-year contract to play this unusual team event at the Mission Hills Golf Club, the world's largest golf complex with 12 courses spread over 5.8 square miles just a few minutes drive from Hong Kong.
The permanent home and Omega sponsorship may help the event draw a top field. This year, Rose and Poulter are the only players ranked in the top 20.
Weekley -- a Floridian who takes his nickname from the cartoon character Boo Boo Bear -- got his invitation only after 13 other Americans ranked ahead of him declined. He picked Slocum, his high-school chum.
The tournament is set on the Olazabal Course, designed by the two-time Masters winner. The rolling layout, gouged out of rugged hills and lush, tropical vegetation feels familiar. So are the grainy Bermuda greens.
"They are fairly similar to where Boo and I grew up," Slocum said.
What's unfamiliar is a 100-foot high stone statue of Guanyin -- a Chinese female goddess with Buddhist origins -- towering over the final holes.
"You see the big statue stand up, you kind of know you're somewhere else," Slocum added. "It's definitely different than any place that we have in the U.S."
Golf, however, is golf and the Americans didn't make enough putts to stretch their lead.
"We just didn't make anything today like we did yesterday," said Slocum, who missed 5-foot birdie putts on 13 and 17.
"This is a hard format (foursomes) to play, to keep a rhythm," Slocum added. "But we started the day ahead and we finished the day ahead."
If they win, the prize for each is $800,000 out of the $5 million purse.
England had a chance to at least share the lead, but stumbled to its only bogey on the par-3 17th. Poulter ran a 20-foot putt for birdie 7 feet past the hole, and Rose missed to save par.
Scotland pulled within a shot on No. 18 when Montgomerie dropped a 5-foot birdie putt following Warren's long approach to the green. Montgomerie also helped save par on No. 17 when his 60-foot chip landed inches away for Warren to tap in.
Famously sensitive to crowd noise, Montgomerie stood with hands on hips on No. 17 and stared down the gallery until it got quiet.
South Africa went to 13 under on No. 17, capitalizing on Goosen's 20-foot birdie putt. But his tee shot on No. 18 found deep rough, leading to a bogey on the closing hole.
Rose and Poulter were 5 under after 10 holes and briefly held the lead, but lost momentum on the back nine by failing to convert chances on the par-5 holes.
"That's just a bit of a shame when we got off to such a flying start," Poulter said.