News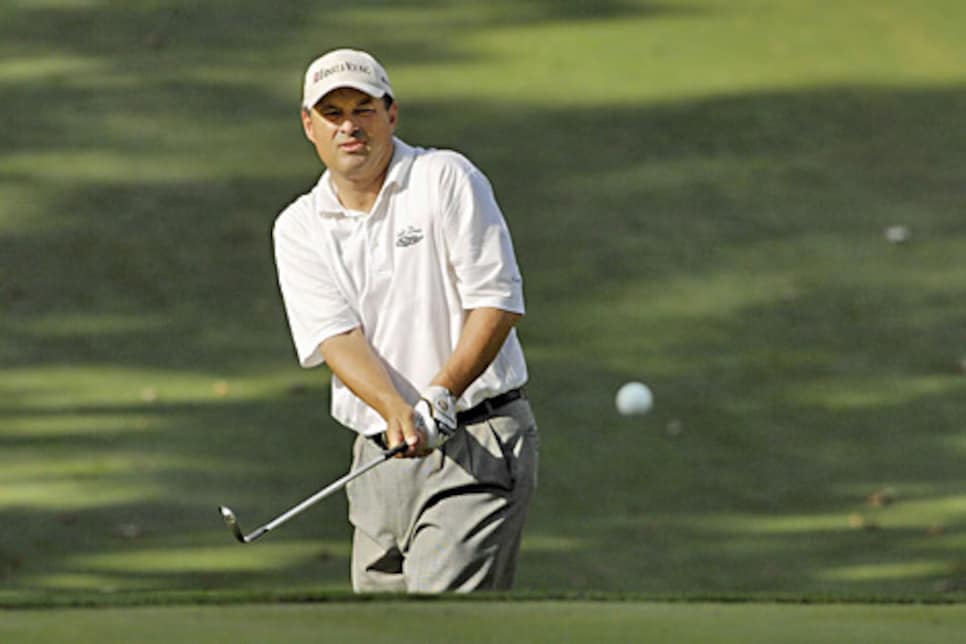 Tillinghast designed greens are expected to be the toughest part of the test during Sunday's final round.
TIMONIUM, Md. -- Loren Roberts holds a three-stroke advantage over Fred Funk going into Sunday's final round of the Constellation Energy Senior Players Championship. It will be one of the best putters of his era trying to claim a title where, in 1928, Leo Diegel, one of the most distinctive putters of his time, won the PGA Championship.
Now as then -- when Diegel's elbows-out putting style carried him to a major victory -- the A.W. Tillinghast-designed greens at Baltimore CC's Five Farms East course will have a lot to say about the outcome.
Just as the players have a lot to say about the greens, old-school push-up surfaces canted a lot from back to front.
"They're tough, but I don't think they're unfair," said Jay Haas. "Pace is of the utmost, especially on sidehill putts. If you don't have the right pace, your read is so off. Too firm, and you're way high. Too easy, you're way low. You can stay under the hole, but it's kind of difficult to do that sometimes. If you have proper pace, they're not unputtable, but there are a few of them you have to watch out for."
"There are a couple of holes," said Roberts, "that maybe two or three yards short of the green is better than 15 or 20 feet above the flag. So you have to use your imagination and control your speed a lot once you get on the surface."
In a situation reminiscent of the 2001 U.S. Open at Southern Hills (where the ninth and 18th greens were slowed down because of severe slopes) players were informed before the event began that five surfaces -- Nos. 1, 5, 7, 13 and 15 -- would not be cut as closely as the rest to keep them getting out of hand.
"Some of the greens they've slowed down, and they told us they were grooming them differently," Haas said. "They probably needed to do to keep balls from rolling off, even on good shots."
"It's a little odd," Hale Irwin said of the practice. "That has led to some of the inconsistencies we're all experiencing. Whether fast or slow, all we're looking for is consistency. When you change speeds, that leads to guessing and that's the frustration. All in all, it's a fine golf course and I enjoy playing it."
Architect Keith Foster renovated the layout several years ago, slightly lessening the contours at Nos. 3, 9 (which plays as the seventh this week) and 12. "The seventh is still a diabolical green," noted Funk. "It needs a lot more softening -- it would create a lot more pin positions."
As at Oakmont CC, Baltimore CC members enjoy the punishment their greens can provide. "We're raising the height of the mowers to slow the greens down," superintendent Tim Kennelly told the Baltimore Sun this week. "The members will play the greens a lot faster than the pros do."
At about 10 on the Stimpmeter this week, they are plenty fast, according to Funk. "On some of them you're so conscious of the slope, and everybody has left some putts short because you're so defensive," Funk said. "You just don't want to give it a hit because you're so scared of the run-out on the other side. Any faster than 10 or 10 ½ would get awfully diabolical."