News
The Pairing Can Be Everything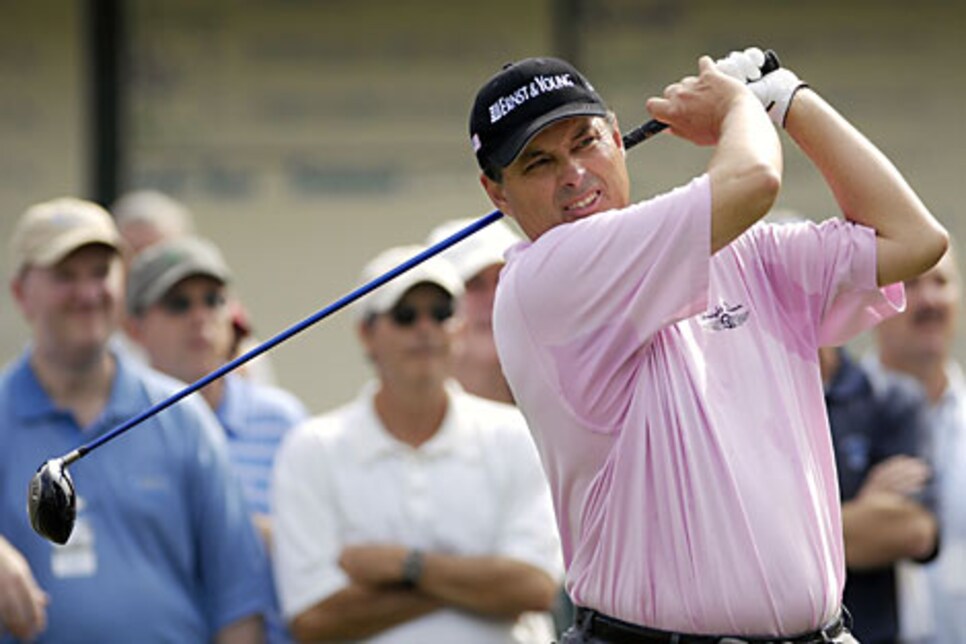 Loren Roberts takes a two-stroke lead into the weekend at the Sr. Players Championship.
TIMONIUM, Md. -- Whether by computer or committee-man, all pairings are not created equal. The bibles on how to focus and take one shot at a time might discount the importance of fellow competitors, but don't think for a Rory Sabbatini minute that they don't matter.
Even for the game's best.
There are good draws and bad draws and, if you're Loren Roberts, who shot a 66 Friday to take a two-stroke lead over Scott Hoch into the weekend at the Constellation Energy Senior Players Championship, there is the extremely good fortune of being grouped with Tom Watson as he was for the opening 36 holes at Baltimore CC's Five Farms (East course).
"It's nice to be out with guys who are major champions," said Roberts, whose threesome was completed by two-time U.S. Open champion Curtis Strange. "It gives you a little pickup."
"It's his favorite pairing for sure," echoed Roberts' longtime caddie, Graeme Courts. "Tom doesn't worry about the crowd moving or this or that. He goes about his business, is the consumate professional. Loren enjoys that."
Roberts has been looking forward to playing with Watson since a 1980s pairing with the Hall of Famer in the Western Open. "I have always loved playing with Tom, and Curtis, too," Roberts said. "Tom plays with such a great rhythm. He looks at it, makes the decision and 'wham.' That's so positive. I think that's why he's been such a great player all these years. He's so positive. He's never in doubt. He makes a decision, grabs a club and hits it. I like that. Tom hits it so good all the time, it can become a little bit infectious."
Not that Watson was the only legend Roberts was leaning on Friday. Before falling asleep Thursday night, he read an article in the October Golf Digest that detailed the eight swing basics Jack Nicklaus learned from Jack Grout and relied on through the years. No. 7: "Keep the head steady."
"I [was] moving forward on the ball," said Roberts, who hadn't finished in the top 20 in his last three Champions Tour events. "All I did today was try to keep my head behind the ball [on the downswing]."
Roberts is paired with Hoch and David Eger for the third round. No word on his choice of reading material for Friday night.